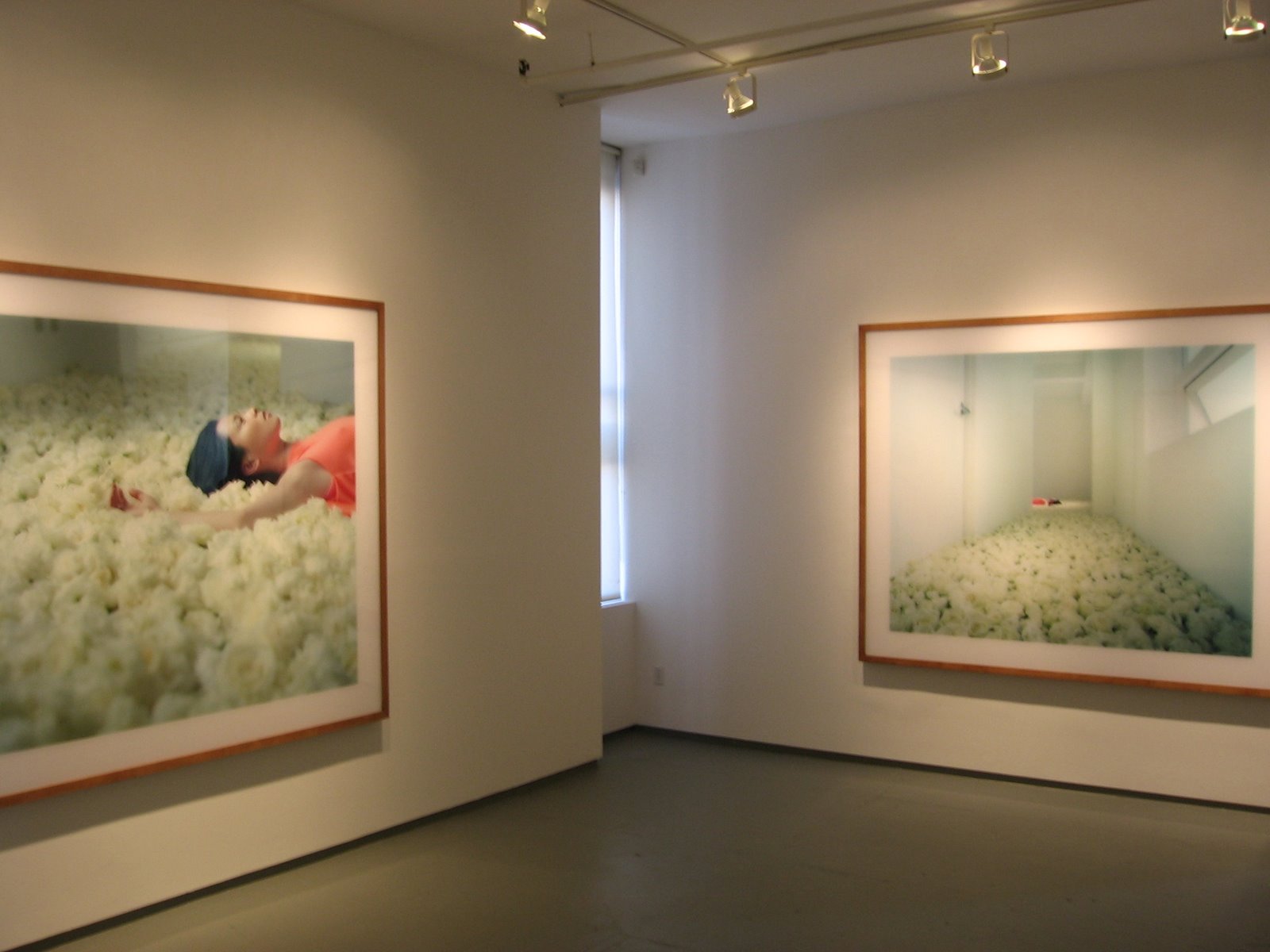 JTF (just the facts): A total of 8 color works on display: 7 large scale c-prints, framed in blond wood without mats, and 1 group of 4 smaller prints, mounted to plexiglass but not framed. The larger c-prints are approximately 70×94 or 70×60 and come in editions of 5. The smaller images are 20×26. (Installation shots at right.)
Comments/Context: Japanese photographer Izima Kaoru has been making images in his series Landscapes with a Corpse for a decade now. In each series, a famous Japanese actress or model imagines her perfect fantasy "death", complete with the designer clothes she would be wearing at the time. Kaoru then creates the elaborate settings and makes pictures from a variety of cinematic distances: the close-up (eyes open), medium range images, and far away wide angle shots. The effect is an extremely elegant crime scene, the opposite of the grittiness of Weegee's real life corpses in the gutter.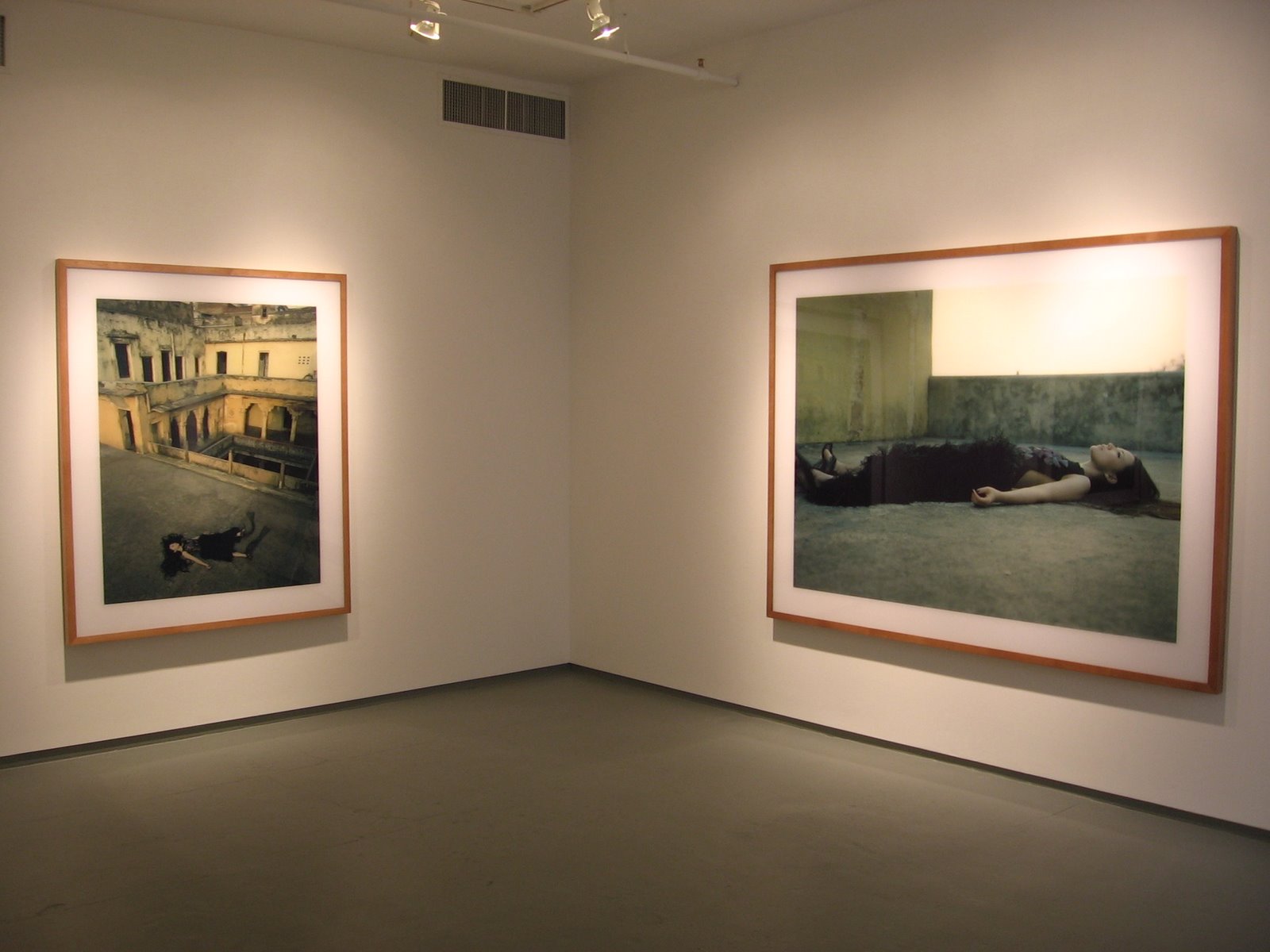 I first saw an image from this series several years ago, a huge print of a woman "dead" on the floor of a pachinko parlor, surrounded by neon pink chairs and fallen amidst a sea of silvery balls. I was taken aback by its over-the-top glamour and the lushness of its eye-popping colors. Nearly every review of Kaoru's work is riddled with words like shocking and disturbing, morbid and repulsive. And yet, my reaction was and still is just the opposite. These images are, in my view, nothing more than an adult version of the play acting and dress up games of childhood, complete with couture gowns and lavish locations. I'm not sure these new works, which lack any visible signs of injury, would even be classified as unsettling.
In this small show, I particularly enjoyed the series of images called Sakai Maki wears Jil Sander, 2008, where a woman in a sheer salmon colored dress and sky blue shoes lies in a room full of white flowers. These works are dreamlike and calm, with a quirky surreal and conceptual feel that reminded me of Magritte. The other works on display are more straightforward in their settings, but equally serene and peaceful.
For Western audiences who have no familiarity with these Japanese actresses and models (like me), the individual people become more like beautiful mannequins (they're supposed to be dead after all) in a carefully styled fashion shoot. I think if Julia Roberts or Kate Moss (or someone else equally recognizable here) were inserted instead of the Japanese women, I think the images might have a very different resonance.
Collector's POV: The large images in the show are priced at either $22500 or $27000; the group of smaller images is $14000. In the secondary markets, Kaoru's work has only just become available at auction in the last year, so there isn't enough data to form any meaningful pricing pattern. While not every image in Kaoru's large and growing project is a winner, a handful of stand out pictures can be found that would fit well in most contemporary collections.
Rating: * (one star) GOOD (rating system described here)
Izima Kaoru, New Work
Through April 25th
Von Lintel Gallery
555 West 25th Street
New York, NY 10001