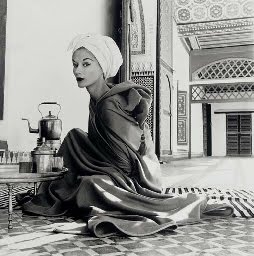 Irving Penn, one of the true giants of photography, died yesterday at the age of 92. In his long and amazingly prolific career, Penn took on several major subject matter genres, developed new perspectives and visual innovations for each, and made iconic pictures in his own unique style that changed forever how we view these subjects. A quick review:
Portraits: Penn made dozens of spare celebrity portraits (artists, musicians, actors and actresses), as well as surprisingly regal images of tradesmen, children, gypsies and tribesmen, either highlighting their own straight forward elegance or placed in the cramped corner of two converging walls, a Penn invention that freed the subjects from the formality of traditional poses.
Still Lifes: Penn's artfully collected and composed table top still lifes (frozen foods, watermelons, animal skulls, playing cards) remade a traditional subject in an entirely new and modern way. As flower collectors, we have always admired his floral still lifes (both black and white and color) for their electrifying boldness and vibrancy. And his oversized cigarette butts and discarded bubble gum blobs proved he could make staggeringly beautiful images from the overlooked and ugly.
Fashion: Penn's career at Vogue is filled with jaw dropping fashion images made for covers and spreads. In contrast to the movement of Munkacsi and Avedon, Penn 's images were remarkable in their calm; they were exactingly constructed graceful images that focused the viewer's attention on the elegant line of a dress or the refined turn of an arm.
Nudes: While Penn made a relatively small group of traditional fashion nudes of models, his less well known early 1950s nudes are fleshy and full figured, unlike anything that had been done in the nude form previously; folds of skin and wide curves of hips and breasts billow and sag in a whitened world, bleached out and abstracted. We continue to look for just the right image from this series for our own collection.
Platinum: Beyond Penn's compositional marvels, he also introduced the subtleties of the platinum process to a much wider audience. Much of his best black and white work was printed later in platinum, bringing an entirely new set of rich tonalities to the already well crafted images.
All in, it is no wonder Penn's obituary ran on the front page of the New York Times this morning. His impact on the world of photography was and still is monumental and his place in the pantheon of master photographers is secure.
Penn is represented by Pace/
MacGill
Gallery in New York (
here
) and
Fraenkel
Gallery in San Francisco (
here
). Given his voluminous output of imagery and his tendency to make decent sized editions of later prints, Penn's work is ubiquitous at auction; recent prices have ranged from $5000 all the way up to over $400000, seemingly regardless of print date or edition size; collectors just can't seem to get enough of his work.
Harlequin Dress (Lisa Fonssagrives-Penn),
1950 and
Woman in Moroccan Palace (Lisa Fonssagrives)
(at right above, via Christie's) routinely top the price charts, even for recent prints from editions as large as 40.