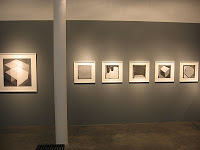 JTF (just the facts): A total of 17 black and white works, framed in white with no mat, and hung against grey walls in the single room gallery space. All of the prints are gelatin silver prints, made in 2009 or 2010. Each image comes in one of two sizes: 15×15, in editions of 15, and 30×30, in editions of 5. There are 4 large prints and 13 small prints in the show. (Installation shots at right.)
.
Comments/Context: Romanian photographer Ion Zupcu's new images are a theme and variation exercise in photographing painted cubes, extending and expanding the stripped down aesthetic vocabulary of Minimalism by employing techniques specific to photography. While Albers, Judd, LeWitt, and many others went down this road long ago, Zupcu has augmented his contemporary toolkit with multiple exposures, blurs, and gelatin silver tonality/luminescence, all in an effort to find new vantage points on pared down forms and essential geometries.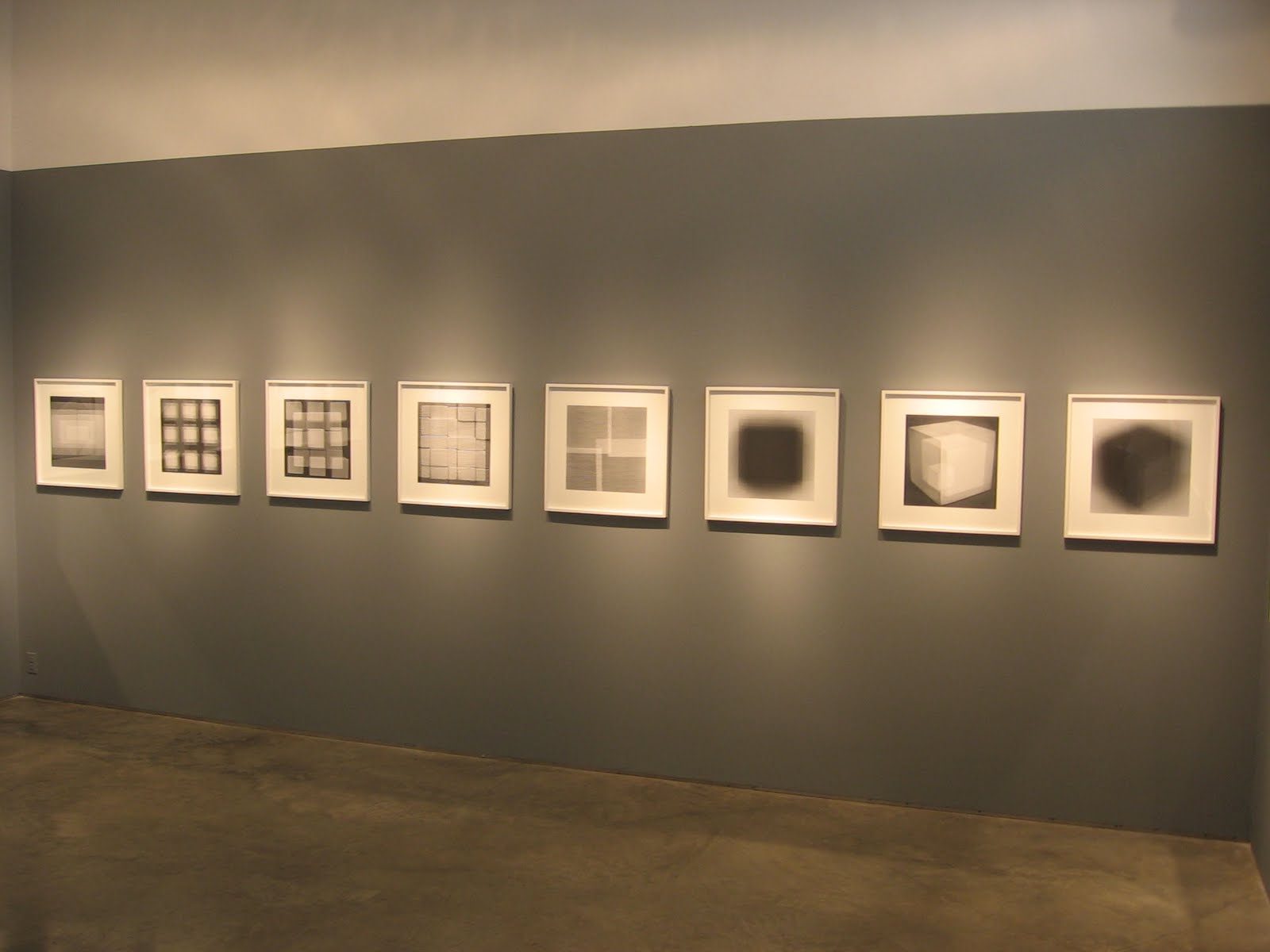 Starting with the single square face of a cube and working up to more three dimensional views of multiple sides, Zupcu experiments with photographic tonality and contrast, testing the subtle gradations between white on white, black on white, and white on black. Further complexities of pattern and repetition come from arrays and grids of these same cubes, with multiple photographic exposures creating more complicated intersections and overlays. Scale and depth become hard to measure, with ghostly blurs and painterly textures softening the edges.
.
While these works are rooted in the simplicity and purity of modular form, they seem to lack the strong conceptual foundation that lay underneath the original Minimalist approach; these geometric images aren't blunt and brainy or particularly challenging and perception-altering. As such, this show represents a kinder, more inviting strain of retro-Minimalism, warmed up with a dash of quiet elegance and meditative finesse.
Collector's POV: The works in this show are priced as follows: the 15×15 prints are $1200 each and the 30×30 prints are $3000 each. Zupcu's photographs have not yet entered the secondary markets, so gallery retail is likely the only option for interested collectors at this point. Zupcu is also represented by the Halsted Gallery in Michigan (here).
Rating: * (one star) GOOD (rating system described here)
Transit Hub:
Ion Zupcu: Painted Cubes
Through May 28th
Clamp Art
521-531 West 25th Street
New York, NY 10001