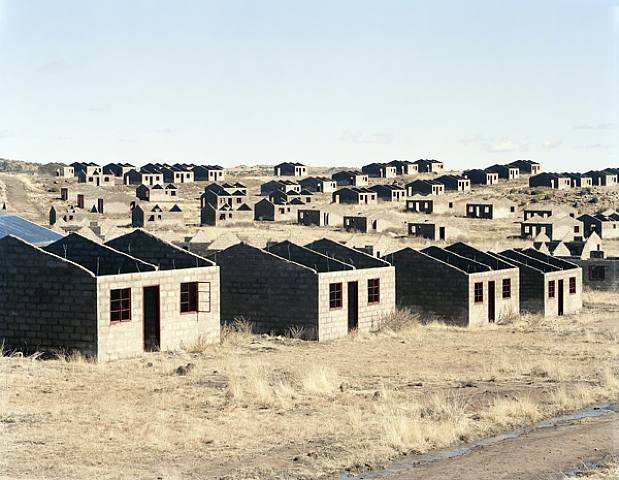 JTF (just the facts): A total of 94 images (a mix of black and white and color) and 4 artist books, displayed on the 3rd and 4th floors of the museum. The black and white images have been framed in black with no mat, the larger color images have been binder clipped and pinned directly to the walls without frames. The images were taken between the mid 1960s and the present; all of the prints are modern exhibition prints. The exhibition was curated by Richard Flood. (Since no photography is allowed in the New Museum, unfortunately there are no installation shots of this exhibit. Incomplete houses, part of a stalled municipal development of 1000 houses. Lady Grey, Eastern Cape, 5 August 2006, at right, via Haunch of Venison.)
Comments/Context: South African photographer David Goldblatt has been documenting the complexities of life in his native country for over 50 years. Rather than focusing on the obvious flash points of history and revolution, he has instead consistently pointed his camera at the subtle incidents of everyday life that represent those frictions, and documented their often permanent imprints on the land, almost like an archaeologist, showing the remnants left behind as evidence of what happened before.
The exhibition now of view at the New Museum gathers together a wide array of Goldblatt's work from various decades, with a heavy dose of recent color imagery, printed quite large. As such, the show doesn't have a retrospective organization or feel; instead, it seems to be an exercise in using the old as a foil for the new, in mining the past and comparing it to the present in the search for meaning and truth.
The images on the fourth floor of the museum are arrayed in pairs: one black and white image, typically from the 1980s, and one color image, typically from the 2000s, hung side by side. While there are a few obvious "before" and "after" pairings, most of the combinations tell small stories from opposing viewpoints, or provide echoes and reverberations of similar themes across the years. There are juxtaposed images of graves of dirt and ornate tombstones, nationalist monuments and Mandela Square, fancy houses and squatter towns, and portraits of white farmers and a sea of crosses on the land. Dusty camps are seen to have become abandoned ruins or grassy knolls. All that is left of all the back and forth are the scars upon the dry scrubby land, and Goldblatt's images typically encompass both the near foreground and the far horizon, allowing the viewer to see the residual effects on the land from a distance, and the slow hand of time that is eroding them away.
The third floor of the museum uses three distinct groups of images to consider different facets of the South African story. On the far left (if looking out from the elevators) are a selection of images from the recent Time of AIDS series, large color vignettes of life in the townships and shanties, often punctuated by a hand painted symbolic red ribbon. In a land without ubiquitous advertising, AIDS education takes place at dusty restaurants and empty truck stops, near public toilets and roadside statues of heroes.
Two small rooms on the right gather Goldblatt's earlier portrait work (1970s), most of it square format black and white. These are images of everyday people of all races and lifestyles, in their homes and on the streets, often in pairs or families, but never far from the underlying cultural rubbing that permeates the society. It's as if every single one has a back story, a longer narrative that explains the subtle movements or poses or looks that Goldblatt has captured, if we only knew what questions to ask.
The main part of the gallery space is used to display a series of large triptychs, where a single scene is photographed from several different angles, bringing out specific details or ironies embedded in the mundane (and bearing a stylistic resemblance to Paul Graham's a shimmer of possibility series). A shop window contains both a ruffled table setting and a paper flyer looking for a missing girl; a roadside doctor's office advertises treatments for a variety of maladies via a hand painted sign; a man washes his clothes; people linger around a pay day loan storefront; shoes are displayed, alongside a changing room. All of these take place against the backdrop of dusty towns, low rise buildings, dirt roads and rusty fencing, people scraping out a life in slow moving villages.
What I like best about this body of work is that has avoided the shouting and politics and taken a more complicated view of the real everyday struggles of life in South Africa. To my eye, time seems to have stopped in these pictures; memory refuses to go away, even though a new life is being built right on top of the old. It is a reminder that while democracy may overthrow tyranny, deep societal change comes slowly, new problems emerge out of the ashes of old ones, and history remains a very real part of who a people are. The answer to "now what?" isn't always easy or obvious.
Needless to say, this is the best photography exhibit on view this summer in New York, so if you're going to leave the beach for only one show, this is it.
Collector's POV:
David
Goldblatt
is represented by Goodman Gallery in Johannesburg (
here
). In recent years,
Goldblatt's
work has not been available much in the main thoroughfares of the secondary markets; that said, a few images have come up for sale in more out of the way venues, so all in, it's hard to derive much of an overall pricing pattern for his prints. I came away from this show with a renewed respect for Goldblatt's work and a strong desire to see more; we'll especially dig back into the earlier black and white work (likely via books, if we can put our hands on them), looking for an image that would fit into our city genre.
Rating:
*** (three stars) EXCELLENT (rating system described
here
)
Transit Hub:
Artist site (here)
New York magazine slideshow (here)
2006 Hasselblad Award (here)
Review of Intersections Intersected book @5B4 (here)
2006 BAM exhibit (here)
1998 MoMA exhibit (here)
Through October 11th
235 Bowery Street
New York, NY 10002