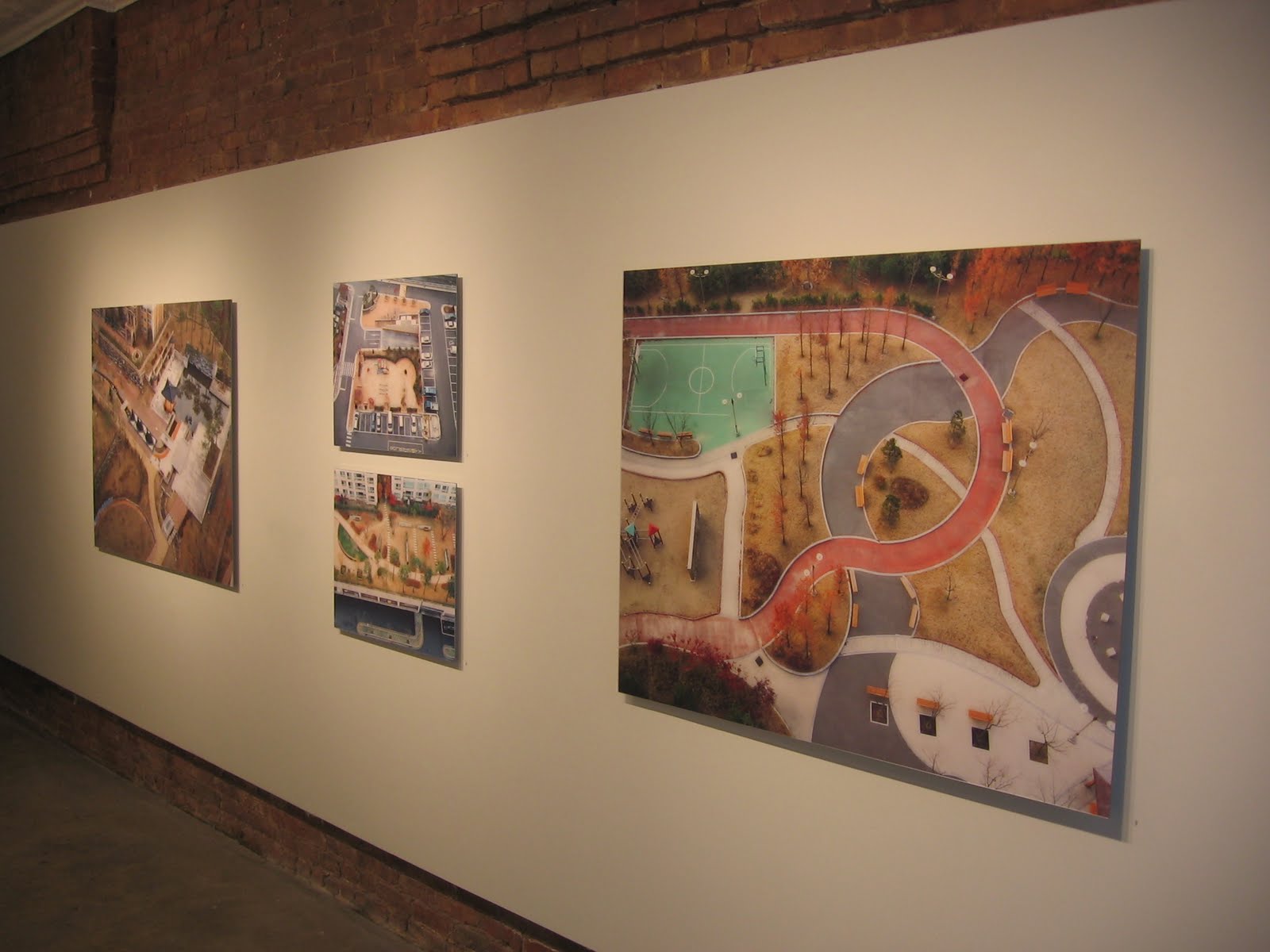 JTF (just the facts): A total of 9 color images, mounted without frames, and hung in the narrow single room gallery space. All of the works are digital c-prints, made between 2004 and 2007. The prints come in two sizes: 20×24 and 40×50, in editions of 20 and 5 respectively. There are 4 large prints and 5 smaller ones on display. This is Park's first solo show in New York. (Installation shot at right.)
Comments/Context: Hosang Park's aerial images of meticulously designed outdoor spaces near luxury apartment buildings in Korea are surreal in their perfect emptiness. In the same way that miniature golf is "golf", these spaces are "parks", jam packed with "features": colorful paths and walkways in gentle arcs of tight brickwork, young trees in square planters with carefully aligned benches underneath, plazas surrounded by fake grass, play grounds and ball courts sandwiched in between gazebos, pavilions, and fake streams. Of course, no one is using these brand new spaces: they stand soulless and uninhabited, man-altered nature to fulfill some zoning requirement for public outdoor space.
Park's images highlight the density of abstract geometries found in these parks; they feel like the plans of a landscape architect enamored with a few too many bold graphical elements. While the normal function of a park is to provide a place for restful peace amidst nature, these chaotic designs seem just the opposite: noisy, convoluted and claustrophobic, just the kind of place that drains away any energy a visitor might have.
Overall, while these images certainly have a eye-catching decorative quality, I particularly liked the notes of perplexing weirdness and subtle sadness that run underneath.
Collector's POV: The prints in the show are priced at $1200 and $5000, depending on size. Park has no secondary market history, so gallery retail is the only option for interested collectors at this point. Prints can also be found on Bekman's 20×200 website (here) in various sizes and editions, all the way down to $50 for an 11×14 print (quite a bargain).
Rating: * (one star) GOOD (rating system described here)
Transit Hub:
Hosang Park, A Square
Through November 7th
Jen Bekman Gallery
6 Spring Street
New York, NY 10012