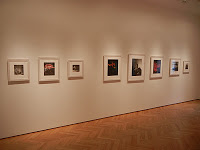 JTF (just the facts): A total of 20 black and white and 5 color photographs, framed in white and matted, and hung in the single room space. There are 17 gelatin silver prints, 3 platinum palladium prints, and 5 c-prints in the show. Physical dimensions range from 10×8 to 20×16 or reverse, with no edition information available. The images were made between 1933 and 1990. (Installation shots at right.)
Comments/Context: This selection of Horst's work passes over his best known photographs and dives deeper into the storage boxes, unearthing more secondary and lesser known images, both in black and white and in color. The show gathers together a few early portraits and fashion shots from the 1930s and 1940s, and pairs them with male nudes from the 1950s and florals from later in his life. The result is a broader view of his artistic approach and his influences on contemporary photographers.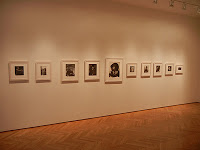 The connection between Horst and Robert Mapplethorpe is particularly obvious in this group of pictures. Horst's male nudes are classically staged, seated sculpturally on pedestals or lying on flat tables, spotlit to accent the lines of symmetrical musculature. The nudes are pared down and formal, but alive with power and grace. Horst's flowers are often placed together with classical busts, or arranged in vases to highlight their sculptural forms and saturated extravagant colors. There is a sense of elegant, meticulous control in both subjects that is unmistakably echoed by Mapplethorpe, a commonality of vision and aesthetic between the two artists that is made clear by these more obscure works from the archives.
Perhaps it has already been done, but this exhibit made me think there is an amazing show to be organzied which would authoritatively match stylistically similar pairs of images by Horst and Mapplethorpe. I'm guessing that the parallels would be fascinating, and the side-by-side comparison would crispen our understanding of their subtle differences.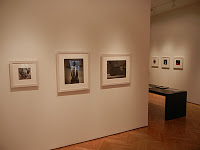 Collector's POV: The prints in this show range in price from $8000 to $30500. Horst's work is widely available in the secondary markets, with dozens of prints available at auction each year. Recent prices have ranged between $2000 and nearly $300000 (for a vintage Mainbocher Corset).
Rating: * (one star) GOOD (rating system described here)
.
Transit Hub:
Horst P. Horst, Works from the Estate
Through November 12th
Stellan Holm Gallery
1018 Madison Avenue
New York, NY 10075