It's been a year of consolidation for the annual AIPAD Photography Show in New York. This 2018 edition marks the fair's second year at the Pier 94 site (after many years at the Park Avenue Armory), and to a large extent, the organizers have built on the successes that came with the dramatic venue switch last year and have improved many of the short term weaknesses that were exposed during the initial transition.
The main body of the fair once again houses roughly 100 gallery booths, in spacious confines that give the dealers more freedom to show both bigger work and more volume; Edwynn Houk and Bruce Silverstein have stretched to fill massive booths, with Throckmorton, Steven Kasher, Robert Koch, and Bryce Wolkowitz settling into the major spaces in the center of the fair.
The ins and outs of the exhibitors this year have occurred mostly in the realm of the non-AIPAD members, with the sprinkle of new faces from afar keeping things fresh (but also adding some unevenness in terms of quality, if we are honest). The usual suspect holdouts (both contemporary art and photography galleries alike) continue to take a pass, and their absence is certainly noticeable, at least in terms of gauging whether the fair is capturing a representative sample of anyone's best of what the medium has to offer.
The photobook section has been redesigned and expanded, much to its benefit. The tables have much more space to breathe, and more quality publishers have been included in the mix; with the tally now coming in above 30, this effort is starting to gather real critical mass. I must admit that the narrow lane of hard walled closet-sized booths at the back is definitely tight, especially when a book signing draws foot traffic into the aisle. But while last year's book area left me frustrated, this year's arrangement has largely got things working, and I was happy to come home with a handful of new titles for our photobook review queue.
If there is one single thing not to miss at this year's fair, it is the installation of Joe Baio's collection down at the end of one of the booth runs (image below). Baio's expansive collection is subject-matter driven and his theme is children (and adolescents). What at first thought might seem like a cloying subject is, in his hands, a thick, and rich, and wonderfully empathetic area for seemingly endless discovery. Hung salon-style like he has it arranged in his own apartment, the exhibit of roughly 300 images (drawn from some 6000 in his archive) climbs to the rafters and covers every inch of available wall space with imagery of kids.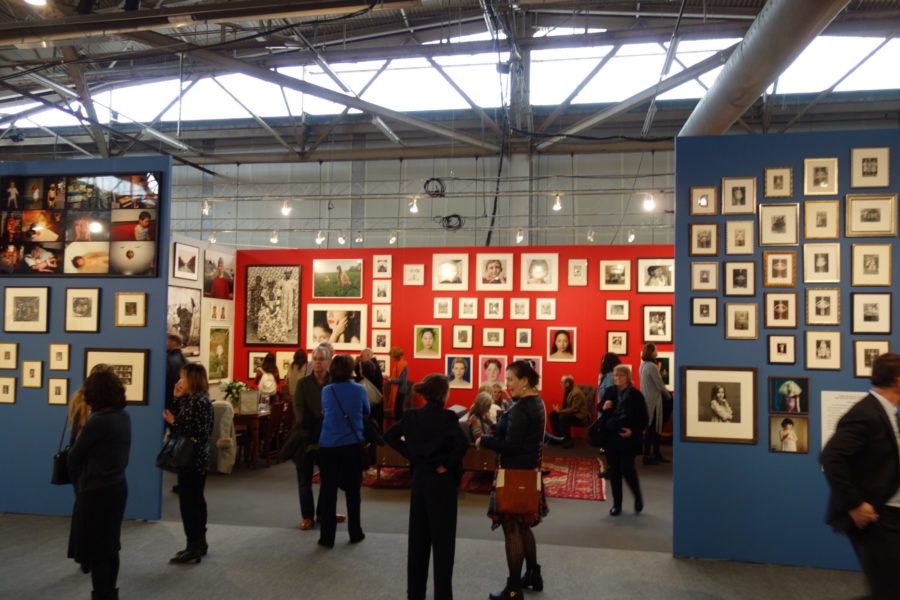 What makes Baio's collection so energizing is its deliberate egalitarianism. Baio is the exact opposite of the trophy-hunter, name brand conscious, collector caricature; he is wholly democratic in his tastes, mixing famous artists with vernaular imagery and unknown finds, his eye simply driven by the inherent power of the imagery. The photographs on view are big and small, old and new, known and unknown, "cheap" and "expensive", and from all over the globe. And with so many images at his fingertips, he can now create smart groupings that add further nuance to his subject – babies, up-close faces, parent/child pairings, children in cars, kids thrown in the air, orphans, feet, even a creepy group of images of young girls made by priests. The installation is warm and inviting with plenty of places to sit and talk, and for beginning collectors trying to figure out what collecting really is or "how to be a collector", Baio's example is one worth following. Both the contagious joy and intelligence in his collection are obvious. And while my usual approach is to select a few highlights worth noting, that critic's impulse flies in the face of Baio's inclusive mindset, so instead of picking favorites, enjoy his collection in all its sprawlingly wonderful eclecticism.
The other two special exhibits at this year's fair are much less successful. While there is strong work to be found in the All Power: Visual Legacies of the Black Panther Party show organized by the Photographic Center Northwest, particularly by LaToya Ruby Frazier, Hank Willis Thomas, and Ayana V. Jackson, among others, it has been installed in such a huge space that the works have trouble engaging with each other – you could toss a frisbee across its gaping central void. Given the wandering that is required to see all the works on the exterior side walls, the collective message is meaningfully diluted. Sir Elton John's selections entitled A Time for Reflection suffer from an alternate problem. While they are tightly hung in a normal sized booth, the logic behind the grouping is diffuse at best, aside from being chosen by the famed photo collector and drawn from the inventory of AIPAD member galleries. The overall effect is unfortunately grab bag dull.
But of course, one person's dull is another person's wow, and so we offer our own parade of highlights in the slideshow below, and its forthcoming partner. While in past years, we have chosen a single work from each and every booth at the fair, this year we loosened the constraints a bit and allowed for both no works from some booths and more than one selection from others. The results tally up at just over 60 works, seen in two slideshows of roughly 30 images each, starting toward the left from the fair entrance. As always, each image includes a linked gallery name, an artist name, a short discussion of the work itself, and the price, for easy follow-up.
Part 2 of this report can be found here.