JTF (just the facts): A single billboard by Maurizio Cattelan and Pierpaolo Ferrari, displayed at the corner of 18th Street and 10th Avenue in Chelsea. The work is print on vinyl, 25×75 feet, from 2012. The work was originally made for Toilet Paper magazine (here).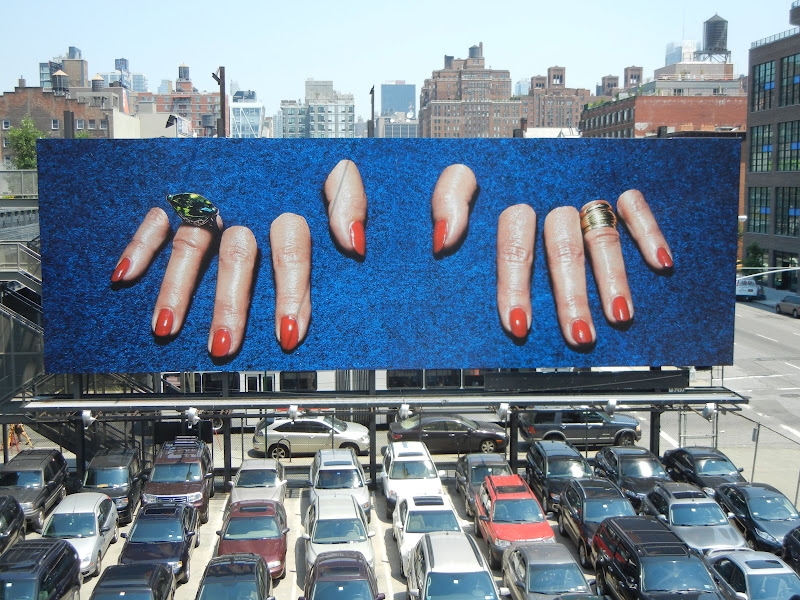 Comments/Context: The newest image in the series of billboard installations near the High Line amps up the shock value for early summer. Ten delicately severed fingers float against a background of blue velvet, their luscious, color saturated ghoulishness monopolizing attention from blocks away. Whether the fingers have actually been cut off (unlikely) or are just the deft illusion of some devious magician or Photoshop technician doesn't really matter; they sit disembodied, like secret treasured objects on display for our amazement, their red polished nails sparkling with electric lavishness. Photographed with the high style of a glossy jewelry advertisement, the fingers recall classics of photographic Surrealism from the 1920s and 1930s (Man Ray, Tabard, Cahun, Moholy-Nagy etc.), but add in a layer of sleek 21st century commercialism, making the picture even more gruesomely excessive. It's a wonderfully playful interlude, and there's nothing like a jolt of the fiendishly macabre to lighten up an afternoon of sweaty gallery hopping.
Collector's POV: This work was not overtly for sale, nor are there many comparables in terms of scale in recent auction history. Cattelan has recently opened a new gallery in Chesea with Massimilano Gioni called Family Business (here).