JTF (just the facts): A single billboard, 25×75 feet, displayed at the corner of 18th Street and 10th Avenue in Chelsea. The work is entitled The First $100,000 I Ever Made and is print on vinyl, from 2011.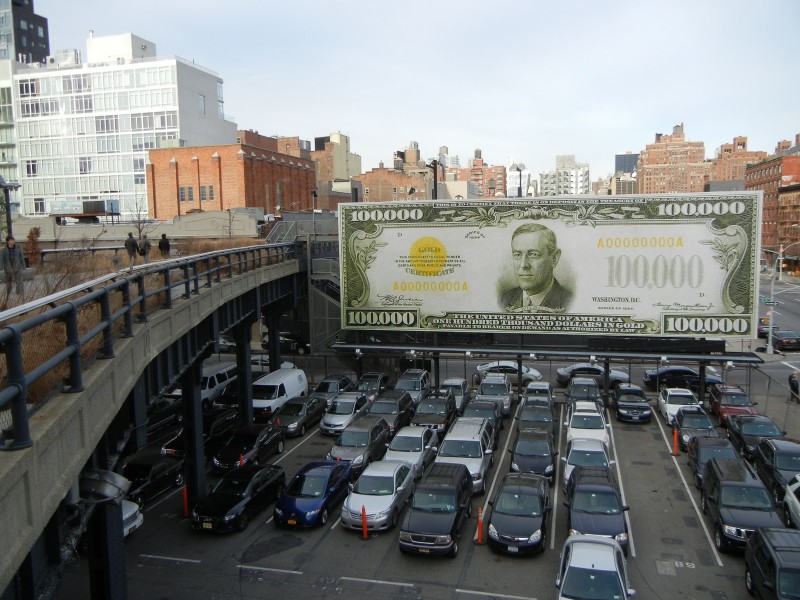 Comments/Context: Plunked down in the middle of a Chelsea parking lot, John Baldessari's monumental photograph of a real $100,000 bill is a disconcerting symbol for a neighborhood full of retail art galleries. By replacing the normal fare of forgettable movie ads and holiday sale announcements with a not-so-subtle swipe at the dollar driven world in the streets below, Baldessari successfully jolted me out of my huddled winter stupor and made me look again.
What I like best is that Baldessari's work is more than just a snappy one-liner; it mixes photographic appropriation and Pop art, with a surprisingly current-events relevant Conceptual zinger. I'm pretty sure Woodrow Wilson was never particularly brash, but in this setting, his serious Big Brother visage seems both judgmental and confrontational, and depending on your point of view, the steely-eyed critique can point in many different directions. Baldessari's wild transformation of scale is simultaneously absurd, cautionary, and perspective-changing, and it's absolutely worth a detour down the High Line, even if the winter winds are blowing.
Collector's POV: This work was not overtly for sale, nor are there many comparables in terms of scale in recent auction history. Baldessari is represented in New York by Marian Goodman Gallery (here).