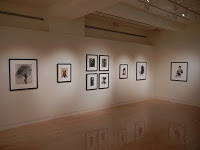 JTF (just the facts): A total of 28 black and white photographs, framed in black and matted, and hung in the main gallery and entry spaces. 24 of the prints are gelatin silver prints, some of which are toned; the other 4 prints are platinum. The images on view were taken between 1979 and 2000, with most made in the 1980s and 1990s. Physical dimensions range from 11×14 to 26×22, and editions range from editions of 1 to editions of 12. (Installation shots at right.)
Comments/Context: Imagine I was to draw a Venn diagram with three intersecting circles, and then label those circles: Celebrity, Fashion, and Nude. If we were then to brainstorm photographers who would best fit in the intersection of those three areas, I'm guessing that Herb Ritts would be either the first or at least one of the first names we might come up with. Ritts made a highly successful career out of mixing these three genres, developing a visual style that has been remarkably durable and popular, walking the knife edge of "classic" and "glamour" with surprising deftness.
.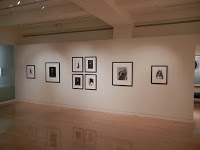 Edwynn Houk has recently taken on the representation of the estate of Herb Ritts, and this solid first show smartly avoids a greatest hits parade, and instead dives a little deeper into his back catalog, digging up variants, alternates, and lesser knowns and juxtaposing them with a few crowd pleasers. While Madonna, Richard Gere, and Michael Jackson all take star turns, most of the images are nudes or fashion images, or some combination of the two.
If I am to be honest, I must admit that I am not a massive fan of the "glamour nude" as practiced (and perfected) by Ritts and others. Even though we are collectors of photographic nudes, and while I can certainly appreciate the quality of the prints and the beauty of the bodies, the sleek stylized perfection of these works crosses some invisible line for me, away from elegance and purity of form and toward something more glossy and artificial. For this reason, I think I was most drawn to some of the more anonymous nudes that have been unearthed in this show, where Ritts may have been exploring the contrast of dark and light or the interaction of line and form, but without having amped it up to that level of fabulousness that is his signature.
With this caveat, I came away from this show very much impressed with the consistency of Ritts' craft from image to image across the decades, as well as with a renewed interest in his compositional skill. If you step back into the middle of the gallery and look beyond the specific people and the embellished details of the stately polished bodies, many of his images resolve themselves into bold, simplified graphics, bringing back the formal refinement and proportion that I think underlies all great nudes. All in, I think this show forced me to look beyond the flashiness of Ritts that I have heretofore found a bit rich for my tastes, and to see more of the underlying talent that was being masked for me by the celebrity glamour.
.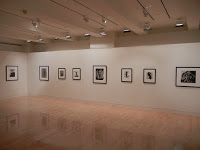 Collector's POV: The works in the show range in price from $5000 to $150000, with many intermediate prices, most under $35000. Ritts' work is routinely available in the secondary markets, with dozens of images for sale in any given year, especially those images printed in editions of 25. Recent prices have ranged between $1000 and $110000, with most under $20000.
My favorite image in the show was Christy Turlington, Versace 6, El Mirage, 1990; it's second from the right in the bottom installation shot. I liked the furry feathered texture of the dress, and the dark arch of her back.
.
Rating: * (one star) GOOD (rating system described here)
Transit Hub:
Herb Ritts
Through June 25th
Edwynn Houk Gallery
745 Fifth Avenue
New York, NY 10151