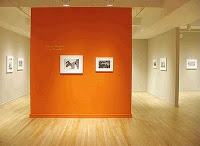 JTF (just the facts): A total of 30 black and white photographs, framed in white and matted, and hung against orange and almond colored walls in the main rooms of the gallery. All of the photographs are vintage gelatin silver prints, made between 1968 and 1987. Image dimensions range from 6×9 to 11×16 or reverse; no edition information was available. There is no photography allowed in the gallery, so the installation shots at right are via the Pace/MacGill website.
Comments/Context: When we look at all the stars of 1970s American photography, from the emerging color giants to the New Topographics photographers to a handful of other greats, I suppose it's not surprising that an artist like Henry Wessel has gotten a bit overlooked. His quirky pictures document the quintessential idiosyncrasies of life in California and the West, and capture those moments with a harsh bright whiteness that is wholly his own. I've always thought his work was a bit under appreciated, so I'm glad to see a well-selected group of his vintage pictures swing back through New York.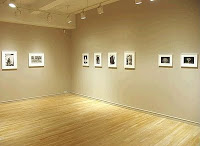 Well placed humor is rare in photography, but Wessel consistently finds flashes of wry visual wit hidden among seemingly ordinary situations: a woman drinking from a glass amid a riot of clashing bedding patterns, a solitary ice advertisement in the rocky desert, a heart shaped cactus, a weirdly groomed poodle, a single telephone pole in an expanse of dry land. He also has an eye for the strange absurdities of the California experience, from the muscled man in sunglasses in front of the Ocean Sands and the man watching a flock of pigeons taking off, to a thicket of grasses blocking the front of a house and the baton twirlers in white go-go boots. An over-manicured evergreen, a man staring at the desert between two houses, the blinding whiteness of vernacular architecture, it all has an undercurrent of the oddly surreal, as if something slightly off kilter was going on in this world of suburban bungalows and beaches.
 
I think Wessel's dry one-liners and visual eccentricities deserve more attention and acclaim that they have heretofore received. This show is an excellent sampler of Wessel's work and should provide a compelling introduction for those who have inadvertently passed him over chasing the more famous names of the 1970s.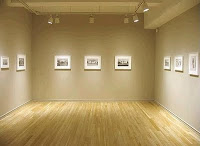 Collector's POV: The photographs in this show are priced between $1000 and $20000. Wessel's prints are intermittently available in the secondary markets, with prices at auction ranging between $3000 and $16000 in recent years
My favorite image in the show was actually a series of four images hung together; they're in the center of the middle installation shot. It starts with the back of woman's platinum blond head, followed by the back of a suited man on the beach, followed by two sculpturally rounded front yard evergreens, followed by a woman in a bikini, once again from the back. Together, they create a whimsical, peculiar rhythm.
Rating: ** (two stars) VERY GOOD (rating system described here)
Transit Hub:
Feature: PDN Photo of the Day (here)
Exhibit: SFMOMA, 2007 (here)
Book: Five Books from Steidl (here)
Henry Wessel: Vintage Photographs
Through July 8th
Pace/MacGill Gallery
32 East 57th Street
New York, NY 10022 .