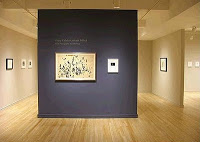 JTF (just the facts):
A total of 22 black and white photographs and 10 drawings, hung against dark blue and putty colored walls in the main rooms of the gallery. All of the photographs are vintage gelatin silver prints, framed in white and matted, and made between 1943 and 1956. Image dimensions range from 2×2 to 8×10 or reverse. The drawings were made in various media (pencil, pen, black ink, oil, or wash on paper) and were executed between 1938 and 1956. Dimensions range from 3×4 to 25×39. This show was organzied in cooperation with Washburn Gallery (
here
). There is no photography allowed in the gallery, so the installation shots at right are via the Pace/MacGill website.
Comments/Context:
Regular readers here will perhaps remember my particular disappointment with MoMA's fumbling of the photography portion of the recent AbEx show (
here
); in my view, it was a major missed opportunity to carefully examine the interplay of visual ideas that were manifesting themselves in different but similar ways in concurrent painting, sculpture and photography. This intimate show of just a handful of works by Jackson Pollock and Harry Callahan does everything the MoMA show didn't do, hanging relevant chronological examples side by side, so the aesthetic parallels and compositional echoes become obvious. It's a superbly edited and sequenced comparison, crackling with exciting connections.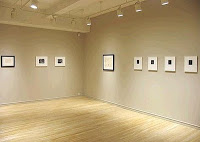 Since Callahan and Pollock didn't actually meet until the 1950s, I don't think this show is making an explicit case for causation or influence, but rather exploring the nature of parallel evolution of like ideas. Both artists were interested in expanding the boundaries of representation, breaking down the recognizable into gestures, rhythms, and expressive marks, moving from the solitary object to all-over abstraction. The exhibit is a catalog of repeated visual motifs, organized in a back-and-forth manner: the angles and curves of Pollock drawings are paired with similar forms in Callahan torn sign photographs, dense interlaced line drawings from Pollock parallel the squiggly lines of Callahan's sunlight on water and flashlight movements, and Pollock's ink scratchings are juxtaposed with Callahan's multiple exposure images of trees, all from generally matching time periods. The argument is persuasive, and the repetitions are conclusive evidence for the commonality of thinking.
While this is a small show, I think it does an excellent job of putting Callahan's work into a larger artistic context; his efforts to understand photographic abstraction make better sense when placed side by side with Pollock's own early inventions. This is the first vintage show I have seen this year that goes beyond a gathering of fine, rare or valuable photographs and instead uses the works to teach us something about the broader march of art history. Not only is this a great Callahan show, but it's a lesson in how photography can be highly relevant to important art in other media.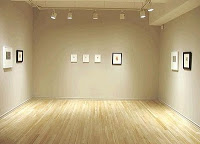 Collector's POV:
The photographs in this show are priced between $25000 and $85000. Callahan's prints are ubiquitous in the secondary markets, with dozens of vintage and later prints available every year. Prices at auction generally range from $3000 to $15000 for later prints, continuing up to roughly $100000 for vintage rarities. The Pollock drawings in the show are priced between $150000 and $275000.
I think the best pairing in the show can be found in the center of the bottom installation shot. It compares a Callahan photograph of spindly plant forms in snow with a Pollock ink drawing on orange colored paper, also covered with small black dots and hashed lines. The two motifs are nearly exactly the same, even though they have been executed using entirely different methods.
Rating: *** (three stars) EXCELLENT (rating system described here)
Transit Hub:
Harry Callahan and Jackson Pollock: Early Photographs and Drawings
Through April 16th
Pace/MacGill Gallery
32 East 57th Street
New York, NY 10022