If you are a collector focused mostly on "vintage" photography (like us), it is easy to lose sight of what it means to be a working photographer on a day to day basis. Many of the artists we collect are no longer alive, so our focus is on talking with dealers, auction house specialists and estate managers about work that is available in the secondary market. This kind of collecting has its own pace and style that is very different than collecting work by contemporary photographers, where there often can be direct, personal interaction with the artist.
Amy Stein is a contemporary photographer working and teaching in the New York area who writes a terrific blog (
here
) about her life as a photographer. We've never met her, but we have enjoyed reading about the gallery shows of her work and those of her friends, the events she is going to, her trips to take pictures, and more generally, watching from afar as a photography career gets built, brick by brick. Of all the artist/photographer blogs out there (and there are a staggering number), it is the only one we read on a regular basis. To us, it feels like an authentic view into life as a contemporary photographer at this moment in time, right now.
Stein has opted for the series approach to her work and has explored four different projects to date: Women and Guns, Halloween in Harlem, Domesticated (animals in human environments), Stranded (motorists on the roadside). Each of these efforts have produced thought provoking, well made color images that have a distinct and consistent point of view. In honor of Halloween, I've selected a few images below from her Halloween in Harlem series (Powerpuff Girls, Hulk, and Dog, respectively):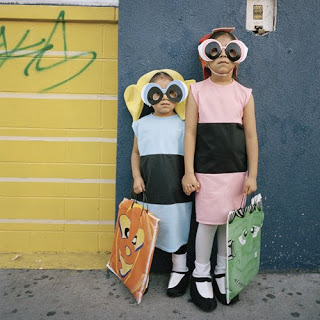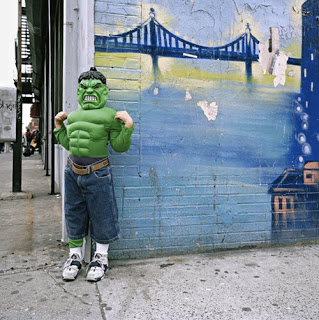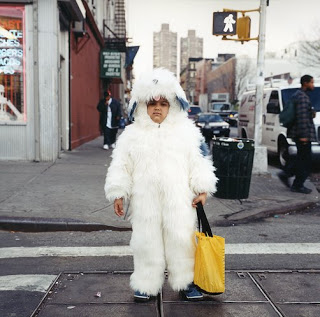 Stein's artist site can be found here, with images from all four series, as well as the other usual biographical information. And while her work doesn't fit into the narrow definition of our particular collection, we will continue to pay attention as her career evolves.