JTF (just the facts): A total of 55 works by 15 artists, made between 1991 and 2009, and hung in the second floor galleries – one small room and a second larger space that winds around on itself. (No photography is allowed at the Asia Society, so unfortunately, there are no installation photos of this show.) Three photographers have been included in the exhibit: Rashid Rana, Arif Mahmood, and Adeela Suleman. Details on each, below:
Rashid Rana: 2 large color works (approximately 95×135), c-prints/Diasec, unframed, in editions of 5, from 2007/2008.
Arif Mahmood: 6 black and white gelatin silver prints, approximately 16×20 or reverse, framed in black and matted, taken between 1998 and 2007.
Adeela Suleman: 5 color works, c-prints, approximately 20×16, framed in black and matted, all from 2009. 3 actual helmets/sculptures are shown nearby in glass cases.
Comments/Context: The current exhibit on view at the Asia Society is the first major roundup of Pakistani contemporary art to be shown by an American museum; as such, and given the current importance of Pakistan in global politics, the show has received a larger dose of press coverage than normal. Most of the articles have eventually come around to asking the central question: how does this new art reflect on the current status of Islamist repression and violence?
As I wandered through this rather small show, I came to the conclusion that this isn't perhaps the right question to be asking, or at least, most of the artists don't seem to be asking themselves this question with the kind of righteous ardor that we (as Americans) might expect. There are no outraged shouts or vicious attacks coming from these walls; nearly all of the works come at the questions of what is going on in their society with much more nuance and subtlety; the critiques are more oblique and from within, often laced with a light dose of satire.
.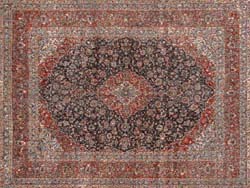 I will freely admit that this show was my first update on art from this country/region since the
Mughal
miniatures
of the 16
th
century, and my knowledge of the recent photography from Pakistan prior to this exhibit was virtually nil. The three photographers on view therefore represent a tiny sampler of what is likely out there, but I came away impressed with what I saw.
Rashid
Rana is Pakistan's answer to the white hot contemporary artist out of nowhere; his works had no auction record at all until 2008, when they
routinely
began to jump into six figures. Having now seen Rana's
Red Carpet 1
, 2007, up close in this show, I absolutely understand why. (Image at right, top, via Asia Society website.) From ten feet, Rana's work looks like an intricate Persian carpet, albeit rigid and glossy up on the wall. But as you move inward, the carpet dissolves away, and it becomes clear that the work is made up of hundreds of smaller images carefully placed in a digital mosaic. As you get right up close, the subject of the tiny pictures becomes clear: the bloody killing floor of a slaughterhouse, with dismembered goats strewn in all directions. (Image at right, bottom, via Asia Society website.)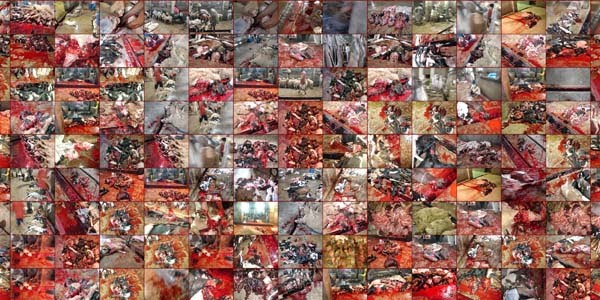 The effect is jolting; the contrast between the lush carpet and the gory scene is a harsh reminder that things aren't always what they seem. And while we have seen plenty of works across the history of photography that have sewn together small objects or fragments to make larger pictures (
Vik
Muniz
comes to mind), Rana seems to have found some specific motifs that deepen the impact of the practice; it comes off not as sly digital trickery, but as an insightful commentary on the culture around him.
Arif Mahmood's black and white photographs of the streets of Karachi come squarely out of the documentary tradition; these are well crafted images that capture the hidden moments of life in the city: a painted mermaid, a chalk ladder on the pavement, a boy with a toy gun on the seashore. Adeela Suleman's head shot portraits come at the realities of life with a healthy dollop of irony: the women in her images are all wearing elaborate motorcycle helmets (sculptures really) crafted out of found tea kettles and kitchen gadgets, elaborately painted in bright colors and adorned with peacock feathers and intricate floral borders. The works touch on a variety of women's issues embedded in the society, simply by recontextualizing the everyday objects found all around.
An interesting idea to consider is how these Pakistani photographers are grappling with the combination of their own culture and the artistic traditions of the West, and how their approach is similar to or different from that of the Chinese contemporary photographers that have gotten so much attention of late. To my eye, the Pakistani artists have found ways to make art that resonates with their own cultural issues without resorting to the overt Western cliches that have dominated recent Chinese photography. While it is dangerous (and perhaps foolhardy) to draw sweeping conclusions from such a small sample of artwork, it appears that many of the Pakistanis are critiquing their society from within, and largely for themselves, while many of the Chinese have been looking at their world from the outside, with the eyes of the foreigners.
Collector's POV:
Rashid
Rana is represented in New York by Bose
Pacia
(
here
);
Adeela
Suleman
is represented by
Aicon
Gallery in New York (
here
); I was unable to locate gallery representation for
Arif
Mahmood
. As I mentioned above, Rana is the only one of the three photographers on view that has any kind of secondary market track record, and his is quite short.
The three bodies of work in this show will appeal to three different kinds of collectors: Rana for the high end contemporary art collector, Mahmood for the intimate, black and white documentary collector, and Suleman for the portrait/sculpture collector and/or those with particular interest in women's issues.
.
Rating:
* (one star) GOOD (rating system described
here
)
Transit Hub:

Exhibition website (here)
725 Park Avenue
New York, NY 10021