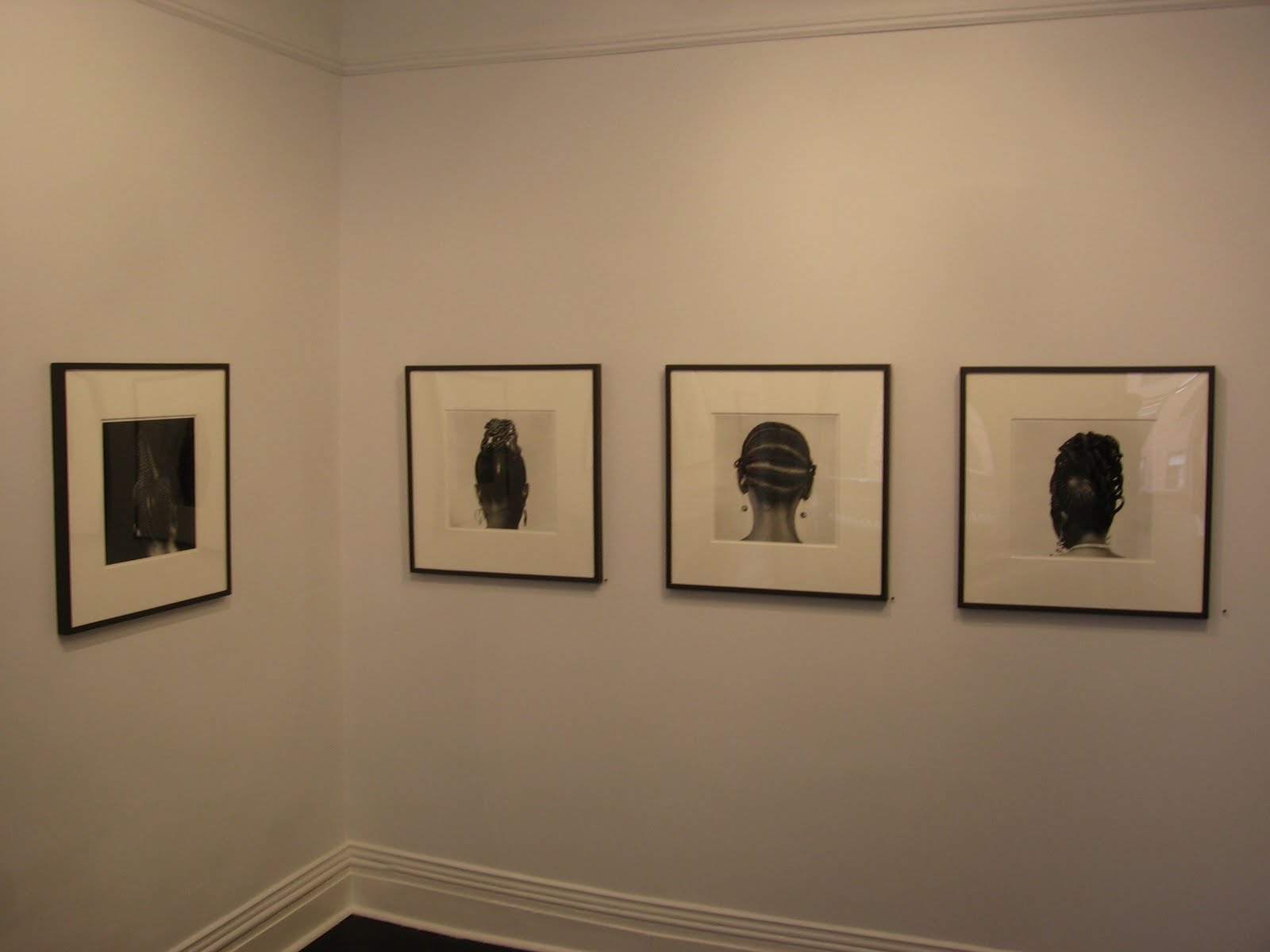 JTF (just the facts): This is a two-person exhibit, with two relatively separate sections. The Ojeikere works are framed in black and matted and hung in the main gallery space. There are a total of 11 gelatin silver prints, 7 printed as larger single images (approximately 16×16 square), and 4 printed smaller (approximately 4×4 square) and framed together in a grid. All of the prints are modern prints (from 2007 or 2009) made from negatives taken between 1970 and 1975; the prints are not editioned.
The Sidibé works are framed in black and matted and hung in the back viewing room. There are a total of 4 works, each of which is comprised of between 15 and 22 individual gelatin silver prints (approximately 3×2 each), pasted onto a cardboard poster and annotated by the artist in pen. These vintage works were made between 1966 and 1968. This exhibition is presented in conjunction with Fifty-One Fine Art Photography in Antwerp (here). (Installation shots at right.)
Comments/Context: The best of African photography doesn't find its way to New York as often as it should, so we do our best to get out to see it when it does make a rare appearance. Private dealer Parker Stephenson has smartly paired images by J.D. 'Okhai Ojeikere from Nigeria and Malick Sidibé from Mali in this intimate show, highlighting two bodies of work that have parallels with the conceptual typologies that have become commonplace in contemporary photography.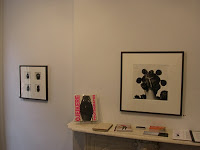 Like the Bechers and their industrial structures, Ojeikere systematically documented Nigerian hairstyles in the 1960s and 1970s, making deadpan portraits of the backs of heads against monochrome backgrounds. In these works, hair has been transformed into a sculptural medium: it is variously woven, braided, pleated, knotted, twisted, and piled into elaborate, ornate creations. The designs run the spectrum from tribal to botanical, complete with abstract patterns and intricate decorations. The project operates both at the anthropological level (a careful document of vanishing cultural traditions) and at a more conceptual one (a process-centric, objective comparison of forms). The similarities to the approach of the Bechers are striking, but the individual images are also strongly reminiscent of the up-close New Objectivity florals of Karl Blossfeldt – astounding designs and geometries found in unlikely places.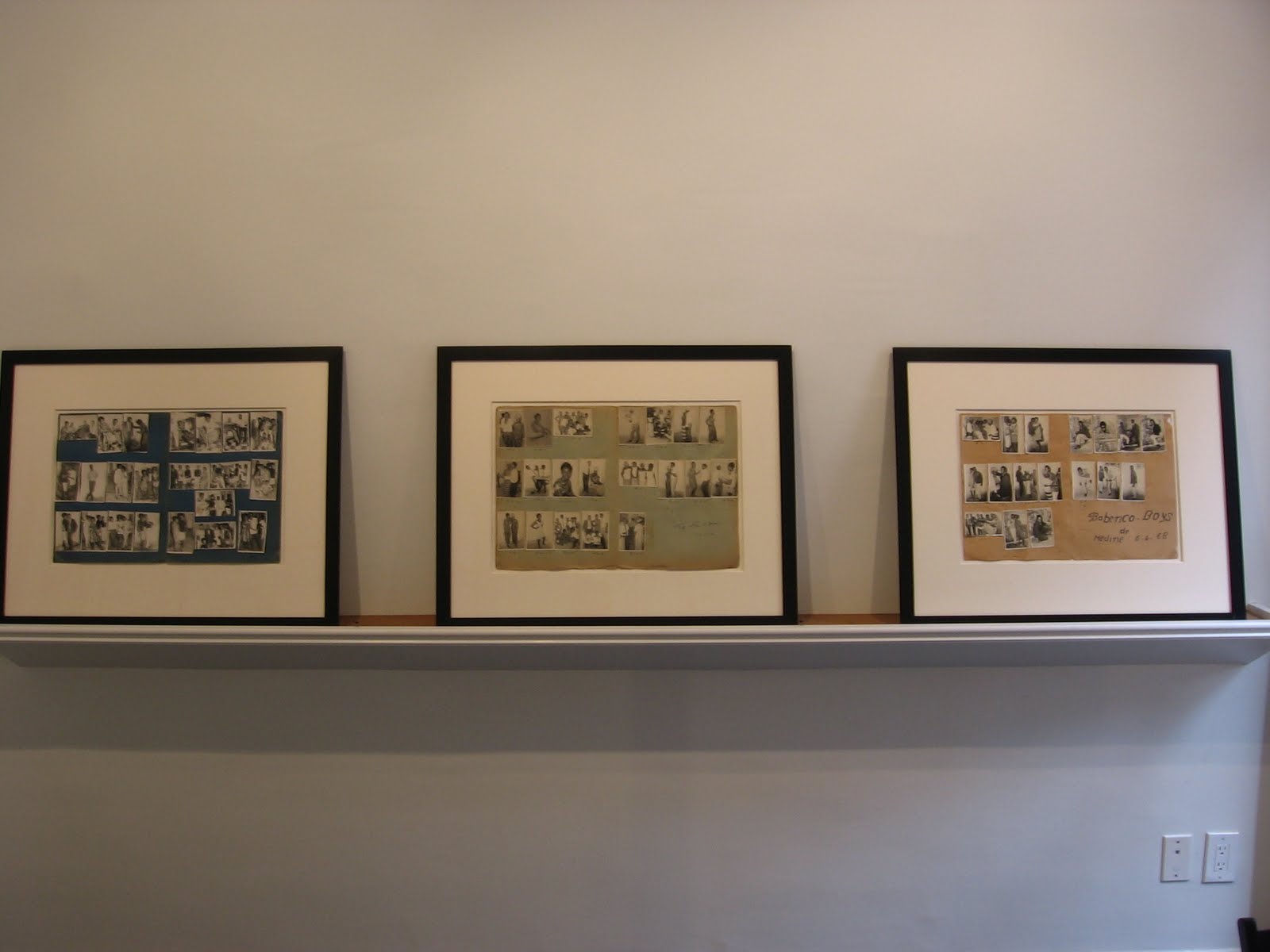 While most collectors are already familiar with
Malick
Sidibé's
funky 1960s studio portraits, complete with their eye-popping stripes and patterns, the posters on view here are a reminder of another facet of his work. As an active working
photographer
,
Sidibé
often attended parties and dances at all kinds of social clubs and venues, making casual pictures and simple portraits of the guests. The next day, he would gather the prints together on a poster outside his studio, complete with numbers underneath, so people could come by and order reprints of their favorites. These hand crafted
maquettes
are arrays of small black and white images, all the same size. Like his more formal studio portraits, the images capture the contagious energy of youth: the mix of traditional and Western dress, the obsession with new music (many people are shown holding up album covers), and the sheer joy of lively dancing and exuberant joking around. While these
inadvertent
typologies lack a rigorous conceptual construct, the multi-image display approach underscores the nuances of cultural change that were taking place.
All in, this is an intelligent exhibit of under appreciated work, well worth a quick visit. Most importantly, I came away with the unexpected conclusion that a formal array of a dozen 1970s Nigerian hairstyles on a large white wall might compare surprisingly well with gas tanks, coal mine tipples, or framework houses.
Collector's POV:
The larger
Ojeikere
images are priced at $2500 each, while the smaller prints are $1000 each or $4000 for the grid of four. The
Sidibé
posters range between $18000 and $22000 each.
Ojeikere's
photographs have little or no recent secondary market history, so gallery retail is likely the only option for collectors interested in his work at this point.
Sidibé's
later print portraits and club scenes can be found at auction from time to time, ranging from $2000 to $5000 in the past few years. These vintage
maquettes
are however much more rare.
Sidibé
is officially represented by Jack
Shainman
Gallery in New York (
here
).
Rating:
* (one star) GOOD (rating system described
here
)
Transit Hub:
Hairdos and Parties: African Typologies by J. D. 'Okhai Ojeikere and Malick Sidibé
Through February 26th
764 Madison Avenue
New York, NY 10065
by appointment