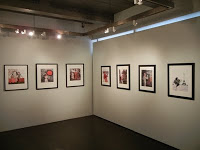 JTF (just the facts): A total of 24 black and white and color photographs, framed in black with white mats, and hung in the main gallery space. The 8 black and white works are gelatin silver prints, made between 1953 and 1959. They are all 16×20 or reverse, printed in editions of 25. The 16 color works are archival pigment prints, made between 1953 and 1961. They are either 16×20, 20×20, or 20×24 (or reverse), also printed in editions of 25. All of the works on view are modern prints from restored negatives. (Installation shots at right.)
Comments/Context: French fashion photographer Georges Dambier made his mark working for Elle in the 1950s, taking famous models out of the studio and placing them in the streets. This small show is a mini retrospective of sorts, where solid examples in both black and white and color have been gathered together, showing Dambier's particular knack for the jaunty staged scene and his masterful use of splashes of bold color.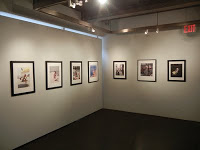 Dambier's black and white work is filled with posed scenes and feminine flourishes: a model nose to nose with a hackney horse, another daintily paying a gas station attendant, a third buying a goldfish in plastic bag. Broad fur collars, cigarette holders, and white gloves complement slyly exaggerated faces and dramatic gestures, in ways we have come to associate with 1950s fashion photography.
I found Dambier's color work to be far more striking. In three pictures, he captures Suzy Parker with flowers: one with an armload of bright yellow daffodils, a second with a pastel pink hydrangea bouquet that matches the ribbon on her white hat, and a third with a bunch of salmon pink tulips that echoes the flounce of her floppy pink brim; all three have an energy that is contagious. Other images on display have this same electricity: a red and white striped top paired with a huge blue surfboard, striped beach coverups in blue and orange, a red hat and red gloves flanked by the big red blob in a painting by Miro. Red coats and suits paired with matching red hats similarly stand out against the anonymous movement of the city in the background. In all of these these works, color has become the compositional anchor, rather than subject or form, and bright areas of saturated color grab your eye.
While many of the works on display seem like well-executed examples of a certain type from a certain time, a few of the color pictures are really quite timelessly stunning. So even if fashion photography isn't your passion, there are a couple of dazzling color photographs on view here that are worth a quick detour.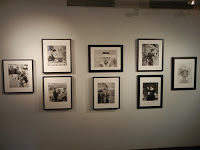 Collector's POV: The prints in this show are priced as follows: the 16×20 and 20×20 prints range in price from $2800 to $9500, based on the place in the edition; the single 20×24 print on view is $4000 (rising to $5000 as the edition sells). Dambier's work hasn't reached the secondary markets with any regularity, so gallery retail is likely the only option for interested collectors at this point.
 
My favorite image in the show was The Bikini Girl on the Boardwalk, pour Jour de France, Deauville, 1959; it's on the far left in the middle installation shot. This is the kind of image that should be used to illustrate the power of primary colors in photography. The crisp white polka dots on the blue bathing suit and the echo of matching yellow between the umbrella and the glass of juice really make this picture pop. Paired with the model's mischievous smile, the vibrant color turns a simple fashion scene into something sensational.
Rating: * (one star) GOOD (rating system described here)
Transit Hub:
Georges Dambier: Who's That Girl?
Through May 27th
Bonni Benrubi Gallery
41 East 57th Street
New York, NY 10022