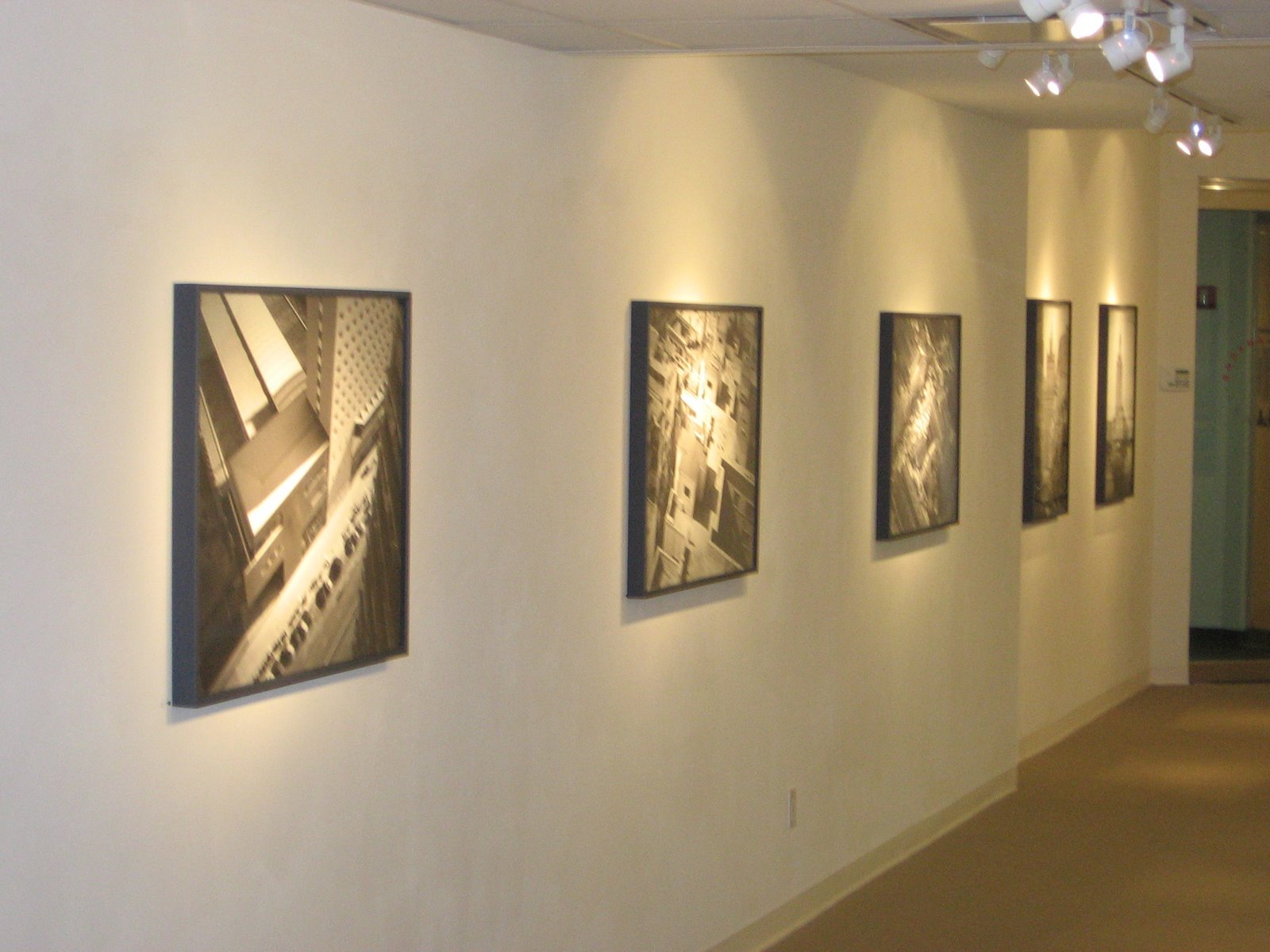 JTF (just the facts): 12 black and white pigment prints, hung in dark grey frames throughout the gallery. The works come in two sizes (approximately 29×37 and 53×42) and are printed in editions of 15. The images were taken in a variety of locations (Naples, Moscow, San Francisco, Monaco, Barcelona, and Bari) during the period 2004-2007. (Installation shots at right.)
Comments/Context: Italian photographer Gabriele Basilico has been making careful studies of cities, urban environments and architecture in Europe and in other locations around the world for nearly three decades, and yet he remains a bit of a mystery to audiences in the United States. Except for the show at the SFMOMA last year and a relatively recent relationship with Cohen Amador, Basilico has been virtually absent from America.
Basilico's images of densely built habitats are neither wholly abstracted exercises in lines and planes, nor are they wide documentary views of architecture in the context of its surroundings; they lie somewhere in the middle, giving the structures some larger situation, while playing with the relationships of space and pattern inherent in their design. At first glance, some of the images can seem a bit dull, but upon further inspection, the complexities start to reveal themselves and the pictures become more intriguing.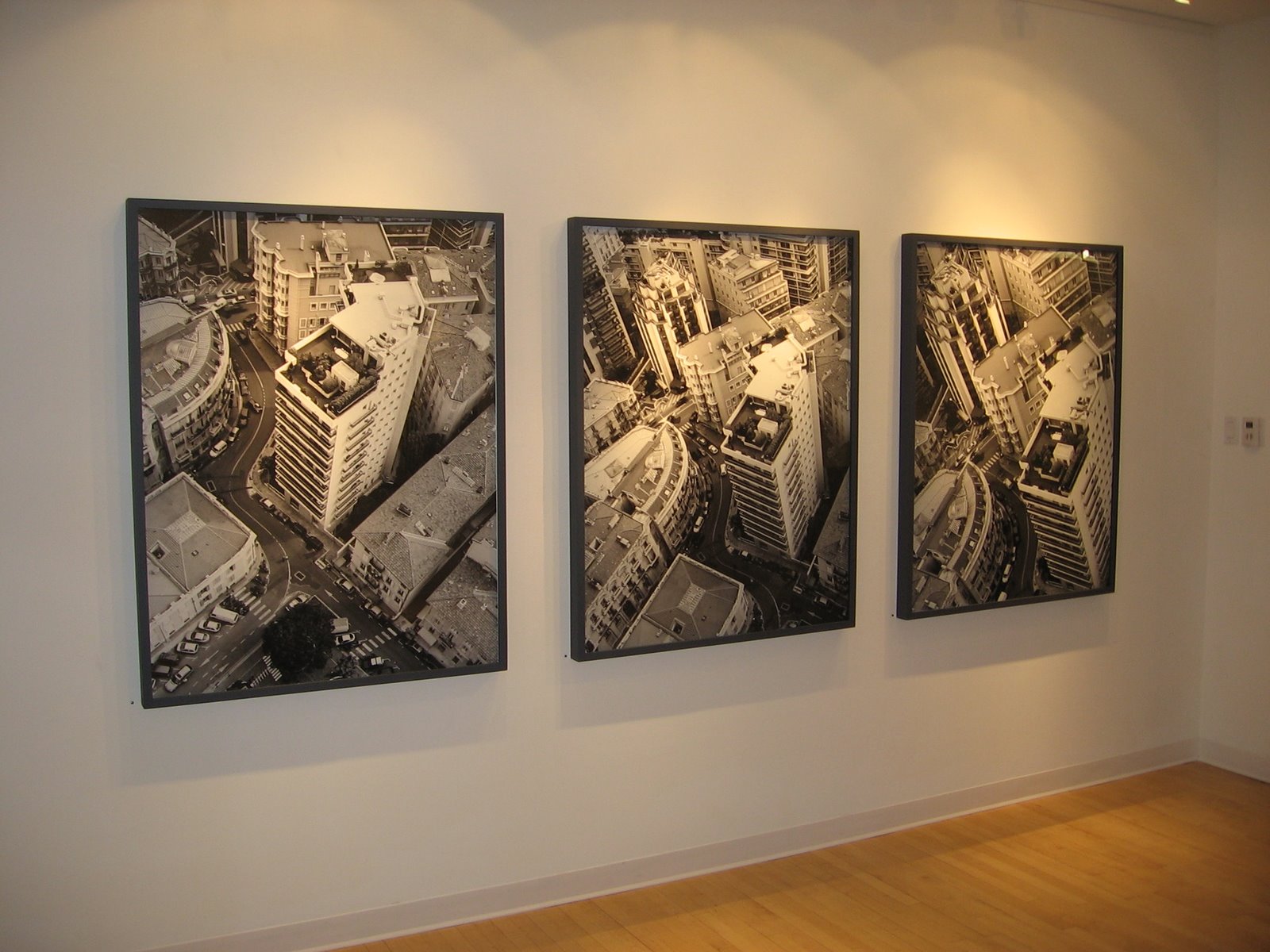 An example of this is a set of three images from Monaco, hung together in the back of the gallery (image at right). When I first saw these pictures, I wondered why three pictures which were so obviously similar had been chosen for the exhibit, when they were not designed as a triptych. And yet, as I stood and looked at these images more carefully, it became clear to me that each image had its own subtle variations in pattern as a result of the changes in camera angle. The sinuous street down in the valley of the buildings was entirely different in each image, and the relationships between the structures had been altered just enough to create varied compositions. Each picture could easily stand on its own, and the triptych effect created by their installation together simply highlighted their differences.
Basilico's works merit this type of patient looking. These are silent, almost introspective pictures, that encourage standing and thinking awhile. His work asks questions about our built environments, but it does so without shouting or overt critique. The images are simply put forth, to be read in a multitude of ways. Focus can quickly shift from the interplay of the planes and tones of a dense warren of buildings, to harder questions about how or why they evolved to be that way in the first place.
In sum, this small show is certainly worth a visit, particularly if you aren't familiar with this important photographer.
Collector's POV: Basilico's work makes an interesting contrast to a variety of city and industrial photographers throughout the history of the medium, from Abbott, Callahan, and the New Topographic photographers, to newer voices (Struth, Opie, Kanemura and others). His work is solely represented by Cohen Amador here in the US (I believe), and is virtually absent from the secondary market, so there aren't many options for acquiring his prints locally. The images in this show are retailing for 8000 and 11000 Euros, based on size. Vintage works from the 1980s and 1990s are also available (although not part of this particular exhibit).
Rating:
** (two stars) VERY GOOD (rating system described
here
)
Through March 6
41 East 57th Street
New York, NY 10022
UPDATE: We have been reminded by another collector that Basilico also had a solo exhibition at the MIT Museum in Cambridge, Massachusetts in 2004.