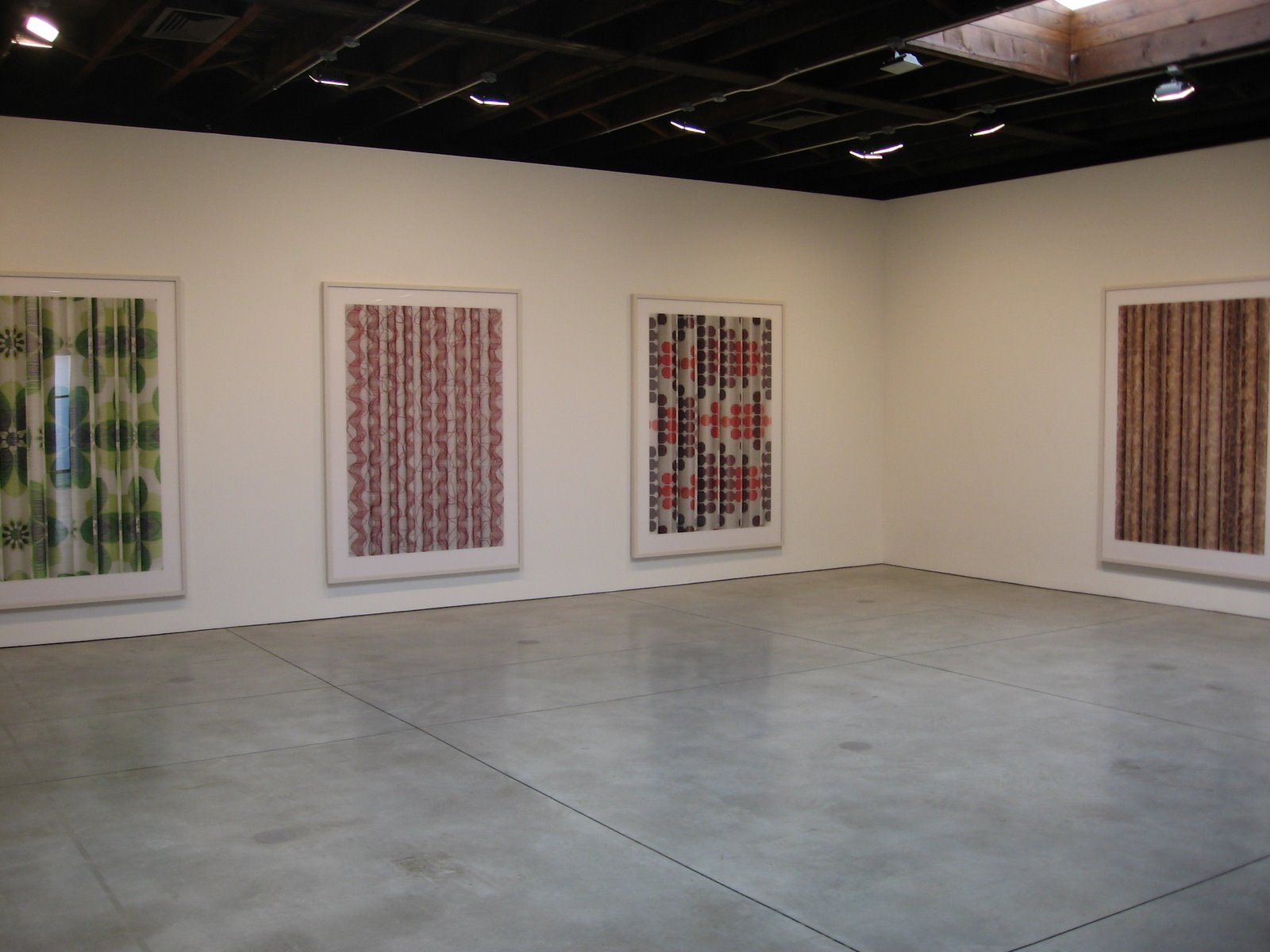 JTF (just the facts): A total of 14 large scale chromogenic prints mounted to Plexiglas, framed in white with no mat, and hung in the main light filled gallery and two smaller side rooms. Each image is printed 96×71 (a smaller 54×40 size is also available, although not on display), and the images were taken in 2007 and 2008. The prints are made in editions of 5+2AP. (Installation shots at right.)
Comments/Context: German photographer Frank Thiel's entire career has been centered around images of the transformations in his home city of Berlin, so the massive patterned and monochrome images that are now on view at Sean Kelly might seem an odd departure. The back story to these works is that they are images of curtains, found in abandoned East Berlin buildings and cleaned up by Thiel. The curtains were then hung in brightly lit windows, photographed, and enlarged to three times life size. The resulting images capture the undulating folds of the fabric, the texture of the weaves, and the interplay of the printed patterns, while having an undertone of historical meaning for unified Germany.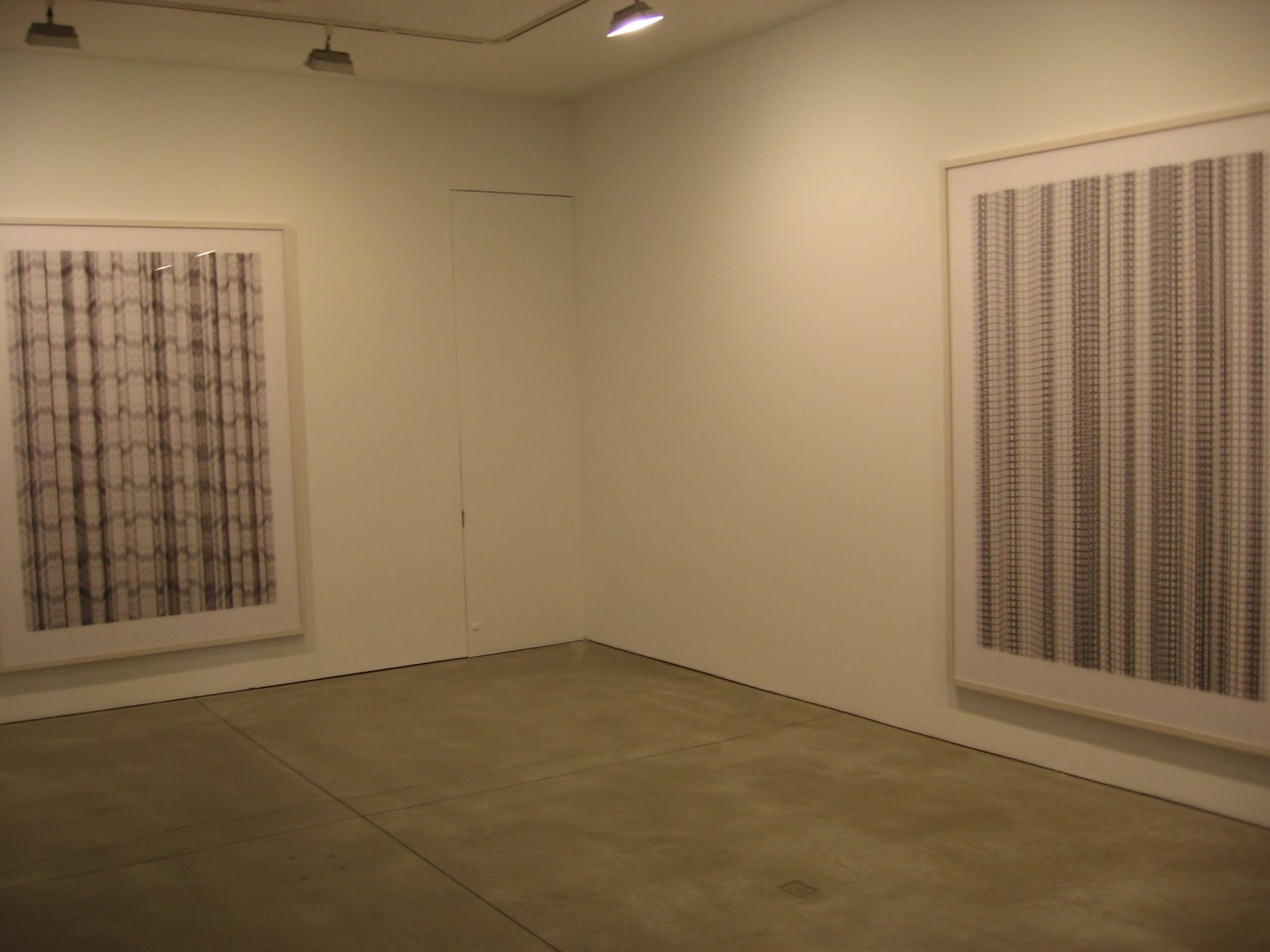 There are three subsets to this larger series: monochrome patterns, solid colors, and color patterns. At first glance, the monochrome curtains seem like wavy indistinct vertical stripes and repetitions; step in closer and there is an amazing level of intricate detail in these
zig
–
zagging
lines, an echo of Sol
Lewitt's
wall sized pencil drawings.
The solid colored works (in red, green, yellow, and brown) emphasize transparent texture, with diaphanous light flowing through the gaps in the weave, highlighting the subtle bumps and imperfections in the cloth. The color patterns are interplays of geometric dots, stripes, and printed leaves, further abstracted and reworked by the interlaced folds of the fabric.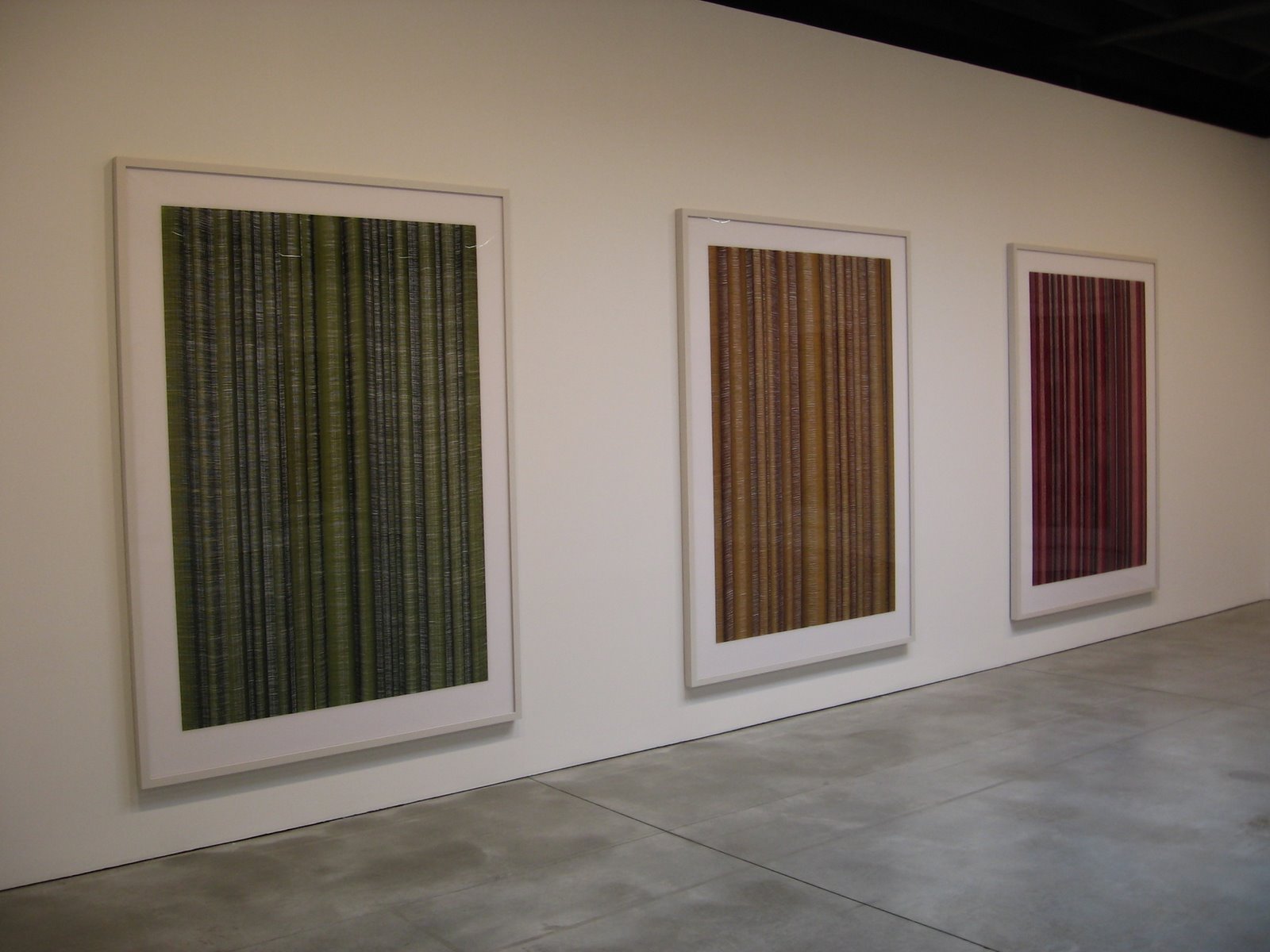 While these works surely have a compelling decorative quality (a backhanded compliment in today's world), I very much enjoyed the delicate abstractions that
Thiel
has discovered in these mundane subjects. What could have been a clever set piece has become something altogether more elegant and ethereal than would have been expected.
Collector's POV: The prints in the show are priced at 11500€ or 23000€ depending on size. Thiel's work has started to show up at auction with more regularity in recent years, with prints selling between $8000 and $23000. As we have mentioned before, while the immense size of these works clearly contributes to their interest, it also makes them wholly impractical for us as collectors. So while I certainly enjoyed these works, the prints would need to be much smaller to be a fit for our particular collection.
Rating:
** (two stars) VERY GOOD (rating system described
here
)
Transit Hub:
Constructing New Berlin at the Phoenix Art Museum (here)
UBS Art Collection (here)
DLK COLLECTION book review: Frank Thiel: A Berlin Decade, 1995-2005 (here)
Through June 20th
New York, NY 10001
.
Administrative Note: There will be no posts on Monday, US Memorial Day.