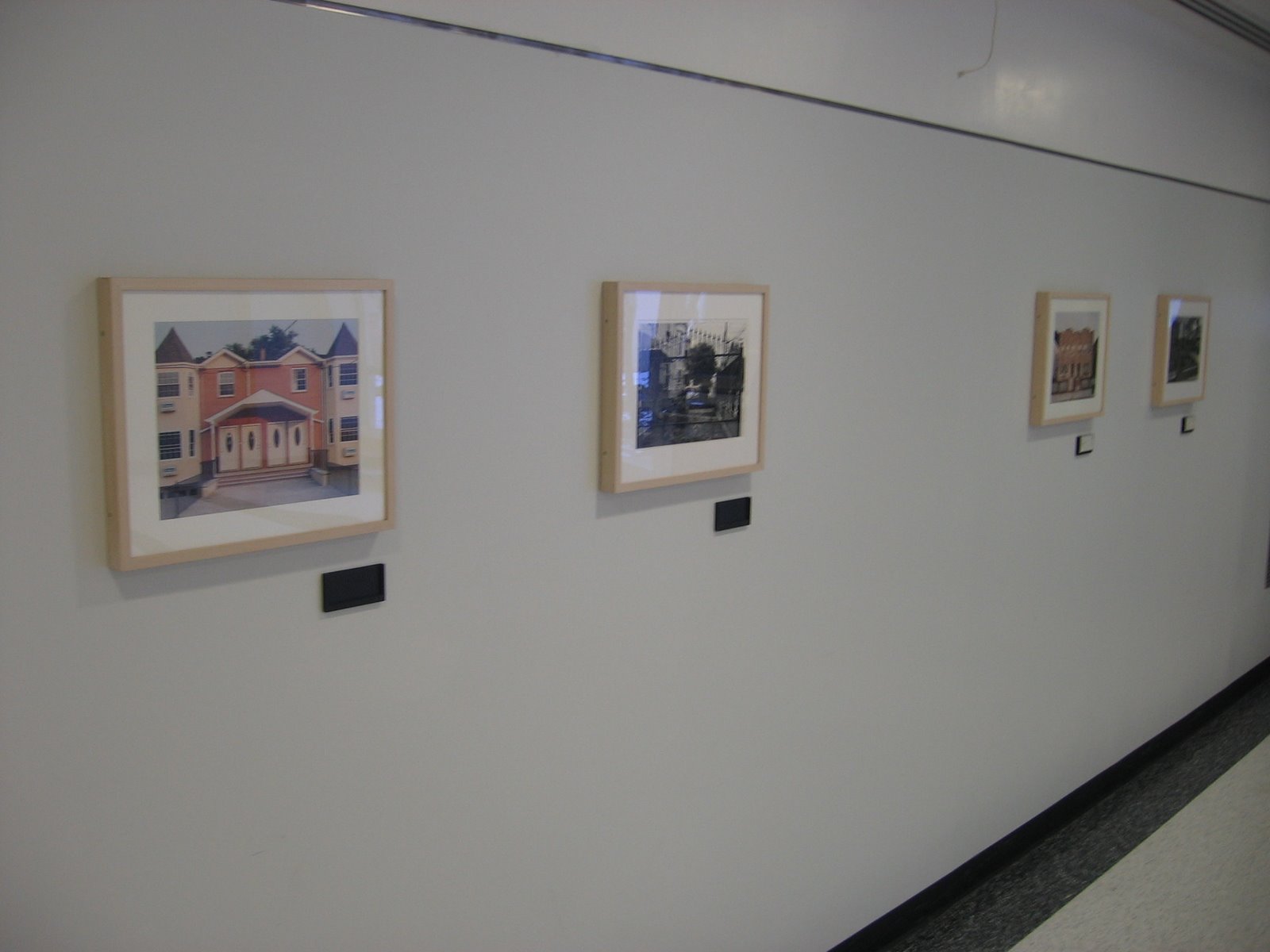 JTF (just the facts): A total of 58 images, taken in 2003 and 2004, framed in blond frames, hung throughout the 3 floors and basement of Hortense Powdermaker Hall (the main classroom building at Queens College). Images are printed in two different sizes: large (approximately 4×5 feet) and small (approximately 8×10 inches). The total group seems to be divided generally equally between the two artists. Gohlke's works are gelatin silver prints; Sternfeld's are C-prints. The entire exhibit was commissioned by the college. (Various installation shots at right.)
Comments/Context:
With the kids and their mother packed off for an afternoon at the grandparent's house, I found myself with a few free hours this weekend and decided to head down to Queens to see the
Gohlke
/
Sternfeld
show at Queens College. After parking my car and finding my way through campus to
Powdermaker
Hall, I was ready to see the combined effort of these two great photographers, part of which I had already seen at the
Gohlke
show at Howard
Greenberg
last summer (original review
here
).
I pulled one of the side doors open and wandered into the building, hoping to find a sign or some other pointer to where the images were hung. No such luck. The building was completely and entirely empty, not a single person anywhere (a few classrooms were inhabited but no random people hanging out), the linoleum echoing as I clicked down the hallways. Powdermaker Hall is roughly shaped like a fork, with three tines, and I finally found my way to the center where I discovered a lone security guard. Along the way, I had spied a couple of photographs, hung in puzzling locations, often by themselves, and indeed these were part of the exhibition. I told the guard that I was here to see the photography show and inquired about where the images were, if there was a map or other literature etc. She looked at me like I had just asked her when the next shuttle to the moon was leaving. Finally she just laughed and said that the pictures were all over the building and that I should start up on the third floor and work my way down.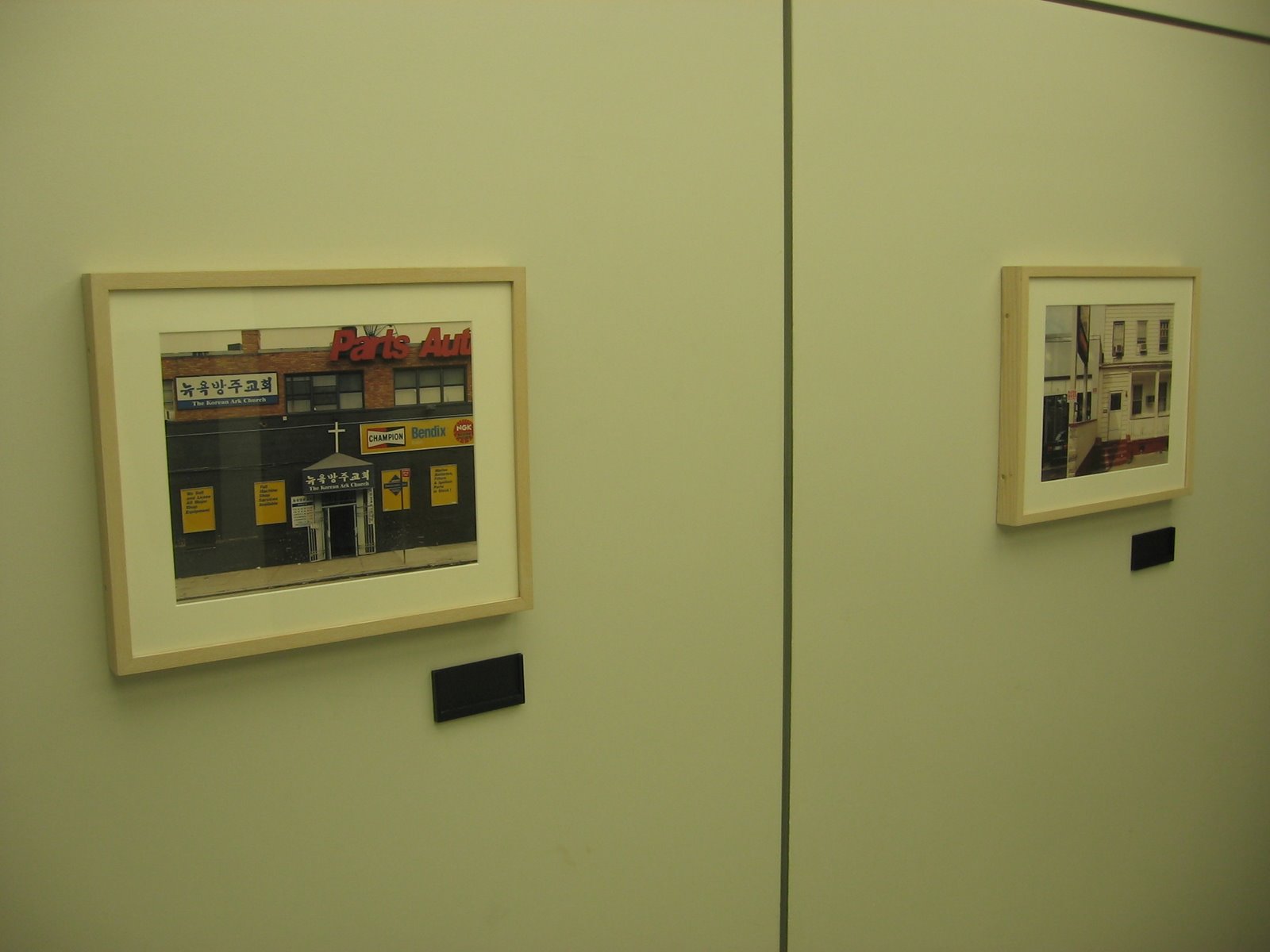 So I trudged up the stairwell and worked my way down to the end of one long hall to what I thought seemed like a good place to start. Again, there were no other people there. It was completely deserted, the white
press board
walls lit with buzzing
fluorescent
lights (
eerie
installation shot at right), the epitome of soul sapping institutional architecture. I felt like I had a stepped into a
Haruki
Murakami
novel; who knew when some odd person might arrive and lead me to another dimension.
So to be clear, this is not an "exhibition" in the normal sense of the word. The works are spread all over this massive classroom building, sometimes alone, often in pairs or groups, but without any pattern to their display. You often need to walk a good distance (perhaps a minute or two of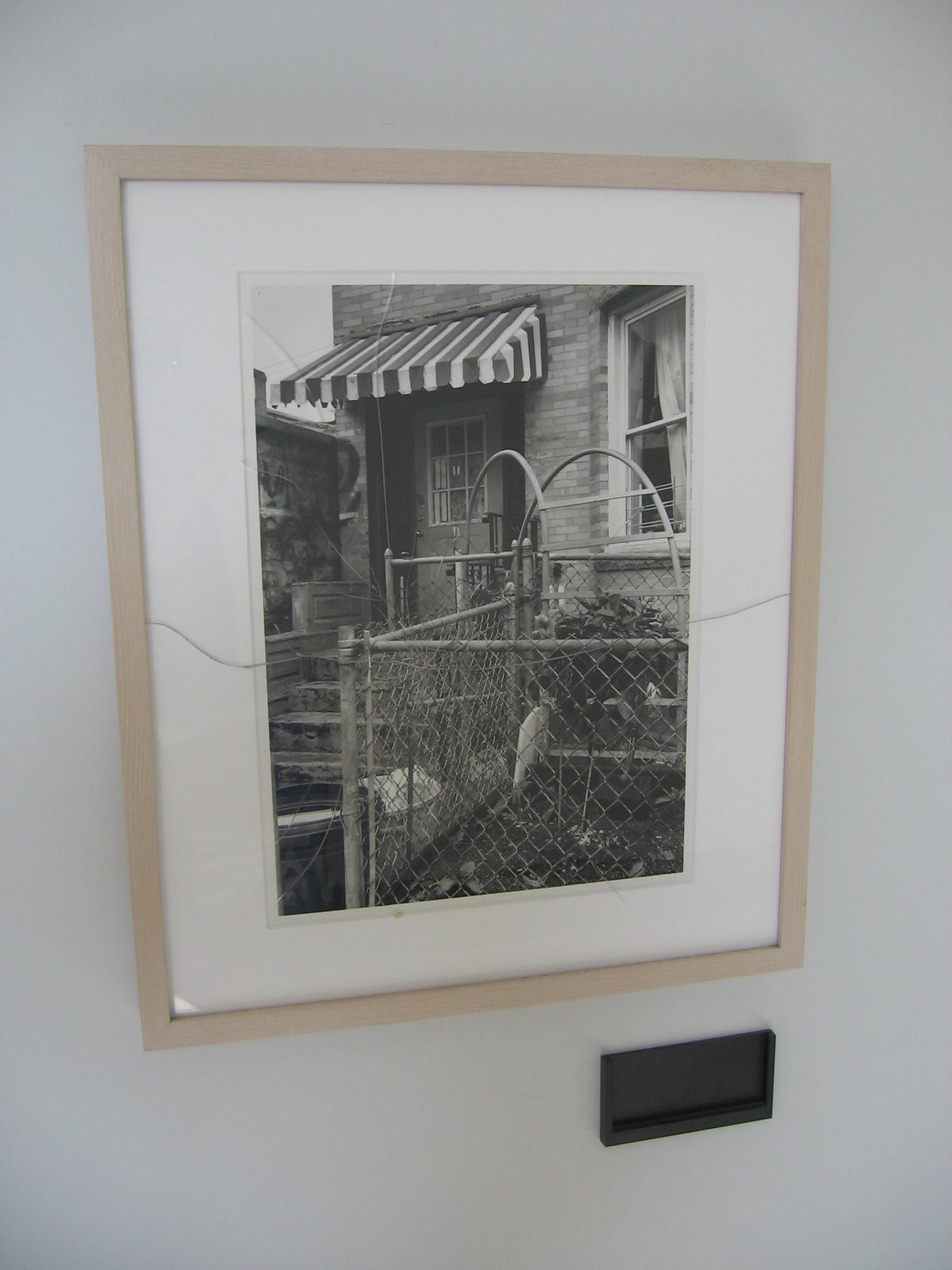 steady walking) between pictures. Seeing the entire show is like going on a scavenger hunt. I found 56 of the 58 works that are supposedly in the show; where the other two are remains a mystery, as I think I did a pretty systematic search. Probably three quarters of the wall labels have been removed by vandals (a few business cards have been stuck in as replacements), so while you can tell who made the images (black and white =
Gohlke
, color =
Sternfeld
), there often isn't any other information available. The discouraging state of this exhibit is exemplified by the image at right: an amazing
Gohlke
photograph, with the glass broken and the wall label gone.
So far I have spent the entire body of this review talking about the environment and not the art, and unfortunately, the staging of these works is so distracting that it is hard to get any complete view of the commission. With so much space between the works, the interrelationships and patterns are hard to discern (was this Sternfeld like a Gohlke I saw up on the third floor? What does this large Sternfeld have to do with the small ones in the basement? etc.). I truly wonder what any student, blowing by on the way to class, can gather from these photographs given the way they are installed.
That said, Gohlke has focused his camera primarily on single family homes and snippets of nature, finding patterns in fences and ironwork, door frames and brick. His images are angled, standing outside, looking in at an evolving neighborhood. The front door portraits that have been enlarged to the big print size are striking, crisp in detail and dense with information.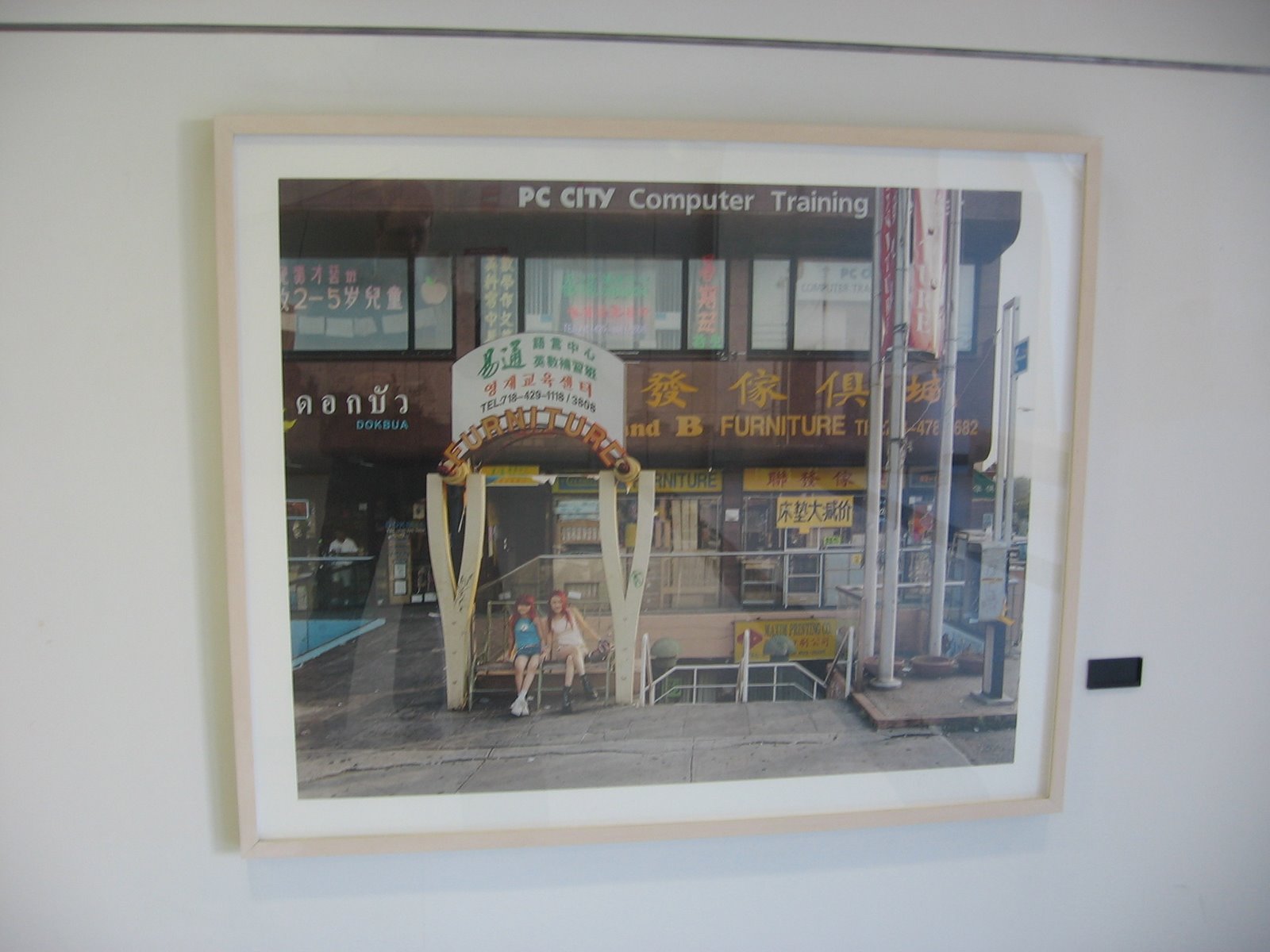 Sternfeld's
images are much more interested in the cultural melting pot that is Queens. All of his works are straight, frontal shots, accenting bold colors, multilingual signage and unusual building styles, often populated with a diverse set of locals staring directly into the lens. Koreans, Bolivians, Muslims and a variety of other
ethnicities
, nationalities, and religions are represented and mashed
together
, often with his signature subtle hint of irony hiding underneath. Again, the large prints hold their own better in this environment. (Large print near the elevators at right.)
Together, the works of Gohlke and Sternfeld tell a surprisingly rich and successful picture of Queens. If these works were hung in a museum, they would likely expose many more contrasts than they do here in these empty halls.
Joel
Sternfeld
is represented by
Luhring
Augustine (
here
).
.
Collector's POV: While I was bit slow in coming to understand and appreciate these Gohlke images, evidenced by my struggles with the Greenberg show, given some time and a second look, I think many of the images of homes and their barriers are quite strong. This was my first look at the Sternfeld body of work, and I believe there are a handful of excellent pictures here as well, especially if printed in the large format, where the complexities of the color relationships are more apparent. While the work in this show merits at least two stars, the Where's Waldo installation makes this a show for only the most devoted fans.
.
Rating:
* (one star) GOOD (rating system described
here
)
Frank Gohlke and Joel Sternfeld
(permanent commission)
65-30 Kissena Boulevard
Flushing, NY 11367