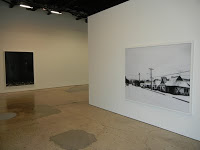 JTF (just the facts): A total of 8 large scale color images, generally framed in white and not matted (the two smallest works are framed in black and matted), and hung in the main gallery space (with a partial dividing wall). All of the works are c-prints, ranging in size from 16×13 to 82×106. The works were made in 2011, and have been printed in editions of 6. (Installation shots at right.)
Comments/Context: Florian Maier-Aichen's show of new work at 303 finds him moving further and further away from the traditional frameworks and definitions of photography. While all of the end products in this exhibit are photographic prints, Maier-Aichen has employed a dizzying array of artistic techniques and media (including painting, drawing, watercolor, animation, sculptural installation, and Photoshop) to expand the boundaries of the form. As a result, these works feel very process heavy; the "how" seems to dominate the rest of the ideas he is offering, making the "why" less clear.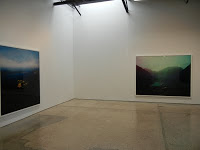 Two of the new works seem to extend his exploration of broad romantic landscape, connecting back to his previous images most closely; one aerial depicts unexpected yellow blotches of farmland in a sea of blue and green, while another captures a steep fjord with boats in surreal tricolor fuzziness. A third takes a dated suburban scene from Los Angeles and transforms it with Photoshop snow and hand painted cars, creating a juxtaposition of incompatible styles and an impossibility of memory.
The rest of the works in the show drift away from a quasi-documentary approach toward interpretation and abstraction via rephotography. Two large pictures began as drawings/paintings on canvas, night scenes of stars against dark skies, with tree silhouettes or childlike waves as framing; up close, they are quite textural. Two others are photographs of animation cells and watercolors, one a swirling mass of happy abstraction, another a cartoon mix of landscape and a floating circular target. The last documents a copy of a Kenneth Noland painting being submerged in a flood of dark red water.
As Maier-Aichen moves away from the traditions of photography toward a new frontier of mixed media, I think it becomes harder and harder to understand or judge his work in a purely photographic context. Intellectually, I am intrigued by what he is attempting to do, as it represents a new confluence of ideas; the tools are being used in original, less "realistic" ways. Visually though, I continue to be less than moved; as his work gets more symbolic and impressionistic, it may indeed be leaving photography behind. There's clearly a conceptual redefinition going on here, but the resulting images need to be more than just inventive process.
.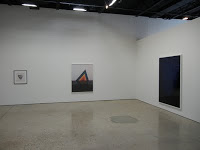 Collector's POV: The prints in the show are priced between $25000 and $120000, with several at $70000. Maier-Aichen's work has become consistently available in the secondary markets in the past few years, with prices generally ranging between $25000 and $180000.
.
Rating: * (one star) GOOD (rating system described here)
Transit Hub:
Through June 25th
303 Gallery
547 West 21st Street
New York, NY 10011