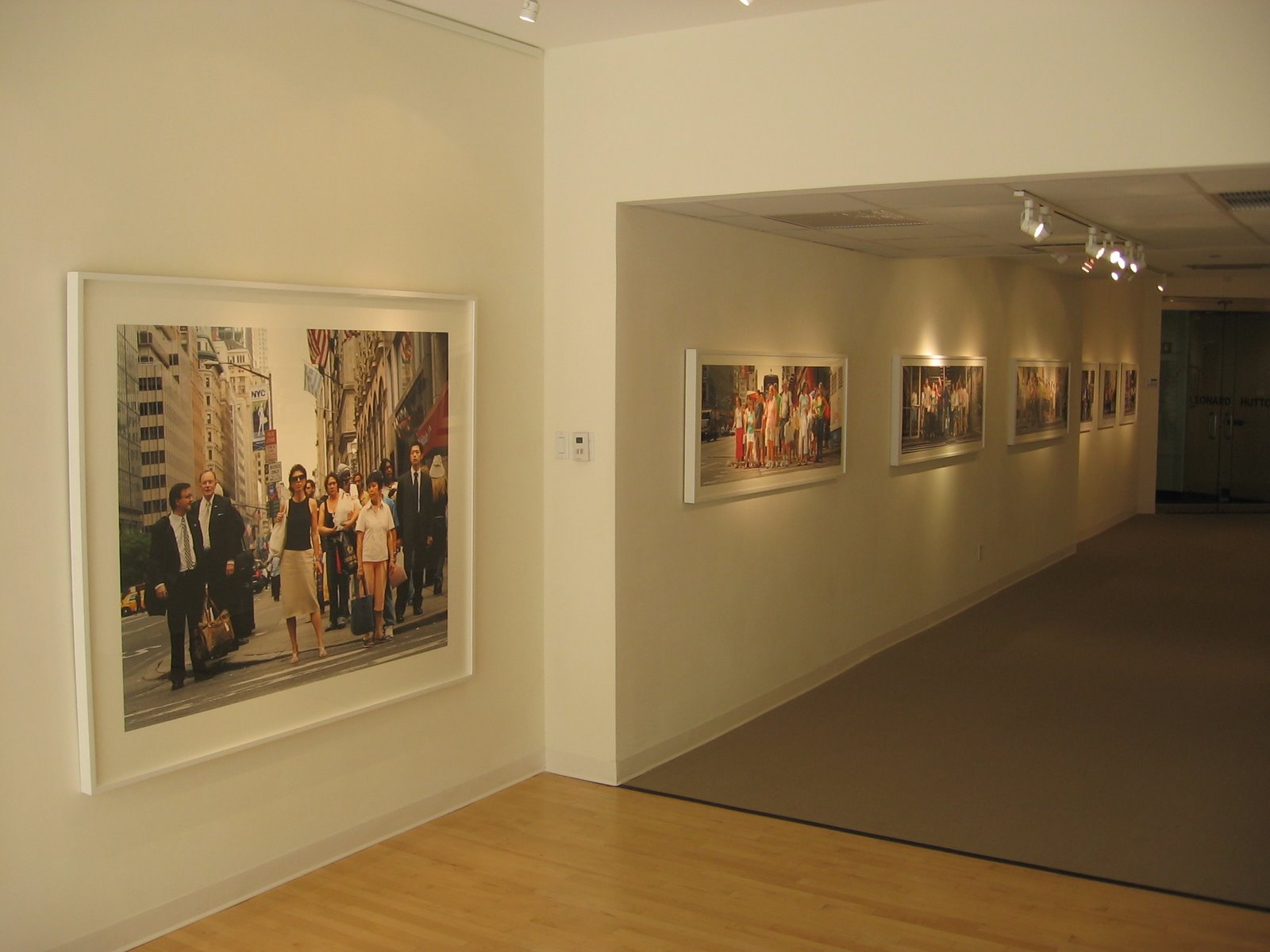 JTF (just the facts): A total of 13 pigment prints, 3 in the panorama 22×65 format (in an edition of 5), the rest in standard rectangular formats of either 20×25 or 47×58 (all the images come in both sizes I believe, editions of 7 and 5 respectively), displayed throughout the gallery. (See installation shot at right.) All the negatives are dated 2005. There is also a book of the same name, published by Hatje Cantz.
Comments/Context: Florian Böhm's Wait for Walk series starts with a simple premise: stand on the other side of the street and take a picture of the people as they gather, waiting for the light to change. Given the melting pot that is New York city, it isn't surprising that he has captured some interesting juxtapositions of people, dress, and movement. To my eye, Böhm's work has the feel of an anthropological study. They are pictures taken by someone who is outside the culture he is documenting, and as a result, the images seem a little specimen-like. That said, if you walk out onto the streets of the city right after you see these pictures, you will find the world is very much as he has depicted it (it hasn't changed much in 3 years). Perhaps these pictures will benefit from a few decades passing, so we can look back nostalgically at the fashions and styles of these times and laugh at how stupid we looked (when we thought we were cool). Or maybe they should be shown in Paris, or Shanghai, or Bangalore, where the streets of New York will look more other worldly than they do here.
It's hard not to think of the work of Philip-Lorca diCorcia when you see Böhm's images. diCorcia did a similar type of hidden camera street photography throughout the 1990s, although without the conceptual framework of the consistent image framing and set-up that Böhm has employed. As a result, since diCorcia did images from all over the world, I think his images stand alone more strongly (can you bring to mind the businessman with the umbrella in NY or the woman with the bag in Mexico City?) and encourage a bit more narrative imagination on the part of the viewer. Böhm's work is more clinical, and while there are moments of humor (the yawn), these works lead you to dissect the people and their gestures rather than guess at their stories and lives.
The artist's website can be found
here
.
Collector's POV: The images range in price from $2500 to $6500, based on size, with one image at $11000. While these images don't fit our collecting vision, Böhm has collected some interesting moments in these works, which will likely become even more wry and telling as they age, so swing by the gallery to see the show before it closes.
Rating:
* (1 star) GOOD (rating system defined
here
)
Through October 18th
41 East 57th Street
6th Floor
New York, NY 10022