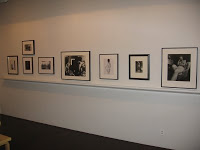 JTF (just the facts): A total of 21 black and white images, framed and matted in various ways and hung throughout the one room gallery space. Negatives range from 1887 to 2006. (Installation shots at right.)
The following photographers are included in the group show (with the number of works on display in parentheses):
Vito Acconci (1)
Erwin Blumenfeld (6)
Bill Brandt (1)
Harry Callahan (1)
Mariana Cook (2)
Louis Faurer (2)
Gerard Petrus Fieret (2)
Peter Hujar (1)
Andre Kertesz (1)
Dora Maar (1)
Daido Moriyama (1)
Eadward Muybridge (1)
Susan Paulsen (1)
.
Comments/Context: The fascinating thing about group shows, regardless of their theme or subject, is that they are nearly always less about the works that have been included and more about the editorial eye of the person who curated the show. Why were some works included and others left out? What was the curator thinking when he/she selected these pictures and sequenced them in this particular way?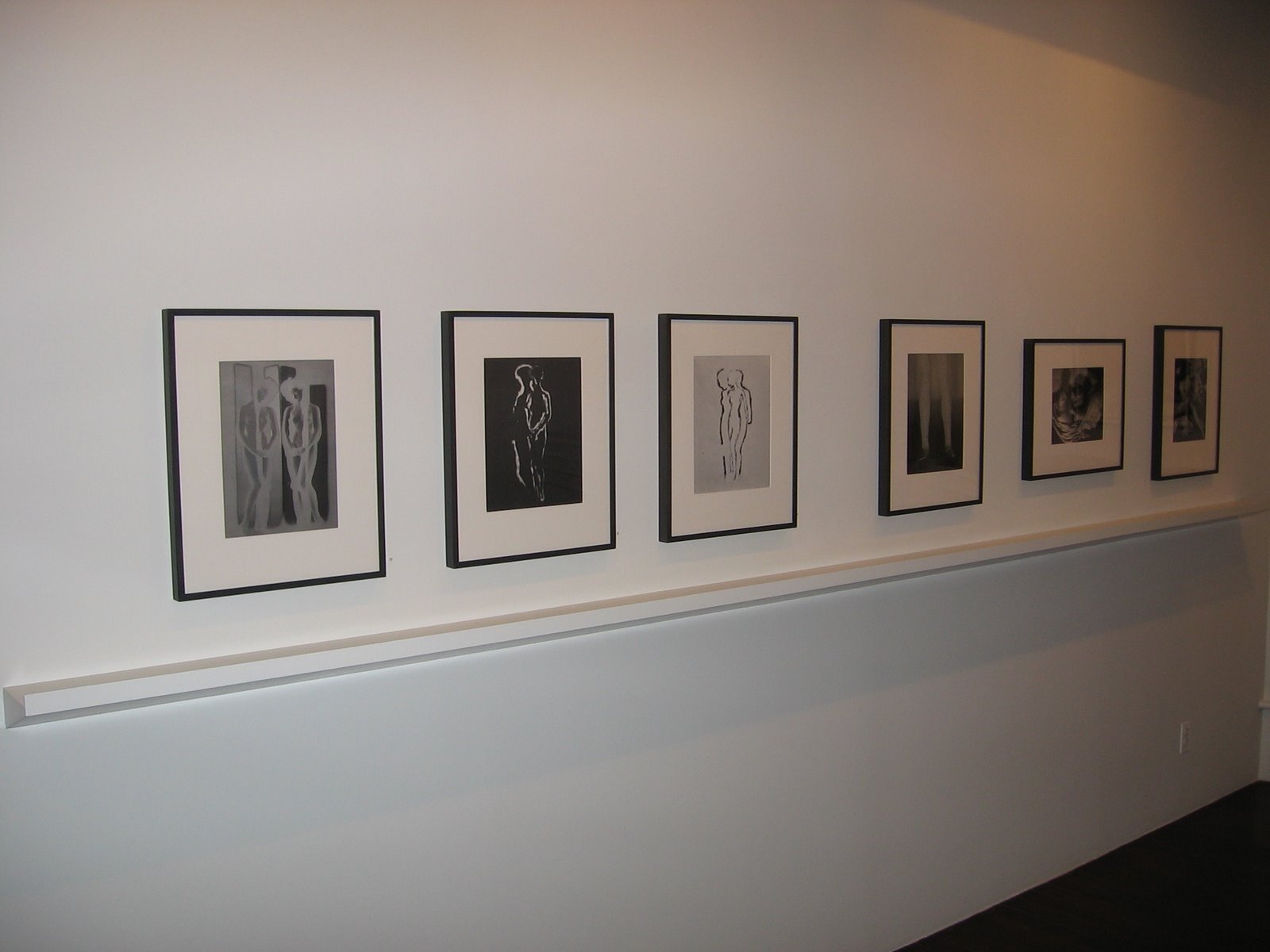 The group show of nudes now on view at Deborah Bell feels less like a show with a strident viewpoint but more a collection of images carefully chosen by a connoisseur. The nude form is a subject that has challenged photographers since the very invention of the medium, and one that has left many lost in a fog of
repetition
and cliche. The overriding thought I had as I wandered through this exhibit is that her choices were not obvious; there are no greatest hits here, but instead an unusual mix of images (many that I had not seen before) that approach the subject in surprising ways. Each picture requires some thinking, and the show merits investing a bit of time to inspect every image carefully. Overall, it is an understated yet well crafted show that offers some new perspectives on a common form.
.
Collector's POV: Since nudes are one of the three main genres in our collection, there were many images in this show to tempt us. Prices range from $1200 up to $50000, with one image not for sale and one "price on request". There are a series of three amorphous solarized nudes by Erwin Blumenfeld that caught our eye, but our favorite piece was Louis Faurer's Untitled, 1962, from Harper's Bazaar (a woman's back). Of course, this is the one image in the show that wasn't for sale.
.
Rating: * (one star) GOOD (rating system described here)
Figure Studies
Through February 28
511 West 25th Street
New York, NY 10001
More on this show from Fugitive Vision
here
.