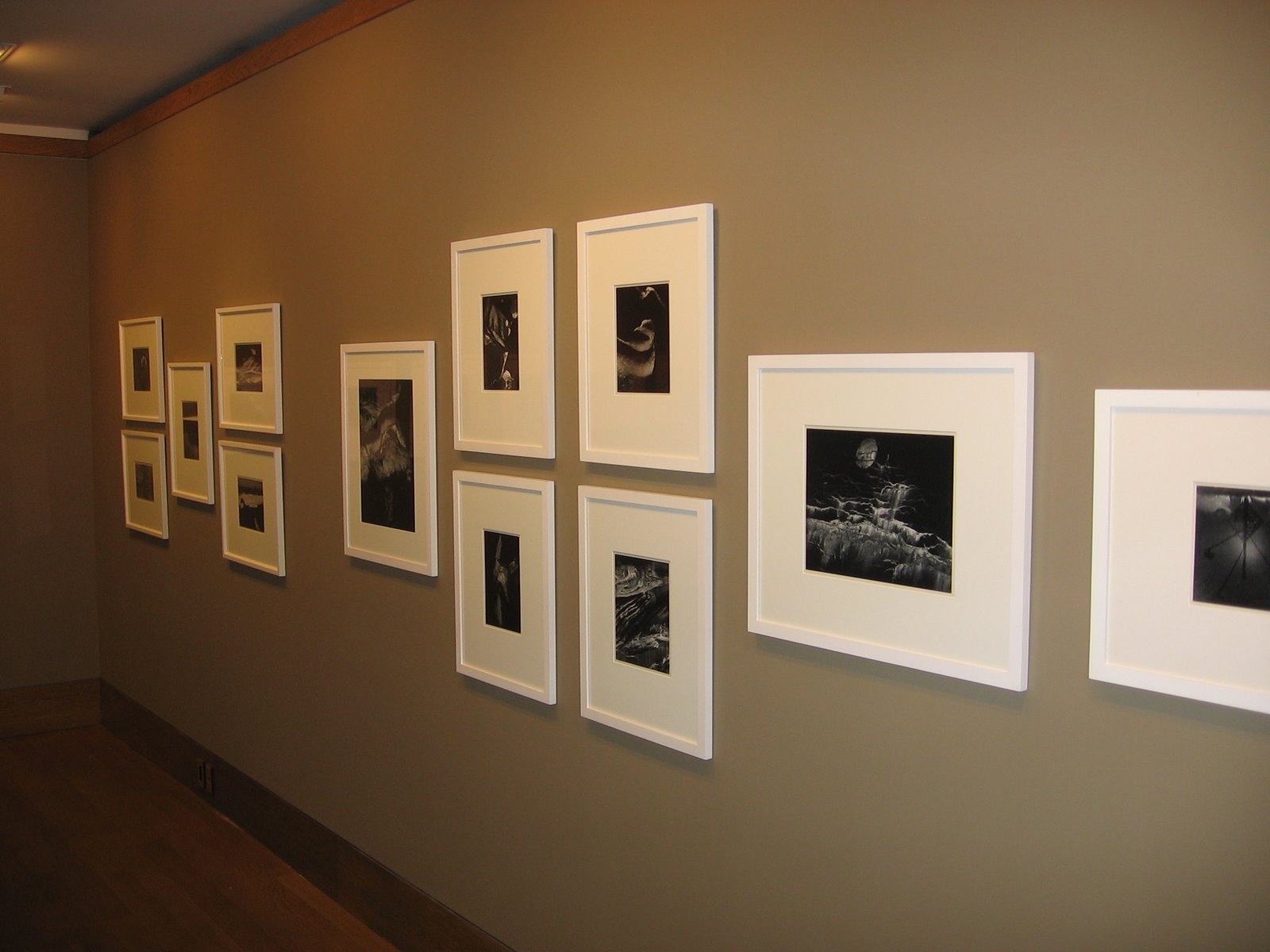 JTF (just the facts): 51 black and white images, displayed in the main gallery and the book alcove. (See installation photo at right.) Most are 9×7 (or reverse), with some larger 11×14 (or reverse) images and a handful of 4×5 contact prints. The exhibit is a mixture of vintage and later prints, with negatives starting in the late 1930s and continuing up through the early 1970s.
Comments/Context: When we consider the pantheon of great 20th century photographers, Minor White certainly deserves consideration. He made some of the century's signature images, in a style that was clearly all his own and with a level of craftsmanship that set the bar for the generations that followed. Beyond his picture making, he was a respected curator, a writer, a founder and editor of Aperture, and a teacher.
And yet as we look at this fine exhibit in 2008, it is easy to forget what a polarizing and controversial figure White was (and still is for many). For his adherents (and there were many), he was a spiritual guide, a high priest of the inner self, merging Zen Buddhism, the philosophy of Gurdjieff, and other mysticisms and metaphysics into an encompassing world view that began and ended with self consciousness. His approach was a complete break with virtually all of the traditions of photography, including the importance of subject matter. His students were on a serious journey of awareness, using photography as a tool for deepening their own personal understanding. His pictures took them to places they had never been before, and opened their eyes to new ways of thinking about image making and themselves.
For his detractors (and there were many as well), he was a dangerous quack, brainwashing his students into revering him as a god, and stifling any thoughts and opinions that deviated from his controlling mind set. Back in the early 1970s, many writers (including critic A.D. Coleman) passionately and ruthlessly dismantled White, calling him arrogant and anti-creative, marking his teachings insulting and offensive to the individuality of artists. The work of his followers was discounted as second rate knock-offs of the master (which was the point in a cult, after all). In today's context, White would have been placed in the New Age section, with dreamy music and incense, surrounded by Buddhas and self help books.
So now, more than 30 years after his death, how do we take the measure of this work, perhaps putting aside some of the back and forth of earlier days? As we walked around the exhibit, I was struck time and again by the pure technicality of these prints. A few of these are some of the most beautiful gelatin silver prints I have seen; the blacks are deep, the tonal range is subtle and nuanced, and the detail is astonishing, even if you can't make out the subject matter. These are not works that will function in our attention deficit age; they are the opposite – they require (and reward) a surplus of attention. I remember hearing a story about White's workshops, where he would put a matted image on a music stand and then force the group to meditate over the work for something like 20 minutes or more. Placed in that context, you can begin to understand what he was getting at with these images.
The show at Greenberg is well orchestrated and diverse. I was particularly intrigued by the print Abstraction, 1947, which to me was that singular image that showed White breaking from his previous mode of trying on the styles of other photographers (shown in half a dozen early works) to really finding his own voice. It is not necessarily a great image, just one that shows the transition to his eventual mature style. The images from the Sound of One Hand series are among the best, with a handful of other standouts sprinkled around the room. I think there are a significant number that are not nearly as strong and fail the test as stand alone images (they still however have value in showing his aesthetic more fully).
Two other shows at the gallery also help to fill out the picture on White. The first is a section of 16 images by White's followers, organized with the help of photographer John Goodman, shown in the two study rooms. While there are some decent images here, these works certainly feel derivative. There are also a handful of portraits of White near the end of his life by Abe Frajndlich, in the back gallery. These images really show what a character White was, with his shock of albino white hair and his androgynous looks; a little creepy I must admit.
Collector's POV: The lack of consensus on White may be part of the reason his work has not joined the others from the same period on the never ending price escalator. There are those who continue to love his work, but they are a relatively small audience; the rest of the world has forgotten the controversy, but isn't particularly moved by the pictures that remain. That said, with some smart targeted marketing by the gallery, this show is full of red dots; there clearly are enough White lovers out there to sell out the show. Prices range from $6000 to $45000, with most of the work near the lower end of the range.
Since White wasn't particularly focused on specific subject matter, he doesn't fit very well into our personal collection. That said, he did do some amazing flowers in a short period in the late 1950s. We have one in our collection (here) and it bears all the hallmarks of his amazing printing prowess. You have to get up close to see it, but it is a truly marvelous picture.
In sum, whether you fall on the positive or negative sides of the legacy of Minor White, this is a show worth seeing, as it seems unlikely that this many high quality pictures will be gathered together for an exhibit for a very long time. By the way, there is also a fine book on the exhibit, available at the gallery, with essays by Peter Bunnell and Nathan Lyons.
Rating: *** (3 stars) EXCELLENT (rating system defined here)
Eye, Mind, Spirit: The Enduring Legacy of Minor White
Through October 18th
Howard Greenberg Gallery
41 East 57th Street
Suite 1406
New York, NY 10022