JTF (just the facts): A total of 96 black and white photographs, framed in black and matted, and hung against white, yellow, and green walls in a series of four interconnected spaces. All of the works are vintage gelatin silver prints from the Hasselblad Foundation collection, uncropped and generally dated 1967 (as this was the date of their publication in Cole's book House of Bondage). The exhibit also includes 1 large vinyl print and 1 video (Photography as a Social Weapon: Lewis Hine and Ernest Cole, Part 5, 1969). A newspaper supplement has been published by the museum to accompany the exhibit, and a monograph of this body of work was published in 2010 by Steidl (here) in conjunction with an exhibit at the Hasselblad Foundation (here). (Poor iPhone installation shots below.)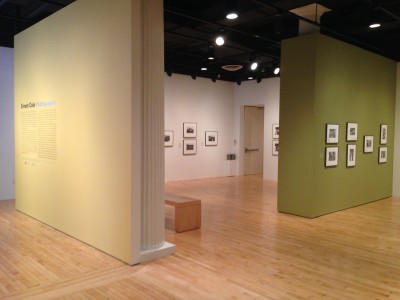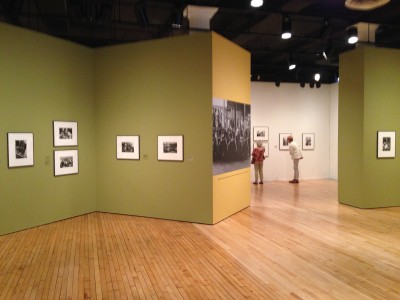 Comments/Context: Ernest Cole's challenging, multi-layered documentary portrait of what it was like to be black in 1960s-era South Africa is so devastatingly powerful that it is no wonder the apartheid government felt threatened by its publication, even in exile. While most of the leading photojournalists of the time were covering the eye-catching events of protests, uprisings, political rallies, and trials (see the excellent Rise and Fall of Apartheid exhibit at the ICP here), Cole turned away from that front page news and instead looked incisively inside everyday existence in the country, piecing together a systematic and comprehensive indictment of the entire government-imposed way of life. Even though these pictures were made when Cole was in his early 20s, they aren't the typical stuff of jittery camera-toting radicals and revolutionaries – his images are seen with consistent artistic nuance and compositional subtlety, the relentlessness of their craftsmanship making their charged content even more potent. Seen together, the photographs are a gripping and incontestable argument, and one that packs a formidable emotional punch.
Cole's investigations begin with parallel studies of the limited labor choices for the black population, where men were forced into the mines and women became domestic servants. He watches as tribesmen in traditional garb and blankets are transformed into faceless workers in European style hats and sweaters, each fingerprinted, tagged, and carrying precious rubber stamped papers. They wait in endless "processing" lines, are examined like cattle, and are stuffed into spartan barracks wholly unlike any living conditions they have ever experienced. Food is delivered via shovel, and the combination of accidents and lung disease leads many to overlooked hospitals, or simply back into the recruitment line once again regardless of their injuries and ailments. Cole's pictures capture men who have been effectively turned into livestock, with stolen moments of staring at a photograph of a wife or making a traditional meal the small rebellions used to ward off the physical inhumanity of the conditions.
Cole's pictures of the women capture an alternate version of this same psychological trauma. Dressed in crisp uniforms, nannies and maids work in white households, tending children and dogs, and living in cramped back rooms using crates and newspapers as furniture. They are entirely invisible, "forbidden to love" those they care for, and forced to take meals in their rooms and welcome visitors on the scrubby grass outside the walls of the compound. Cole once again points his camera at the small details (a piece of jewelry, the tidiness of a room), the evidence of stubborn efforts to stay human in a deceivingly unforgiving and oppressive environment.
Small thematic groups of photographs bring additional examples of discrimination and segregation to light. Black trains are subject to extreme overcrowding, with passengers dangerously jumping the tracks to catch a passing train, clinging to the side, or waiting for hours with their luggage; a platform shot showing a dense mass of black passengers at one end and a nearly empty area for white passengers at the other tells the story of forced separation with visceral obviousness. Children's hospitals are divided, with mattresses on the floor (no beds) and the names of black patients taped to their foreheads. Cole then piles up the displacements, hammering them home one after another: separate counters at the bank, separate toilets, separate gardens, separate benches, separate trolley cars, separate bleachers, each captured in such a way so as to highlight the unbalanced, uneven situation.
Another series of images chronicles the effects of the pass system, from police swoops to check passes to handcuffed offenders (guilty of trespassing in white areas) being carted away by the truckload, while a nearby group of pictures documents the razing of whole neighborhoods, where families were forcibly relocated into tent cities, the bulldozers turning their homes into dusty rubble. Cole then captures an evocative range of reactions to these injustices – pickpocketing, muggings, and thuggery, kids left alone on the streets, a banished chief sitting in his new hovel, a boy studying by candlelight. His images show us the heavy emotional toll of the system, both for those who wanted to rebel in incendiary frustration and those who were just trying to survive.
What separates Cole's work from that of his contemporaries is his ability to visually pare down urgent, politically-charged complexity into spare single frame vignettes. His photographs routinely mix ugliness and beauty, finding tenderness and universal humanity in gestures and faces seen with raw, unflinching directness – a close-up pair of manacled hands is both seductively shiny and textural and repulsively honest, and that deft juxtaposition of emotional responses packs a consistent wallop throughout this exhibit. Without a doubt, this is the most powerful and courageous show of documentary photography to be seen in New York this year, one that will astound you with its photographic grace and elegance, and then punishingly kick you down and leave you disgusted and horrified by its unseen realities.
Collector's POV: Given Ernest Cole's exile from South Africa and the destitution of his later life in New York, it is a wonder that vintage prints of this body of work have survived at all. With the prints safely tucked away at the Hasselblad Foundation, any gallery representation and secondary market history for Cole's work are effectively nonexistent.