JTF (just the facts): A group show of three Japanese Conceptual artists: Koji Enokura, Hitoshi Nomura and Jiro Takamatsu, displayed in two adjoining gallery spaces. For Enokura, there are 11 black and white prints, ranging in size from 8×8 to 10×14, made between 1972 and 1974. For Nomura, there are 8 black and white images, all 20×24, made between 1968 and 1969, a black and white video of still frames made in 1973, and 4 larger color images (36×36, in editions of 5), made in 1979. For Takamatsu, there are 6 black and white images, ranging in size between 13×16 and 16×20, all made in 1973.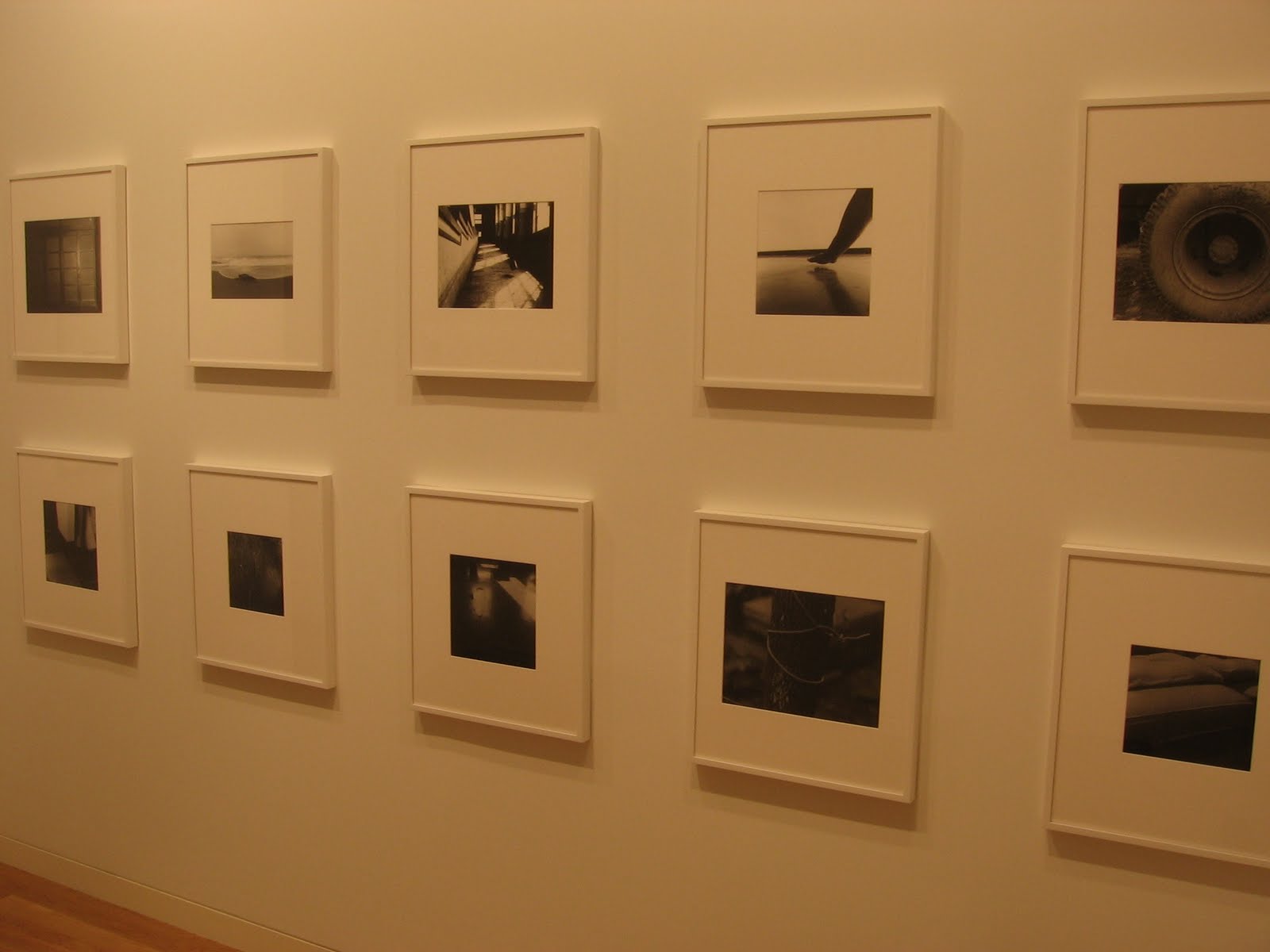 Comments/Context: While we don't have a single photograph in our collection that could be grouped under the title of Conceptual Photography, I must admit that I am a secret admirer of this genre, as I enjoy being taken down the rabbit hole and shown events and places that go beyond the usual constraints of straight/documentary photography. But like anything, we can start at the top level with the umbrella of Photography, move down a rung to Conceptual Photography, and divide from there into decades, or geographies, and we can discover subcultures inside subcultures like nested dolls, with dozens of photographers who have had successful careers that are completely unknown to us. The three artists in this show are perfect reminders of how little we as collectors often know about many of the back roads and hidden neighborhoods of photography.
Koji Enokura's images combine fragments of performances with the elegantly mundane. His works explore boundaries and contact points: between a hand and the floor, a body and a wave, a lead cube falling down a slope, or a puddle of water and the floor. Other images are simple glimpses of ordinary things: a truck tire or a rope around a tree. All of the works are quietly meditative. (Installation shot, at right top.)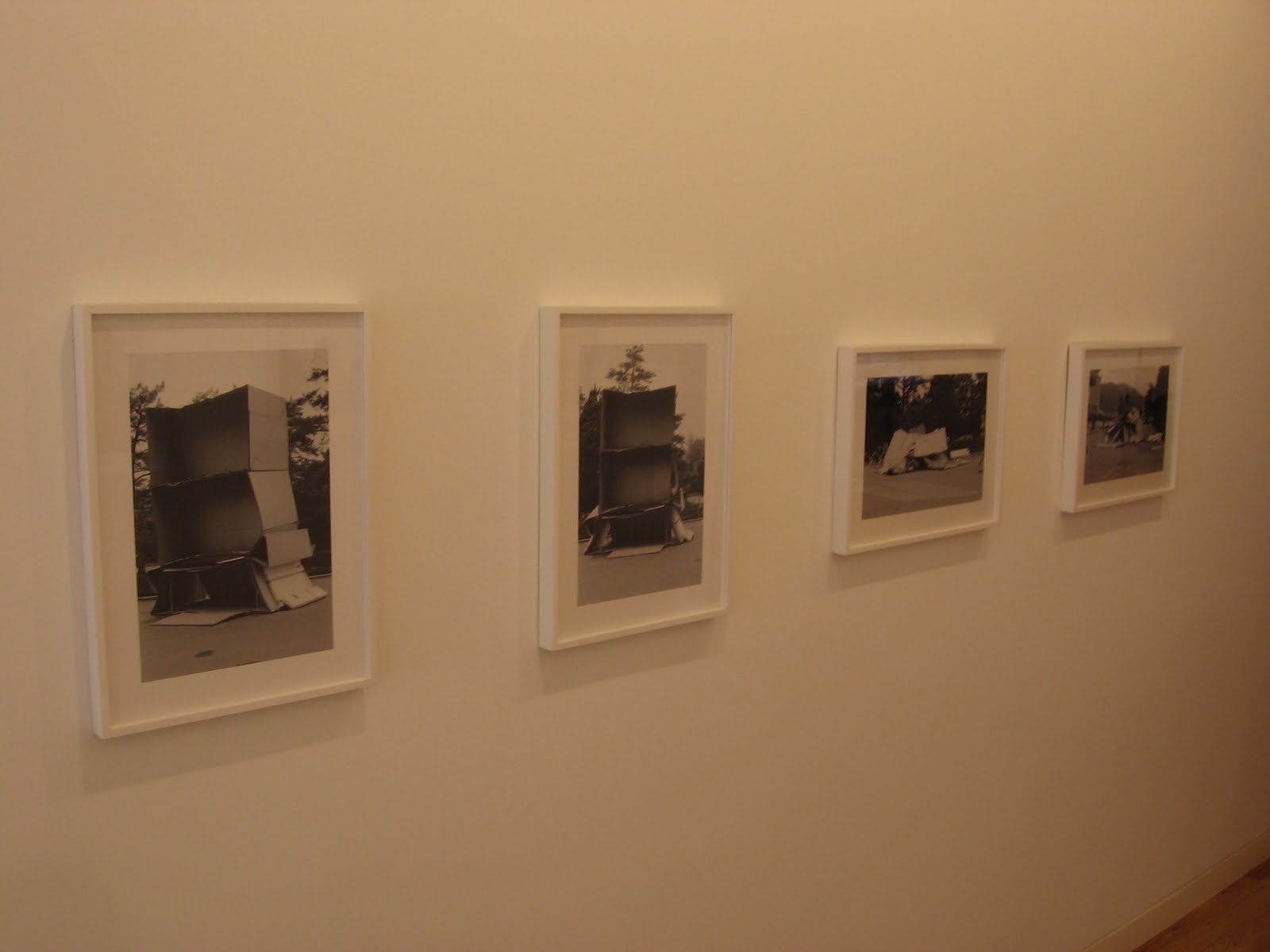 The three Hitoshi Nomura's projects on display are all connected by an underlying interest in the relationship between science and art. In one project, he constructed at 27-foot tall cardboard sculpture, and documented its eventual collapse under the weight of gravity and the effects of the weather. (Installation shot, at right.) In another, he used a film camera set at a very slow shutter speed, creating a set of flipping stills of his everyday life called The Ten Year Photobook or The Brownian Motion of Eyesight. In the last project, his camera was attached to a gyroscope to compensate for the rotation of the earth, creating blurred fields of color.
Jiro Takamatsu's prints echo the works of Ken Josephson, but with a different twist: in this case, the pictures of pictures are not used to make witty visual puns, but to consider the nature of memory. In each work, the artist's family photo is obscured (by glare, or water, or shadow), leaving the stories incomplete, or subject to interpretation. I think there is an indirect connection or commonality of approach to the contemporary work of Bertien van Manen here as well. (Installation shot, at right.)
None of these artists is or was a photographer in the traditional sense; they all use photography to expand their art making, but are known more broadly for their work in other media. As such, the works in this show are a little harder to characterize or relate to the larger span of photographic history; they fall in the cracks between the arts and force us to think in different channels. So while the discoveries to be found in this show are relatively understated, given the conceptual bent of this group, there are plenty of compelling ideas percolating around.
Collector's POV: Individual images by Enokura are priced between $6500 and $8500. The group of 8 black and white images by Nomura is being sold as a set for $25000; the color images range in price between $30000 and $50000. The Takamatsu works are priced between $6000 and $9000.
Rating: * (one star) GOOD (rating system described here)
Transit Hub:
Enokura, Nomura, Takamatsu: Photographs 1968-1979
Through September 26th
McCaffrey Fine Art
23 East 67th Street
New York, NY 10065