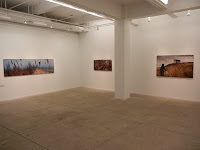 JTF (just the facts): A total of 11 large scale color photographs, hung unframed in the front gallery space, a second adjoining room, and in the office area. All of the prints are either Ilfoarchive on dibond or Enduraprint on plexiglas, made between 2007 and 2011. Physical dimensions range from 27×45 to 31×107, with editions either 10+2, 12+2 or 20+2. A monograph of this body of work was published in 2010 by Filigranes Editions (here). (Installation shots at right.)
Comments/Context: Dutch photographer Ellen Kooi can neatly be categorized as one of the increasing number of contemporary photographers employing cinematic staging as a signature technique. Her images of children set amid flat Dutch landscapes sit roughly in the middle along the spectrum of realistic recreation and obvious fabrication, using theatrical lighting and unexpected perspectives to create open ended scenes and narrative fragments that reference childhood fairy tales with a sense of heightened realism.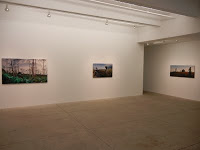 While stories and dreams can of course take place anywhere, these pictures are firmly rooted in the Dutch soil and in the visual traditions of Dutch landscape painting across the centuries. Children in rubber boots squish across mudflats, a girl stands tall on a tree stump over looking a misty expanse of farmland, and another hides her face near a drainage canal flanked by weeds. With a compositional nod to Wyeth, a girl peers up at a lonely house perched on the hillside, carrying what looks to be a dead seagull. And we are left to only imagine why the boy sitting in the amazingly tall weeds is bathed in an alien green glow or why the girl is scrambling across the roadside in the twilit night.
In each of these images, the land itself plays much more than just a supporting role; it often dominates the figures, creating a sense of expansive natural scale and power compared to the children. Kooi has taken the realistic genre painting of the past and infused it with some modern mystery and uncertainty, taking idyllic landscape formulas and overlaying them with moods a bit more menacing.
.
Collector's POV: The works in this show are priced between $8000 and $16000, based on size and the place in the edition. Kooi's work has not yet entered the secondary markets in any significant manner, so gallery retail is likely the only option for interested collectors at this point.
Rating: * (one star) GOOD (rating system described here)
Transit Hub:
Ellen Kooi, Out of Sight
Through June 18th
PPOW Gallery
535 West 22nd Street
New York, NY 10011