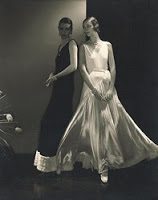 JTF (just the facts): A total of 168 images, all silver prints except for a handful of color prints in one room, matted/framed and displayed on alternating red and grey walls in 5 adjoining rooms on the lower level of the museum. Additional items include a short video in the entry and 4 glass cases spread throughout the exhibit, holding magazines (both black and white and color), spreads, collages, and retouched prints. There is also a 288 page catalogue of the exhibition available. (Unfortunately, there are no installation shots for this exhibit; ironically, no photography is allowed at the ICP. Only a handful of thumbnail images can be found on the ICP website below; one of the images, Model Marion Morehouse and unidentified model wearing dresses by Vionnet, 1930, is at right.)
Comments/Context: While Edward Steichen is probably best known for his Pictorialist images in conjunction with Alfred Steiglitz and the Photo Secession, his early Modernist images, or later for his role as curator of the Photography department at MoMA (think The Family of Man), in between he turned to the dark side (much to the chagrin of his artist friends) and worked as a commercial photographer for Condé Nast to pay the bills, making fashion and glamour images for Vogue and Vanity Fair. This exhibit brings together for the first time a wide sampling of these images, drawn from the Condé Nast archives and the collection of the George Eastman House.
Since so much time has passed since Steichen took his images, many of the famous celebrities of that period have drifted into relative obscurity, forgotten or generally unknown by new generations. So whether Steichen's subjects were fashion models or celebrities hardly seems to matter now, except for the most recognizable of the faces (Marlene Dietrich, Gary Cooper, Anna May Wong, etc.). They were all beautiful people, and these are gorgeous, sumptuous portraits.
Most of the images have an old Hollywood glamour and patina, lots of artfully sculpted hair, backless flowing dresses, and extravagant hats. There are long gowns with graceful lines, and coolly elegant poses, often with an Art Deco set or background. What was most startling for me were many of the head shot close-ups of famous actresses of the time (Sylvia Sidney, Joan Bennett, Pola Negri, Norma Shearer, Katharine Cornell, Gertrude Lawrence, Greta Garbo and Gloria Swanson among many others). In these images, Steichen has captured seductive and sophisticated looks, coy smiles, and smoldering stares, single handedly defining the actress as "siren". In picture after picture, Steichen consistently found beguiling magic.
In walking through this exhibit you will be amazed by just how many superior portraits there are; just when you thought you had seen a dozen great ones, there's another room to enjoy. Again and again, the quality and craftsmanship is top notch, the compositions meticulously perfect. While I would never have predicted it going into this show, given our collecting focus on other subjects, this is clearly one of the best shows we've seen this year. I actually sat down and took a rest during the middle of my visit, to ensure I had enough energy to savor each and every picture.
NY Times art critic Roberta Smith found less to enjoy at this Steichen show. She called it a "trifle dull" and "musty". I couldn't disagree more, but here's her review of all the ICP fashion exhibits, so you can decide for yourself (here).
For some lively commentary on the images and some extremely helpful gossipy background on many of the forgotten stars portrayed, listen to the C-MONSTER audio guide podcast for the show, found here.
Collector's POV: Steichen's work is widely available in the secondary markets, from low priced Camera Work gravures to one of a kind masterpiece images; as a reminder, The Pond – Moonlight sold for just under $3 million dollars in 2006. Howard Greenberg Gallery (here) has just opened a show of Steichen's work from 1915-1923 (the period just preceding the Condé Nast years) which highlights his transition from Pictorialism to Modernism (a show we will certainly see and review at some point soon). As an aside, Steichen also made some amazing flowers that would fit well with our collection, if we could only afford them.
Rating: *** (three stars) EXCELLENT (rating system described here)
Edward Steichen: In High Fashion, The Condé Nast Years, 1923-1937
Through May 3
International Center of Photography
1133 Avenue of the Americas
New York, NY 10036