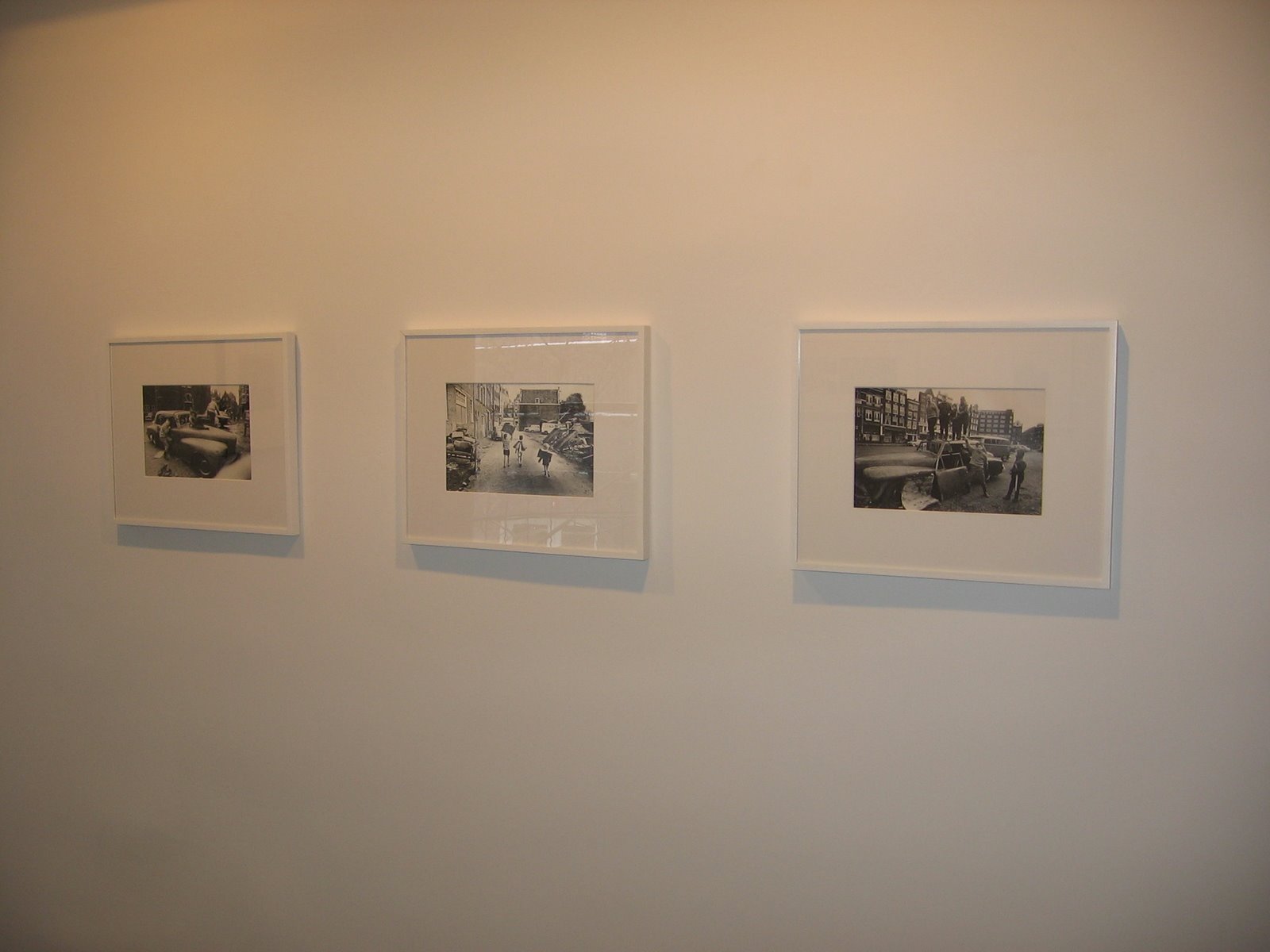 JTF (just the facts): A total of 14 images (8 black and white and 6 color), along with a short 16mm black and white film from 1965. The black and white prints are vintage from the 1950s and 1960s and are approximately 9×12. The color prints are from the late 1960s and early 1970s and are posthumous prints, approximately 16×24 in size. There is also a portfolio of 12 color prints, entitled My Amsterdam, edited by Martin Parr in 2005, available for viewing. (Installation shot at right.)
Comments/Context: While the Dutch photographer Ed van der Elsken took pictures all over the world in his 40 year career, it is his pictures of his home city of Amsterdam that are perhaps his most well known. They capture the everyday life in the streets of the city in all its eccentric glory, full of energy and exuberance, spontaneous and happily nonconformist. The black and white images in this small show capture kids playing in grimy streets, climbing on burned out cars and wearing cardboard boxes, and yet, these are somehow positive pictures, documenting that life does go on amidst the chaos.
The color prints have a more 70s time capsule feel showing store fronts and people in the streets in saturated, dated colors. These images also have the signature van der Elsken spirit, and Parr has made some excellent selections for the portfolio; it is well worth looking through if you have the time.
The artist's website is located here.
Collector's POV: The vintage black and white images in the show are priced at 5500 Euros each. The color prints range from 2000 Euros to 12000 Euros based on their place in the edition, and the portfolio is available for 5000 Euros. There have been a small number of van der Elsken's prints available in the secondary markets over the past few years, selling for affordable prices, usually under $5000. The Ed van der Elsken estate is represented by Annet Gelink Gallery in Amsterdam (here) and Howard Greenberg Gallery in New York (here).
Rating: * (one star) GOOD (rating system described here)
Ed van der Elsken, My Amsterdam
Through February 21
Mireille Mosler Ltd.
33 East 67th Street
New York, NY 10021