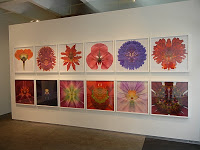 JTF (just the facts): A total of 16 color photographs, framed in white with no mats, and hung in the small, single room gallery space. All of the works are chromogenic archival prints, made in 2010-2011. 3 of the works are 72×72, in editions of 5. There are two portfolios of six images each, where each individual image is 32×32; these portfolios are available in editions of 8. A single 24×24 print is also on display, in an edition of 5. A catalog of all 50 images from the series, including a single 12×12 print, is available in an edition of 36. (Installation shots at right.)
Comments/Context:
Aggressive isn't a word that usually gets applied to flower photography; elegant, intimate, dainty, yes, but not aggressive (except perhaps in the case of
Nobuyoshi
Araki
). E.V. Day's images of flowers from her recent series
Seducers
are about as confrontational and aggressive as I have seen of late, without crossing into the realm of garish. They
boldly
look down from the walls and alternately assault and attract viewers with their wild extravagance.
Day's process introduces a bit of science and technology into the making of flower pictures, almost hearkening back to the work of Anna Atkins in the mid 19th century. During an artist in residence stint at the Claude Monet Foundation in Giverny, France, she collected blooms, pressed them in a microwave, digitally scanned them, and then mirrored them left to right to create perfectly symmetrical close-ups, which were then enlarged to monumental size. The result is a set of electric images with extreme geometries, full of vibrant, saturated, almost psychedelic color (reminiscent of the Acid Bloom colors of Mika Ninagawa). Whether cropped to reveal just the inner core of the flower or stepped back to see the outline against a white backdrop, each idealized bloom drew me in, enveloping me in seemingly endless patterns and kaleidoscope repetitions. At this scale, a few of the flowers have an unsettling explicitness, a sense of almost going too far in the attempt to attract pollinators. Fragile and delicate have given way to ornate and flamboyant, embellishment piled on embellishment in fantastic layers.
I think the huge prints are the most successful in this show. Their size changes the normal human/floral dynamic; instead of peering down into a tiny natural wonder, we are drawn into the carefully laid trap like a passing insect. Seek out these big prints for the weird feeling of being hypnotized and mesmerized by plants adept at the art of seduction.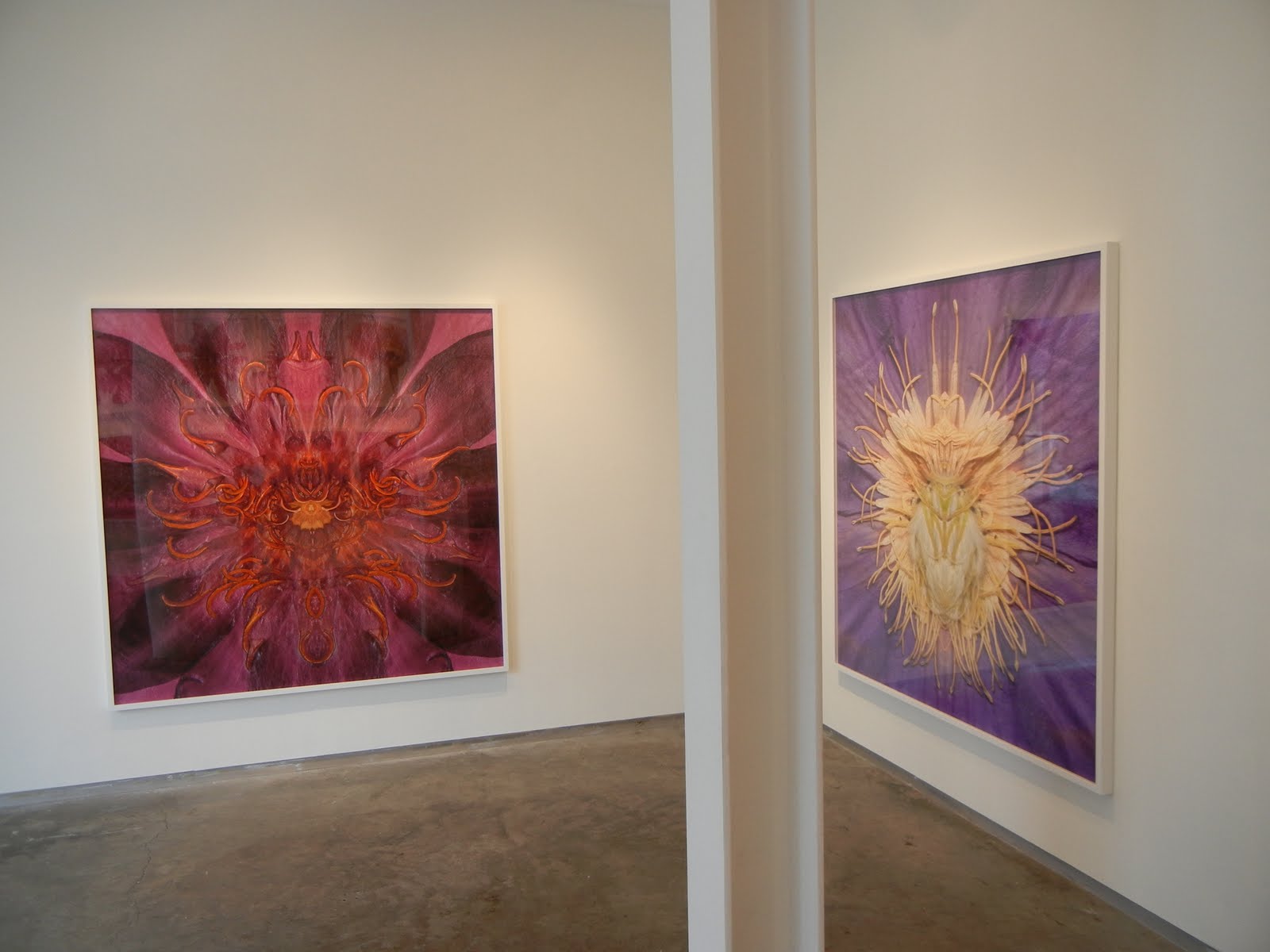 Collector's POV:
The photographs in this show are priced as follows. The large 72×72 prints are $15000 each. The two 6 image portfolios are $18000 each as sets; individual 32×32 images from the portfolios are also available for $4500 each. The single 24×24 image is $3500. The 12×12 prints from the larger series are $1200 each. Day's work is not widely available in the secondary markets, so gallery retail is likely the only option for interested collectors at this point.
My favorite image in this show was Water Lily, 2010-2011; it's the image on the left in the bottom installation shot. I like the provocative intensity of the interwoven patterns, combining orange arcs, overlapping pink and purple petals, and the small yellow center.
Rating:
* (one star) GOOD (rating system described
here
)
.
Transit Hub:
Through March 5th
534 West 22nd Street
New York, NY 10011