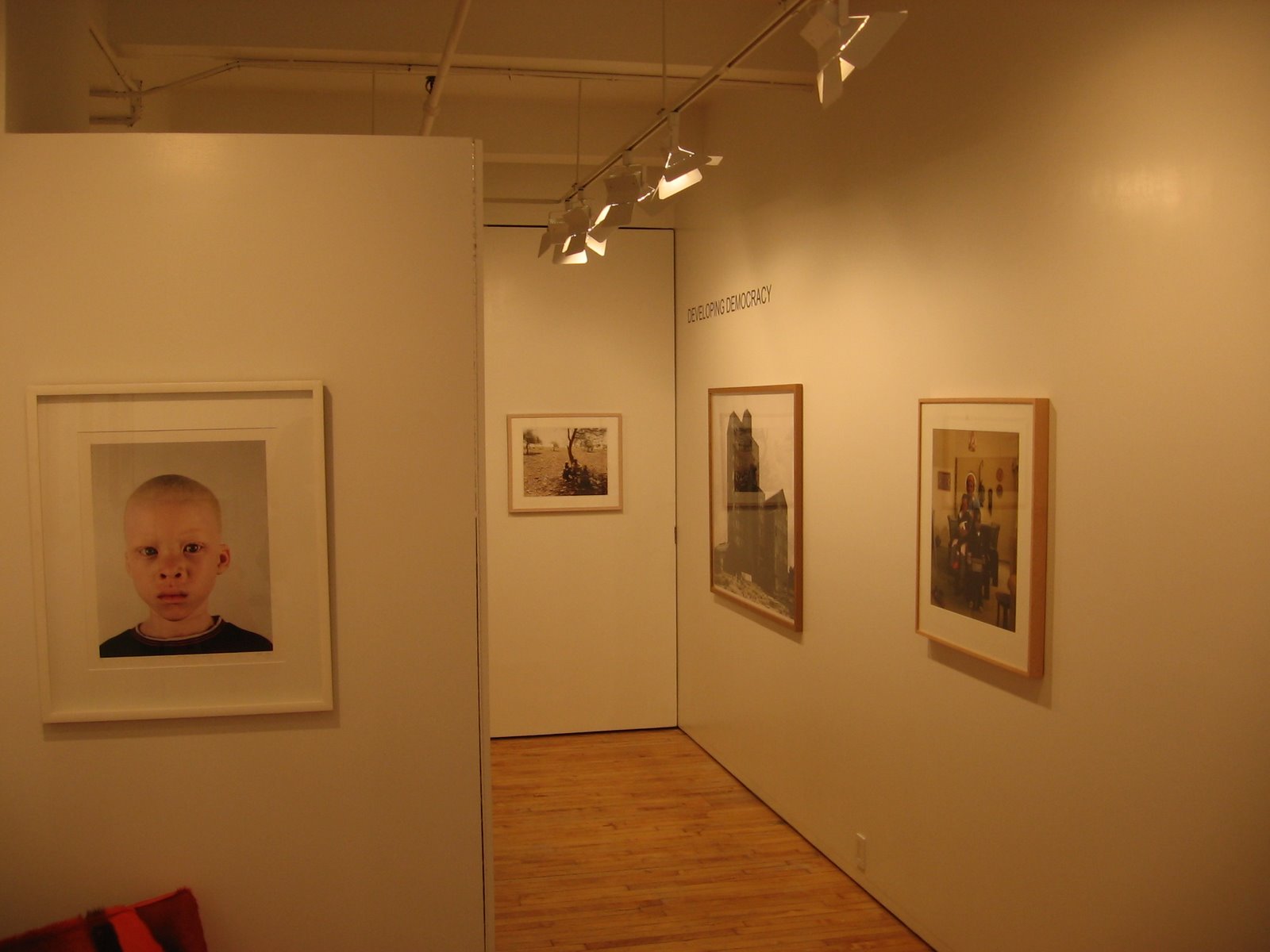 JTF (just the facts): A total of 22 works (21 photographs and 1 sculpture), framed in blond wood and variously matted, in the main gallery room, and bending around into another smaller space with a table. (Installation shots at right.) 7 artists are represented in this group show (the number of pieces in the exhibit in parentheses):
David Goldblatt (5)
Pieter Hugo (1)
Raymond Keeping (10)
Senzeni Marasela (1 sculpture)
Zwelethu Mthethwa (1)
Mikhael Subotzky (1)
Nontisikelelo 'Lolo' Veleko (5)
Goldblatt's works are digital prints, from 2002 and 2003, in various sizes (from 16×12 to 40×50), in editions of 6, 35, and 60. Hugo's work is a pigment print on cloth, from 2003, 18×14, in an edition of 5. Keeping's images are c-prints of 1957 negatives printed in 2007; they come in two sizes 34×34 or 60×40, in editions of 9 and 1 respectively. Mthethwa's image is a 4×6 c-print from 1996. Subotzky's work is a pigment ink print, 18×28, in an edition of 60 from 2004. Veleko's prints are digital prints with pigment dyes on cotton paper, 14×10, from 2006, in editions of 10 or 60.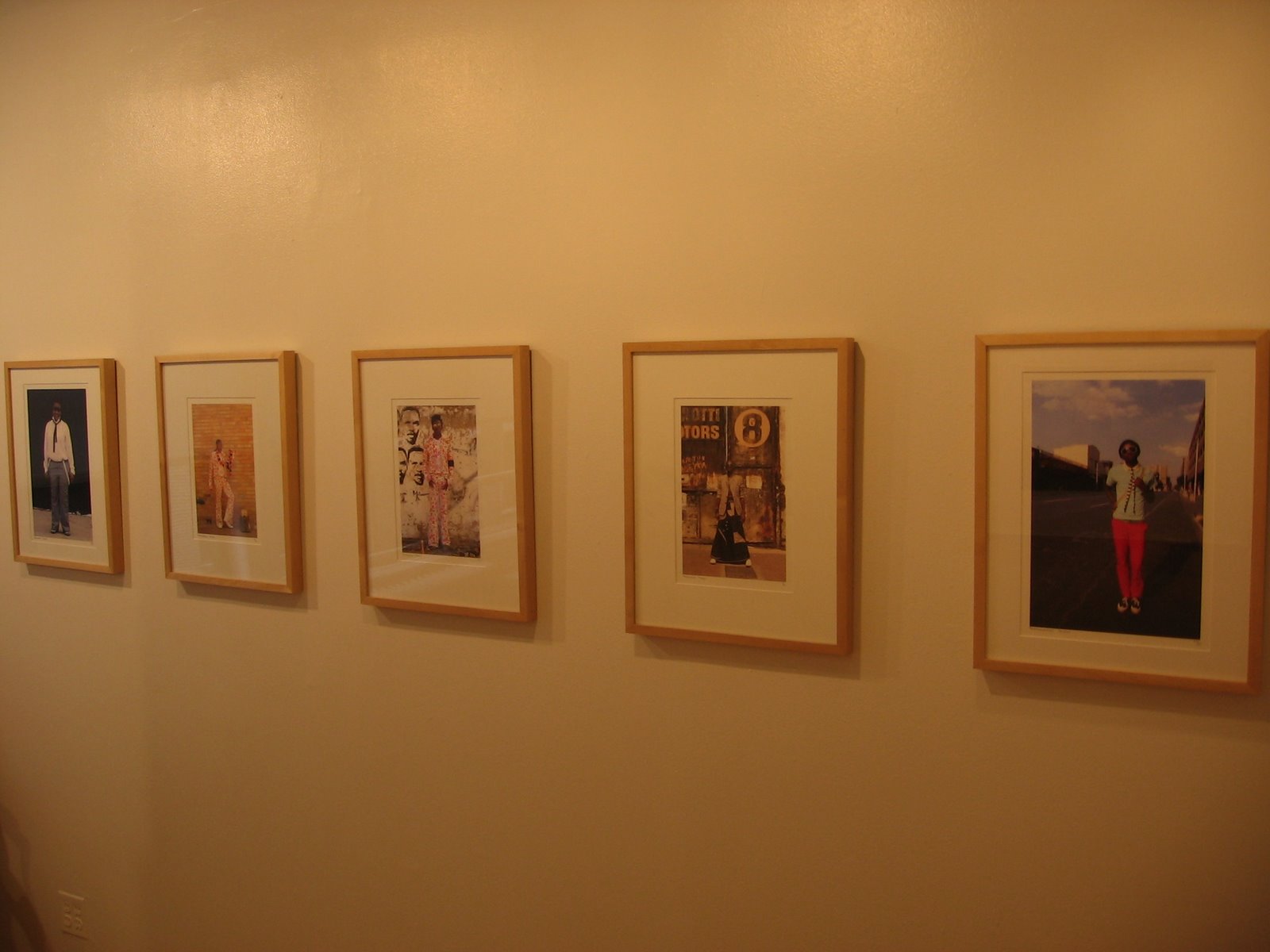 Comments/Context: This small group exhibit provides a useful sampler of post-apartheid South African photography, and goes hand in hand as background to Zwelethu Mthethwa's show of new work discussed this morning (here).
The standout pictures in this show are the funky August Sander meets Malick Sidibé portraits by Nontsikelelo 'Lolo' Veleko. While we have certainly seen plenty of full body deadpan portraits of unusual people floating around in contemporary photography, Veleko's images of young, hip Johannesburg residents have a uniquely African vibe, full of energy, optimism and clashing colorful patterns. These come as a surprising contrast to the more anthropological roadside portraits of Zulu and Xhosa people in traditional dress by Raymond Keeping, and show how the generations are indeed changing.
David Goldblatt's pictures tell a more subtle story of societal evolution, with images depicting the remnants of the past still visible today: an unfinished cinder block housing project without roofs, a massive but now abandoned asbestos mine, a parched sports field, and an AIDS afflicted cleaning lady with her family. While this is a small show, it does a remarkably good job to telling the story of a nation simultaneously looking for answers, both from the past and the future.
Collector's POV: David Goldblatt's images in this show range in price from $1200 to $2150. Lolo Veleko's portraits are priced either at $1400 or $2600 depending on the edition size. Raymond Keeping's images are either $1750 or $3900 based on size. The rest of the prices are as follows: Subotzky $2000, Hugo $4500, Mthethwa $3000, and Marasela $2800. The work closest to our collecting focus in this show would be Goldblatt's image of the roofless housing development, which might resonate well with a Robert Adams or Lewis Baltz subdivision picture. If we were portrait collectors, we would certainly snap up a few of Veleko's addictive images.
Rating: * (one star) GOOD (rating system described here)

Transit Hub:
Developing Democracy: a New Focus on South African Photography
Through May 30th
Kyle Kauffman Gallery
150 West 25th Street
New York, NY 10001