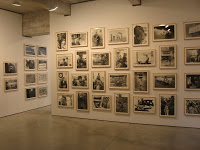 JTF (just the facts): A large show of Hopper's art, including oil paintings, photographs, and clips from films and television. 3 gallery spaces are filled with 11 separate video screens, running continuous loops of scenes from Hopper's career as an actor. The other three gallery spaces contain a total of 12 billboard sized oil paintings and 119 black and white photographs. The photographs are all gelatin silver prints, framed in blond wood and matted, and sized 16×24 (or reverse). The prints were made in 2009 from negatives taken in the period 1961-1967; they are available in editions of 15. The oils have no frame and are sized 80×120 (or reverse). (Installation shots at right.)
Comments/Context: Virtually everyone on the planet knows that Dennis Hopper is a world renowned actor, an undeniably no nonsense 1960s cool guy who has shown a remarkable ability to stay audacious and relevant over a period of many decades. What is perhaps less well known is that Hopper is also an accomplished photographer and painter, and has taken more than a few iconic pictures of celebrities of various kinds. So as I walked through the many galleries of Hopper's big show in Chelsea, I kept coming back to a nagging question at the heart of the celebrity/artist paradox: if the name on the wall was John Doe instead of Dennis Hopper, would I see this broad collection of work any differently?
The majority of the photographs on view are candid portraits of famous people that Hopper knew and hung out with in the early 1960s; big name artists, musicians, actors and actresses were all captured by his lens. While I'm not sure I can identify a signature style that is common to all the images, it is clear that there are far too many excellent portraits here to have been some kind of lucky snapshot accident; Hopper clearly had an eye for well composed and unlikely portraits (I particularly liked Jane Fonda with a bow and arrow), and he had the access to make the pictures when no one else was around. The other photographs on view cover a wider set of subject matter: street scenes in New York and Mexico, abstracts of walls and graphical elements, and documentary imagery from the action in Selma, Alabama; all of these are well made, but generally lack the electricity that makes his celebrity portraits so memorable.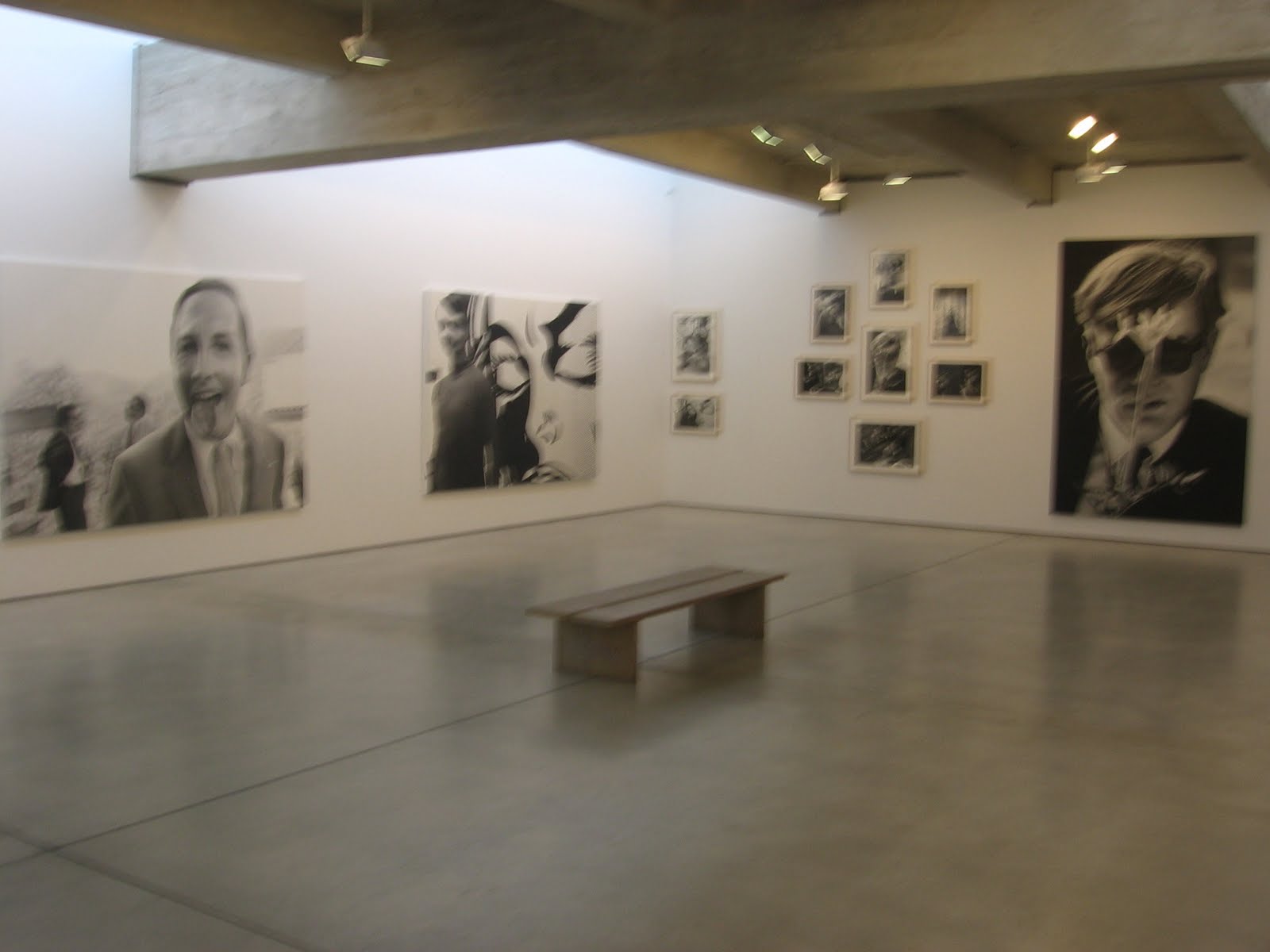 Perhaps to explore the boundaries of what happens to glamour on a large scale, several of his most notable photographs (
including
several of artists: Warhol, Lichtenstein, Johns,
Ruscha
, and
Rauschenberg
) have been blown up to billboard sized murals, exact copies of the original black and white pictures, only executed in a
photorealist
painting style. Given their size, these works are certainly eye-catching, and will likely appeal to those who want a
gargantuan
helping of fame in close proximity.
At some level, I think it will always be cool to have a Dennis Hopper on your wall; the aura of his personality certainly enhances the work by association. That said, if Dennis Hopper suddenly became John Doe and we were forced to judge the work purely on its rightful place in the history of photography, I think we'd categorize these images as the output as a talented 1960s celebrity photographer, who deftly captured the spirit of the times, but hasn't been heard from much since.
Collector's POV: The photographs in this show are priced between $17000 and $50000 (a bit high I would say, especially for later prints; you're clearly paying for the name), but a detailed price list wasn't available when I was there; no prices were given for the oil paintings; in general, it was all a little confused. Hopper's photographs have been available from time to time in the secondary markets, ranging in price between $5000 and $25000. For our collection, while the celebrity portraits aren't a great fit, we have always liked Double Standard, 1961, even though it is an outlier picture in relation to Hopper's more famous images.
Rating:
* (one star) GOOD (rating system described
here
)
Transit Hub:
Interview: New York, 2009 (here)
Book: Dennis Hopper: Photographs 1961-1967, TASCHEN (here)
Review: artnet, 2009 (here)
Through October 24th
544 West 26th Street
New York, NY 10001