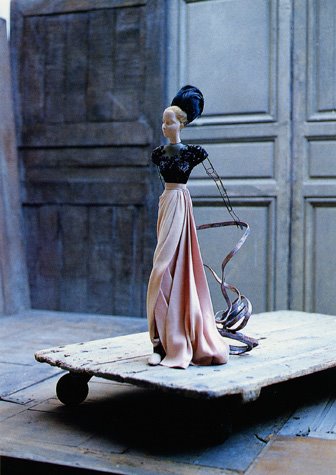 JTF (just the facts): A total of 15 color images, each framed in black with no mat and lit by its own lamp, hung against the sea blue walls of the lower level cafe eating area. All of the images are from 1990. One original wire frame doll is also on display, in a glass case. The exhibit was curated by Cynthia Young. (Since no photography is allowed at the ICP, unfortunately there are no installation shots of this show. Jean Patou, Fleurs du Mal, 1990, at right, via the ICP website.)
Comments/Context: After World War II ended, the French couture industry was in pretty bad shape. In an effort to drum up some business and create excitement, but given limited access to materials, top designers were asked to outfit a series of small wire frame dolls with miniature dresses, which were then exhibited in Paris and toured around the world. The PR campaign was a success, and the world of fashion got a much needed jolt. The dolls disappeared into a museum near Portland, OR, until 1990, when they were rediscovered and restyled for a new museum exhibition in Paris. Fashion photographer David Seidner made images of these dolls at that time, staged in unfinished sets made of rough boards and containers. A selection of these images, along with one of the dolls, is on view now at the ICP.
While there is a certain doll house novelty effect at work which makes these images unusual, the dresses are really the stars here, and the pictures document the particular styles in vogue at the time. As such, they provide an effective historical pairing with the late 1940s images by Avedon also on view (upstairs). I most enjoyed Jean Patou's Nocturne, a flowing billowy dress with large embroidered flowers, paired with a soft red feathered hat.
Collector's POV: While a few galleries appear to have some prints by David Seidner in inventory, it is not at all clear who might be officially representing the photographer in New York or elsewhere. A handful of his images, mostly portraits, have come up at auction in the past several years, mostly selling between $1500 and $3500.
Rating:
* (one star) GOOD (rating system described
here
)
Transit Hub:
1133 Avenue of the Americas
New York, NY 10036