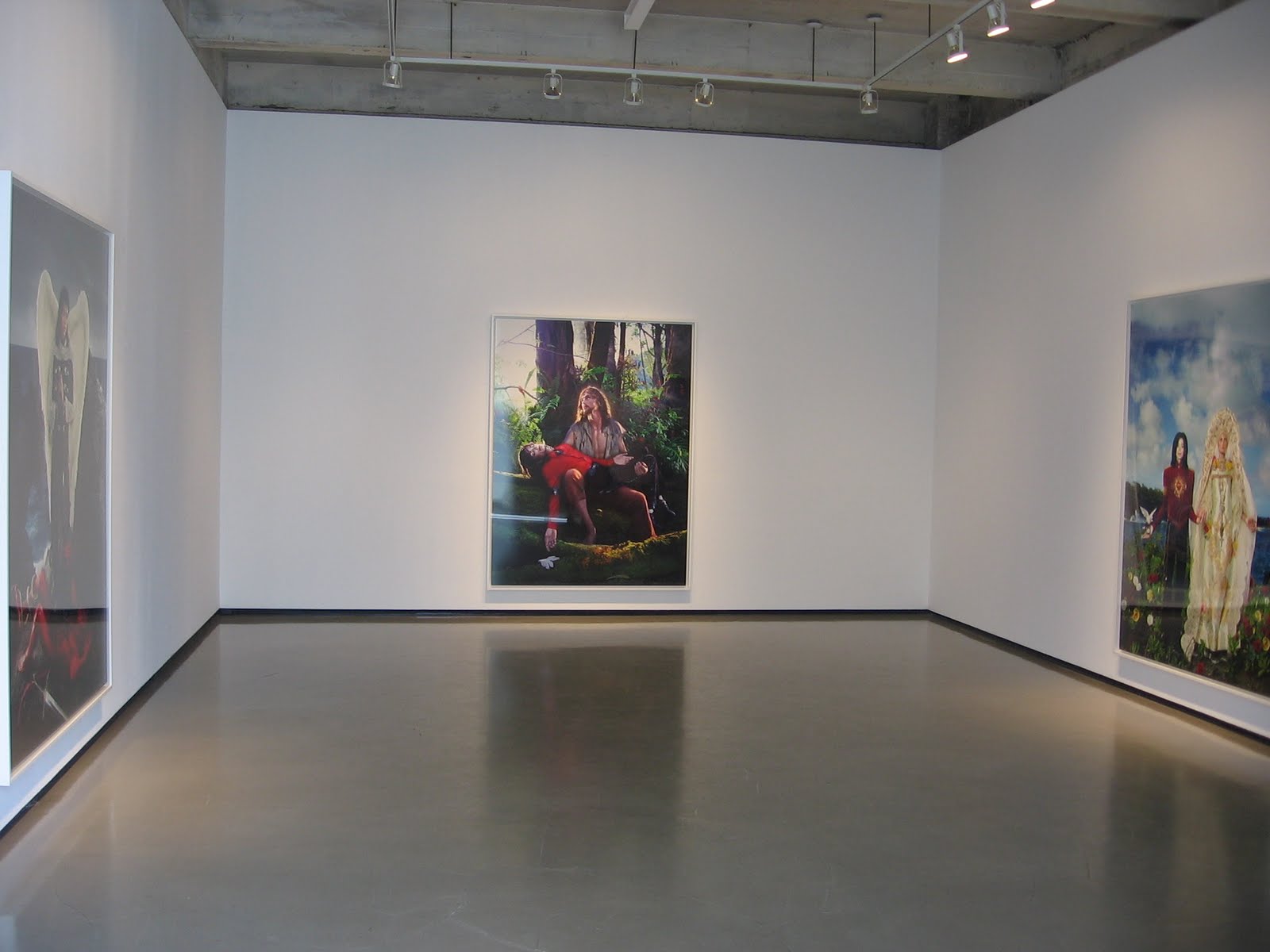 JTF (just the facts): A total of 5 large scale color photographs and 5 preliminary studies hung in two adjoining gallery spaces. The 5 photographs are all chromogenic prints, framed in white with no mats, made in editions of 3 from 2009. 3 of the works are 96×72, the other two are 84×72 and 52×120 respectively. The studies are a mixture of watercolor, collage, and graphite drawings on paper, and are framed in white and matted; they show initial ideas/iterations/versions of the image The Rape of Africa.
Comments/Context: Given the intensity of our celebrity-obsessed, pop culture soaked culture, it is not surprising that artists have sprung up who have been drawn to a heavy dose of slick commercialism and aggressive public relations. In recent years, David LaChapelle has made a steady stream of outrageous magazine covers, music videos, and elaborately staged celebrity portraits that walk the knife edge of fabulous and trashy, mixing vibrant garish colors, kitchy scene setting and a myriad of art historical symbols and references. Whether or not they fit our traditional definitions of great art, they hold up a mirror to our society and capture one view of the over-the-top spirit of the times.
In his newest photographs, LaChapelle has posed the ultimate pop icon, Michael Jackson, in a variety of quasi-biblical poses: held Pieta style by a bearded Jesus lookalike in the woods (complete with fallen sequined glove), standing on top of a devil with hands in prayer wearing white angel wings, and hand in hand with a saint on his day of beatification. His carefully constructed images depict Jackson as a prophet or martyr, reenvisioning the suffering and persecution brought on by his unmatched celebrity. The works have surreal, dramatic freakiness that verges on religious folk art, albeit on a massive scale with glossy production values, almost like album covers.
.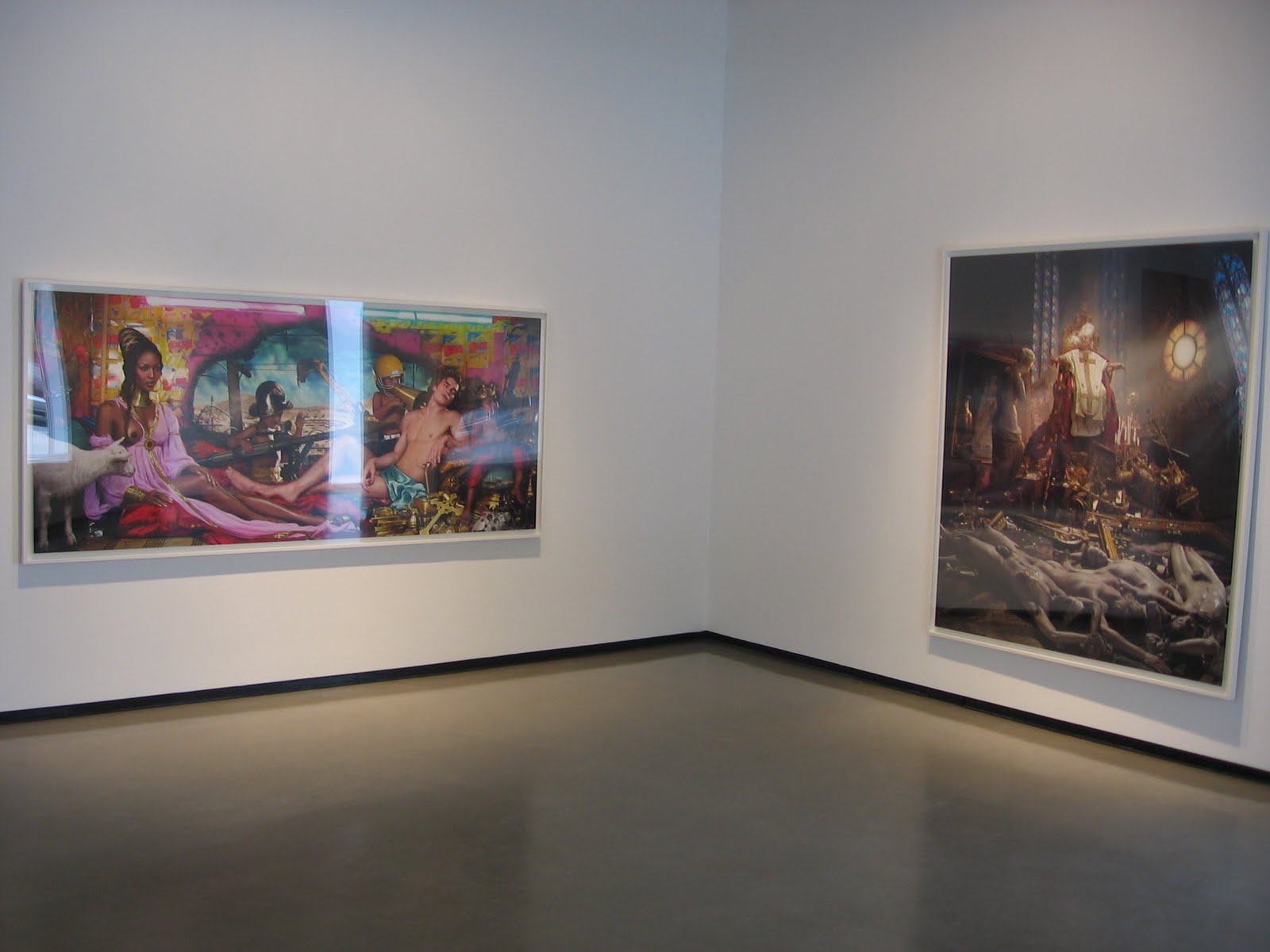 The other two images in the show take on religious
corruption
and African exploitation, the latter seen as an updating of Botticelli's
Venus and Mars
, complete with Naomi Campbell, cherubs holding rocket launchers, goats, golden treasure, and backhoes. While the rework itself is a bit awkward and overly symbolic, I enjoyed seeing
LaChapelle's
preliminary drawings and collages hung nearby. These show a photographer who is undeniably building up his imagery in a painterly way, constructing and
reconstructing
ideas and motifs to achieve his desired results.
On one hand, I must admit that these pictures didn't do much for me, and I can see how many will dismiss them as ridiculous, disposable camp (coming soon to a t-shirt near you). But having said that, the outlandish weirdness of the Michael Jackson images is such that I can actually imagine them finding their way into some museums and contemporary collections, where they will successfully hold down large walls and make people gawk, point and fight, some in visceral dislike, others in star-worshipping positive awe. While they are not exactly shocking, given Jackson's astounding fame, it would be hard to walk by one of these photographs without some kind of reaction. And so while I can't exactly recommend these works, they are undeniably polarizing and memorable, and therefore worth seeing, if only to choose for yourself on which side to stand.
Collector's POV: The large photographs in this show are priced between $95000 and $125000. LaChapelle's work has jumped in value in recent years, with prices now routinely running between $10000 and $140000.
Rating:
* (one star) GOOD (rating system described
here
)
Transit Hub:
Artist site (here)
Interview: Nowness (here)
Through September 18th