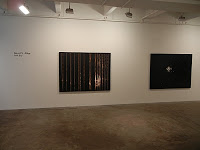 JTF (just the facts):
A total of 9 color photographs, framed in black and not matted, and hung in the single room gallery space. All of the works are
chromogenic
prints taken in 2010. Each of the works comes in a smaller size (30×40 or 30×45, in editions of 7) and a larger size (40×60 or 60×80, in editions of 3). (Installation shots at right.)
Comments/Context: David Allee's newest images are built on a relatively simple technical premise: select a subject with an overdose of blindingly bright glare, and then make a significantly underexposed photograph, where the camera only captures a very small percentage of the available light. The result is a gathering of images that are largely dark, with highlights and details that emerge from the engulfing blackness.
Most of the pictures here are architectural studies of abstracted glass and steel, where the windows have become opaque and the light catches the graph paper geometries of the structural framing. In others, a wooden boardwalk is punctuated by straight lines of glimmering round screw heads and a subway train shines and glistens in a soup of utter darkness. While not every image on view is durably memorable, the process-driven idea underneath the pictures and the unreal view of the world it generates are worth a quick look.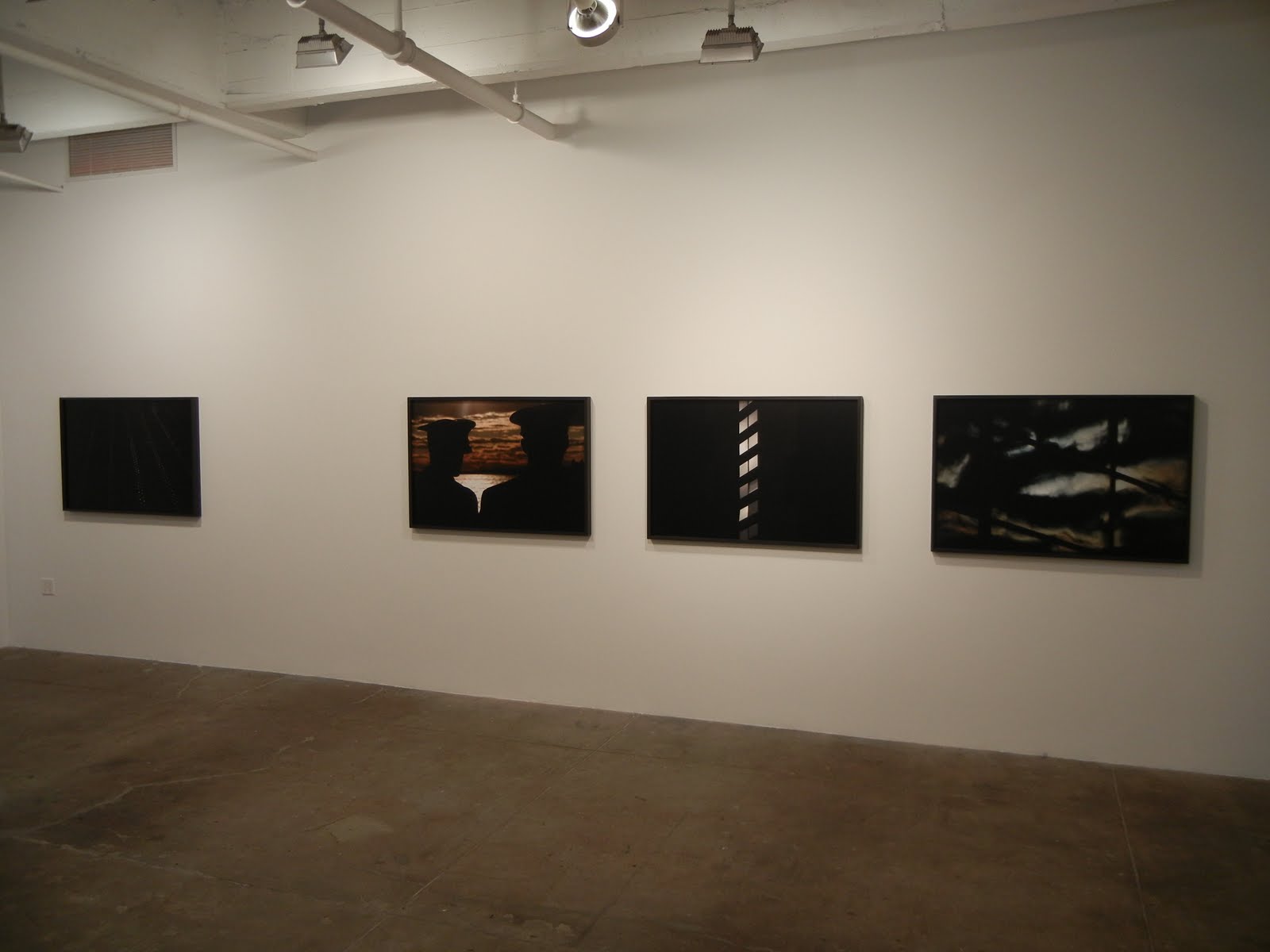 Collector's POV:
The works in this show are priced as follows. The smaller 30×40 and 30×45 prints are $4200 each, while the larger prints are either $5900 (40×60) or $8600 (60×80).
Allee's
work has not yet reached the secondary markets, so gallery retail is likely the only option for interested collectors at this point.
My favorite image in the show was 12:40 pm, Wishing Well, 2010; it's the picture on the right in the top installation shot. I like the way the light (both the shimmering glare off the surface of the water and the glints of the coins underneath) is turned into a constellation of blurred pinpricks.
Rating:
* (one star) GOOD (rating system described
here
)
Through February 19th