Yet another holdover review from the summer.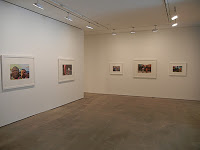 JTF (just the facts): A two part show, with color photographs by Daniele Tamagni in the main gallery space and a group show entitled Africolor in the back room. The Tamagni exhibit consists of 12 c-prints framed in white and matted, each 12×18, 20×28 or 28×39 or reverse, in editions of 10, from 2008. A monograph of this body of work, entitled Gentlemen of Bacongo, was published by Trolley Books in 2009 (here). The Africolor exhibit consists of 24 works from 7 different photographers, variously framed and matted or pinned directly to the wall. (Installation shots at right.)
The following photographers are included in the Africolor portion of the exhibit; the number of prints on view and their details are in parentheses:
Samuel Fosso (2 digital c-prints from the series TATI, each roughly 59×63, in editions of 3+2AP, from 1997)
Martin Parr (6 Lambda prints, either 24×20, 24×36, or 50×70, from 2001-2005)
JR (1 pigment print, 26×40, from 2008)
Malick Sidibe (8 gelatin silver prints with hand painted glass and cardboard frames, ranging from 4×3 to 16×12, from 1974 to 2003)
Mickalene Thomas (2 c-prints, each 40×50, in editions of 5, from 2010)
Ruud van Empel (2 cibachrome prints on dibond and Plexiglas, each 33×24, in editions of 13, from 2006 and 2008)
Lolo Veleko (3 pigment prints, each 14×11, from 2002-2004)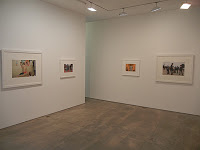 Comments/Context:
This smart combination of Italian photojournalist Daniele Tamagni's images of dapper Congolese men and a supporting exhibit of color-driven African photography (loosely defined) gets my vote for the best summer group show of photography in New York this year. In contrast to the mind numbing boredom of the typical gathering of the gallery stable, this show introduces a memorable body of work and surrounds it with a relevant sampler of related pictures. It's fresh, brash, and lively, with a snappy sense of style.
Tamagni's photographs chronicle the dapper fashions of members of La SAPE (La Societe des Ambianceurs et des Personnes Elegantes). With a flair for extravagant, vibrant color (blazers in pink and lime green, pants in red and orange), their dashing suits and careful accessories provide a stark contrast to the poverty of their everyday lives. These gentlemen strut and swagger around town with elegant walking sticks and fedoras, creating an eye-catching mix of colonial and Congolese cultural remnants. The push and pull between the natty clothes and the realities of crumbling walls, wet laundry, and wandering children makes for visual contradictions that stand out.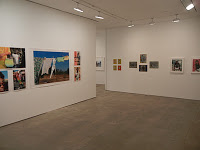 The paired Africolor show bursts with a cacophony of styles, colors and patterns. I found Martin Parr's images from Dakar to be especially striking, from the dueling stripes of a dress and handbag, to a rainbow of shoe straps and a head covered in sunglasses for sale. Lolo Veleko's portraits capture youthful street styles, with funky, unexpected combinations of fashions. And Mickalene Thomas' interior portraits collect a dizzying number of patterns (curtains, pillows, sofa, and dress) in layers that defy logic but somehow work in electric harmony. With Sidibe, van Empel, and Fosso added to the mix, the room vibrates with casual glamour and dynamic energy.
What I found most intriguing about this selection of photographs was the repeated sense of Western styles being appropriated and refashioned for local tastes, forging something entirely new and original out of the raw material of the familiar. All in, a positive pulse of life beats strongly throughout this entire exhibit, making it a welcome antidote to the sleepy status quo of the warm summer months.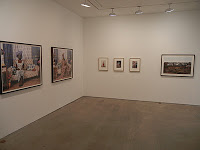 Collector's POV: The prints by Daniele Tamagni are priced in ratcheting editions. The 12×18 works start at $3000 and rise to $5500 at the end of the edition, the 20×28 works start at $4000 and rise to $6500, and the 28×39 works start at $5000 and rise to $7500. Tamagni's works have very little secondary market history, so gallery retail is likely the best option for interested collectors at this point.
The prints in the Africolor portion of the show are priced as follows:
Samuel Fosso: $5500 each
Martin Parr: $3400, $6000, or $12000, based on size
JR: $1500
Malick Sidibe: $3800 or $8500, based on size
Mickalene Thomas: $9000 each
Ruud van Empel: $34000 or $38000
Lolo Veleko: $3000 or $5500
Rating:
** (two stars) VERY GOOD (rating system described
here
)
Transit Hub:
Through September 10th
527 West 23rd Street
New York, NY 10011