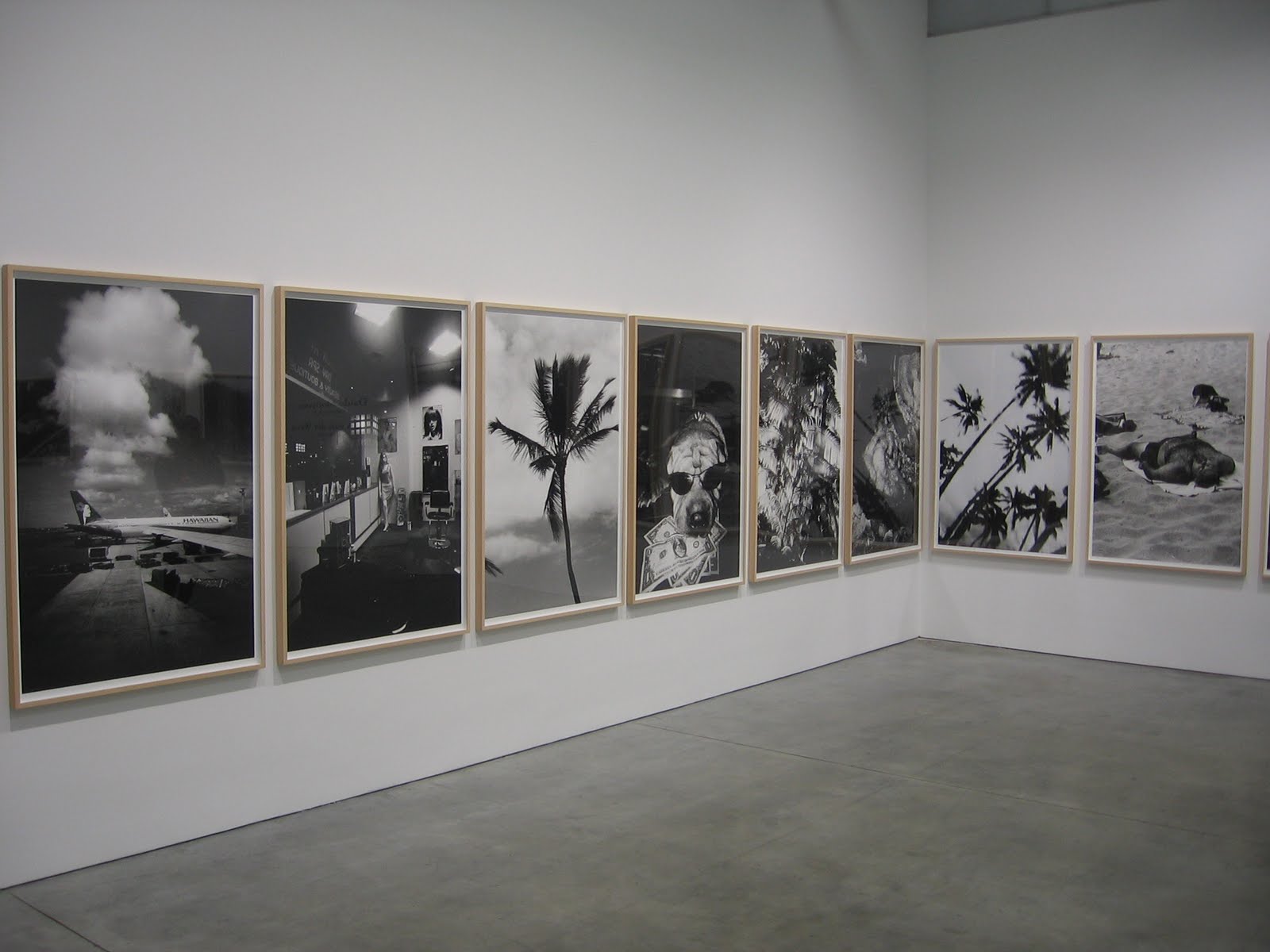 JTF (just the facts): A total of 52 black and white photographs, hung in the entry, main gallery, and one of the back rooms. 29 of the images are from the recent Hawaii series, taken/printed between 2007 and 2010. All of these works are 39×59 (or reverse) and are framed in blond wood without mats; the unique prints are hung edge to edge in the gallery. The back room contains a selection of vintage work of Japan from the 1970s and 1980s. These prints range in size from 7×10 to 14×17, and are framed in black and matted. (Installation shots at right.)
Comments/Context:
One of the most interesting "what if" games that can be played with photographers from across the history of the medium is to perform the thought experiment of what would have happened if a photographer with a signature style had gone elsewhere to make pictures. What if
Atget
had visited the streets of New York or Cairo? What if Ansel Adams had made images of the Himalayas or the Andes? What if Sander had taken portraits in India or China? (Another recent
example
of this phenomenon would be
Eggleston's
images of Paris,
here
.) The effect is somewhat like musicians making covers, taking someone
else's
songs and making them their own; sometimes the
mashup
creates something wholly original and unexpected, and sometimes the combination doesn't quite work.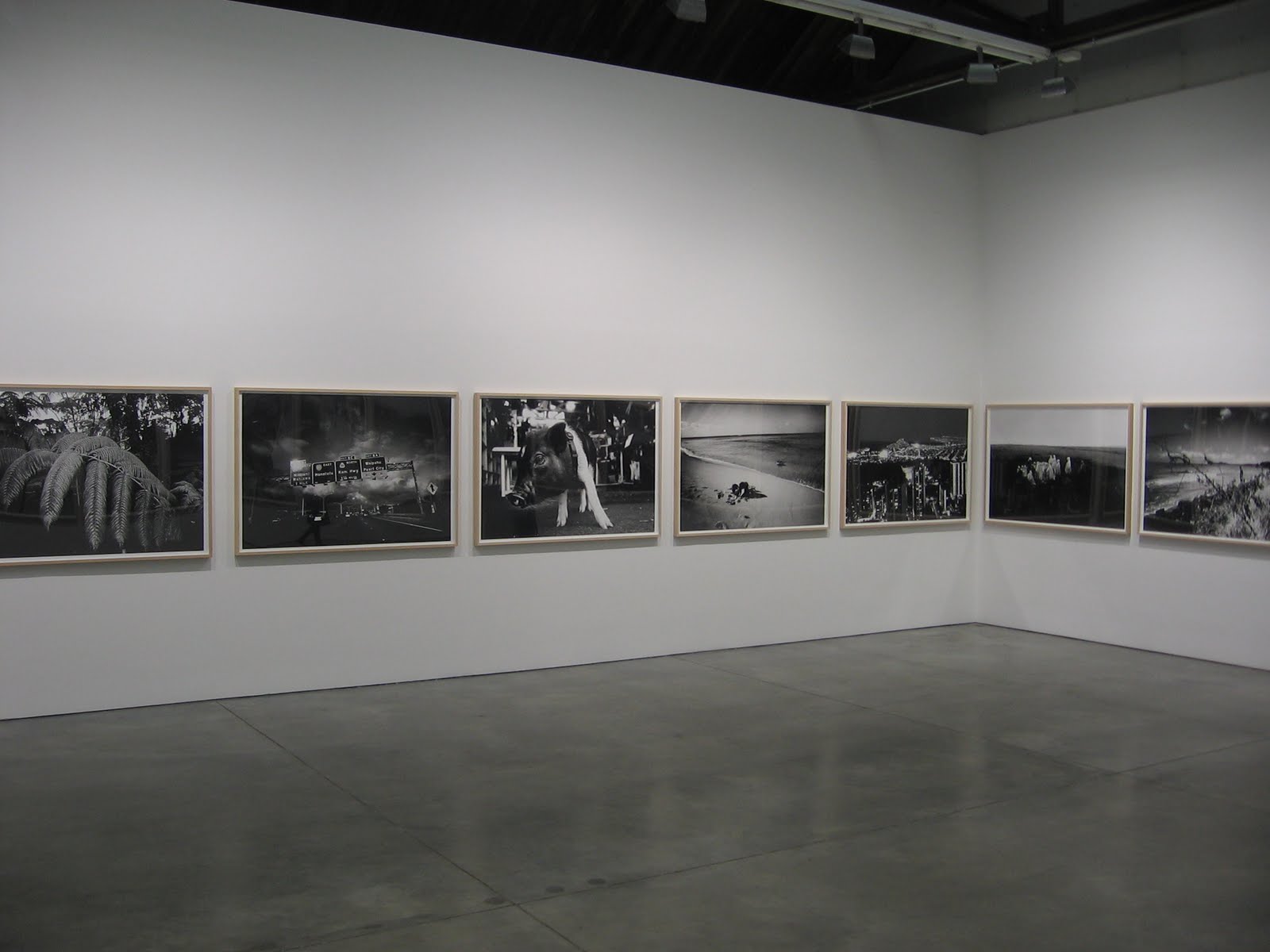 This exhibit extends this line of thinking, with the Japanese photographer
Daido
Moriyama
making pictures of Hawaii, using a group of the artist's vintage images of Japan as a counterweight for comparison. The older works provide a reminder of
Moriyama's
powerful visual vocabulary: dark shadowy images, with skewed off-kilter angles, harsh contrasts, and a rawness that often mixes the gloomy and the menacing. His best images uncover the dark underbelly of the streets, capturing the cultural nuances of Japan in gritty, grainy blackness.
The island life of Hawaii, with its shakas and mellow aloha spirit, presents a surprising challenge for Moriyama: where can a visitor find the brooding or sinister in this paradise? Moriyama does his best to apply his trademark darkness to palm trees and ferns, beaches and hotels, jungles and clouded hills, tourist shops and conch shells, but the overall effect lacks the malignant edginess that haunts his images of Tokyo; he has found some unexpected surface oddities, but the subjects feel a bit too obvious and superficial. Visually, the big prints (roughly 3 by 5 feet) and their shadowy palette make for a jarring view of the easy going, sunny destination, but the subject matter just doesn't lend itself all that well to deep psychological probing. The real culture of Hawaii is hidden somewhere else, far from the welcoming hula girls, tiki fabrics, and flowers offered to visitors.
I actually think that this work will function best as a small stand alone book, as a document of Moriyama's eye as applied to Hawaii. But in the end, I think the sightseer content of the pictures defies a more obscure and difficult reading; we've traded the threatening growl of Moriyama's iconic 1971 stray dog for a dog in sunglasses lying on a pile of cash.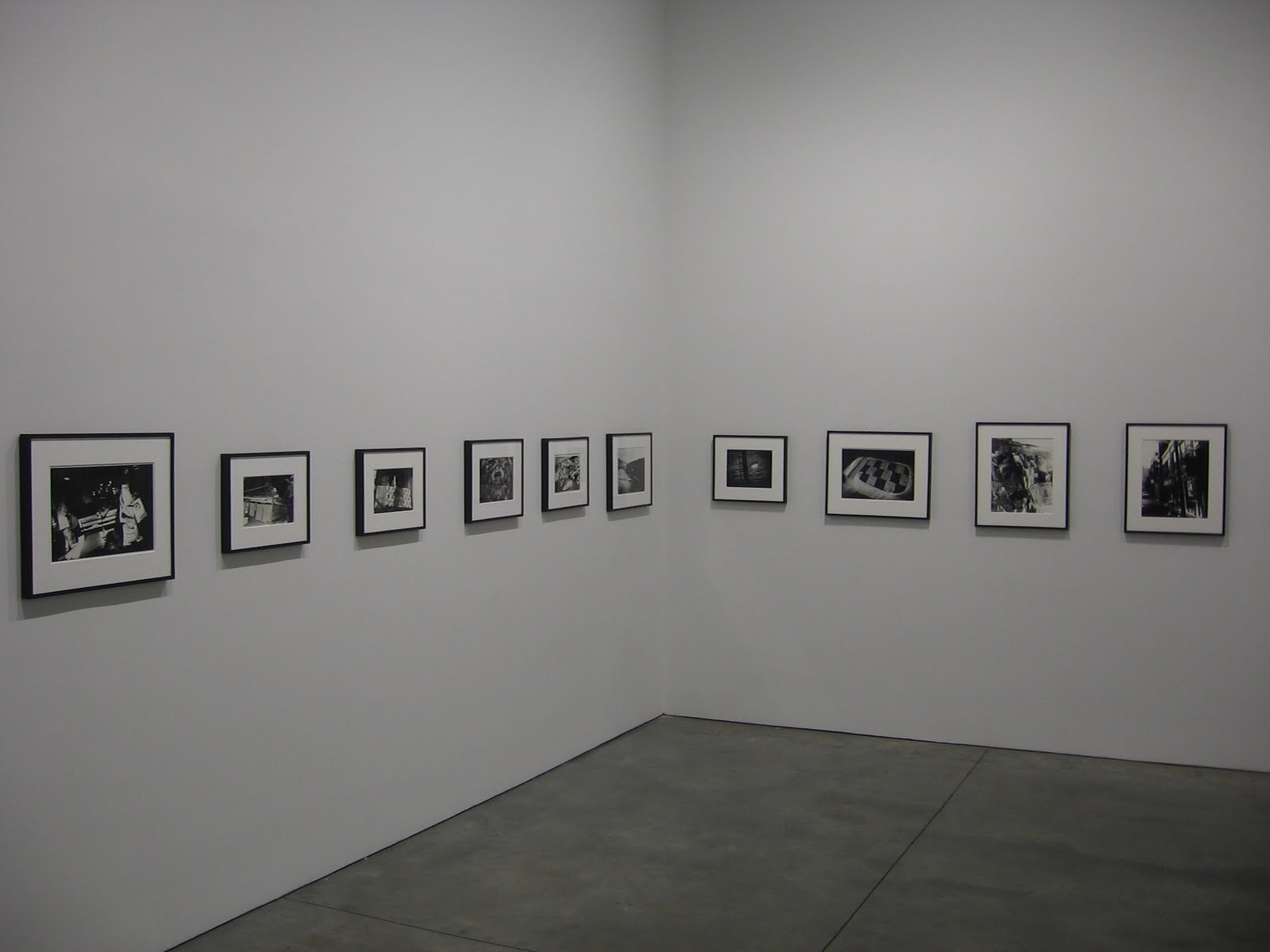 Collector's POV:
The large black and white prints in the front room are priced at $9500 each. The smaller vintage prints in the back are either $7500, $10000, or $15000.
Moriyama's
work has not been widely available in the secondary markets in recent years; it almost seems like there are more of his vintage
photobooks
running around than his actual prints. Prices have generally ranged between $1000 and $20000, with his well known image
Stray Dog, Misawa, Aomori,
being a repeated best seller.
Rating:
* (one star) GOOD (rating system described
here
)
Transit Hub:
Through March 13th
531 West 24th Street
New York, NY 10011