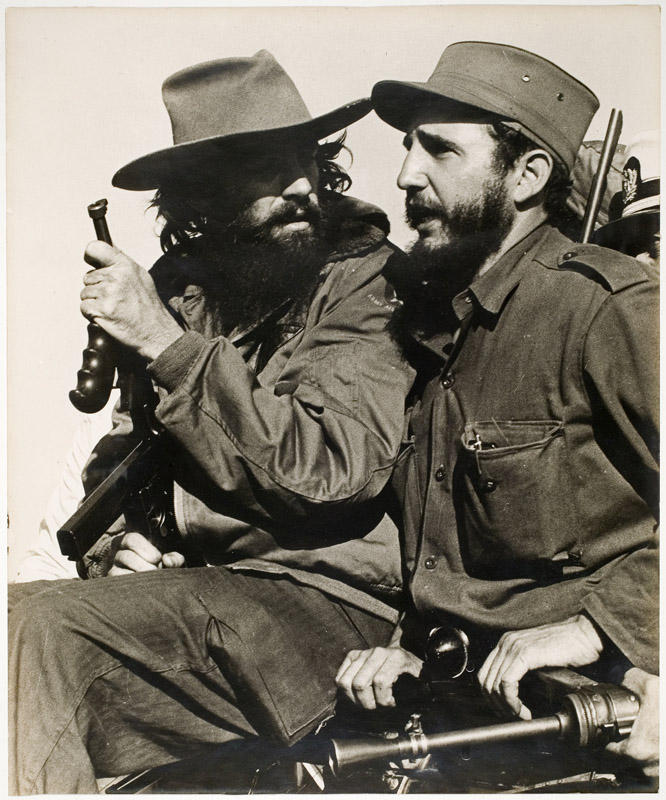 JTF (just the facts): A group show containing a total of 160 black and white photographs, generally framed in black and matted, and hung against taupe and red walls throughout the entire lower level of the museum. The exhibit also includes vintage newsreels projected on a screen, 2 glass cases displaying various magazine spreads, and a video. (Luis Korda, Fidel Castro and Comandante Camilo Cienfuegos entering Havana, January 8, 1959, at right, top, via ICP.)
The show is divided into eight chronological sections, each with a title and start and end dates, together spanning the period between the mid 1940s and the late 1960s. The photographers included in each section are listed below, with the number of prints on view in parentheses:
Pre-Revolutionary Havana: Constantine Arias: 1945-1957
Constantine Arias (18)
The Fall of Batista: 1958-1959
Tirso Martinez (1)
Guillermo Morales (1)
Osvaldo Salas (1)
Unknown (4)
The Years of Struggle and Victory: 1958-1959
Ernesto Fernandez (1)
Burt Glinn (6)
Antonio Nunez Jimenez (1)
Luis Korda (1)
Tirso Martinez (2)
Roberto Salas (1)
Flip Schulke (2)
Andrew St. George (4)
Unknown (4)
Diplomacy and the Cold War: 1959-1964
Sergio Canales (5)
Henri Cartier-Bresson (1)
Mario Collado (1)
Bob Henriques (1)
Alberto Korda (5)
Osvaldo Salas (2)
Andrew St. George (3)
Heroic Portraits
Rene Burri (9)
Elliott Erwitt (1)
Bob Henriques (1)
Alberto Korda (9)
Lee Lockwood (2)
Tirso Martinez (1)
Liborio Noval (1)
Aldo Diaz Rodriguez (1)
Osvaldo Salas (3)
Andrew St. George (4)
Unknown (5)
Picturing the Cuban People: 1959-1963
Henri Cartier-Bresson (1)
Raul Corrales (5)
Burt Glinn (1)
Alberto Korda (3)
Lee Lockwood (1)
Flip Schulke (4)
Andrew St. George (1)
Che Guevara: The Death and Rebirth of an Icon: 1967
Brian Moser (10)
Freddy Alborta Trigo (8)
Cuban Counterculture and Exile: 1965-1968
Jose Figeroa (14)
The exhibit was curated by Brian Wallis and Mark Sanders, in association with the International Art Heritage Foundation. Since photography is not allowed in the ICP galleries, there are unfortunately no installation shots for this show. (The images at right come via the ICP website.)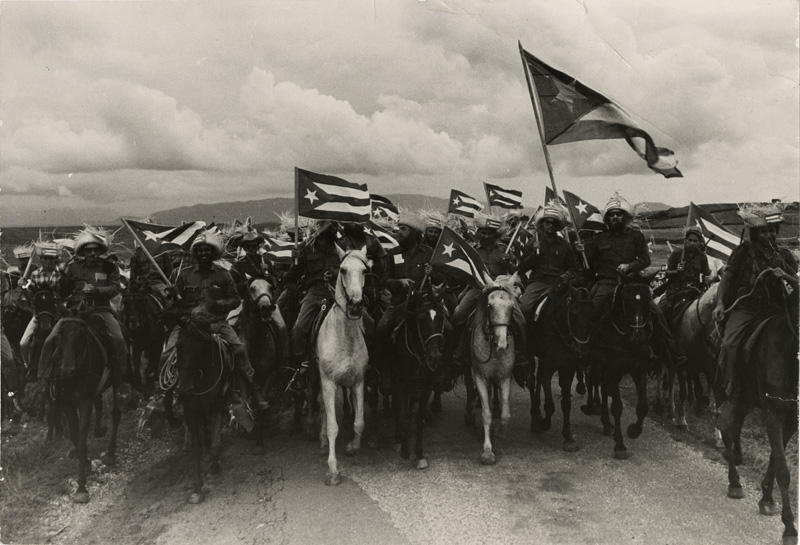 Comments/Context:
OK. I'll admit it. As I walked down the stairs to the
Cuba in Revolution
exhibit in the basement of the
ICP
, I was thinking to myself that this was going to be yet another dry historical survey, interesting at a high level from a factual
perspective
, but likely a show I would decide to pass on reviewing altogether. So much for preconceived notions. While the show downstairs does travel a chronological path of Cuban history, what is exciting and unexpected is
how
the story is told through photography: how the local and international photojournalists chose to chronicle the revolution (which narratives to follow and how to portray them), how the cult of personality was created around the leaders, and how scenes were stylistically created that embodied certain heroic attributes and emotions. What's interesting here is not so much the gathering of the well-known facts, but the entire construction of national history going on along the way via photography. (Raul
Corrales
,
La Cabelleria,
1980, at right,
middle
, via
ICP
.)
The exhibit begins with a "before" section, a series of images of life in Havana under Batista, before the revolution: drunken tourists, chorus girls, hotel gambling and brassy nightlife, juxtaposed with tenements, prostitutes and student demonstrations, with an underlying premonition that these inequalities could not be sustained. The story really starts to accelerate with images of people murdered in the street, cars blasted with gunshots, and Castro being released from prison; the clear conclusion from the pictures is that feelings of unrest were building.
.
As the fighting starts in earnest, the images become almost like classic guerilla propaganda: scraggly beards, camouflage fatigues, rebel outposts in the jungle, military leaders on patrol and giving fiery speeches. I say almost because these were independent photojournalists not media stooges, and yet, it's fascinating to see how the revolutionary leaders crafted scenes, situations and photo ops that offered certain visual conclusions, how they controlled the message and generated fervent drama. After the jubilant tanks roll in and the government falls, the tenor of the images changes once again, now showing Castro at the UN, Castro jumping down from a tank during the Bay of Pigs invasion, or on skis in the USSR, consolidating his diplomatic position on the world stage, less guerrilla and more emerging statesman.
.
The better part of two entire rooms is devoted to heroic portraits of Castro, Che Guevara and other rebel leaders, and these images show these figures at their most photogenic – alternately brooding and defiant, warmly human or even solemn and almost religious. Che smokes and drinks mate, Castro plays baseball and golf, and pals around with Hemingway. Alberto Korda's famous portrait of Che is shown in a variety of sizes and croppings, showing how the intensity of the image was maximized. Around the corner are a series of later images of Che's death in Bolivia, where his corpse is laid out, reverently and theatrically photographed like an iconic Jesus.
.
The final two sections of the show show contrasting views of the Cuban people and their feelings about the revolution. One section shows celebrations and mass rallies in support of the rebels, with flags and hats perched on machetes, the ideals of the revolution embodied in pictures. The images from the mid 1960s show families in exile (or on the way), dancing and kissing, and kids showing off a banned Beatles album. Here we have the origins of resistance and counterculture, and the divisions couldn't be more stark or obvious.
.
Regardless of your opinions or biases on the politics of the situation, this show is a perceptive look at the creation and shaping of collective history via photography. These are powerful, well made pictures with the ability to exert influence over the simplistic categorization of "good" and "bad", and they re-opened my eyes to the complex and nuanced nature of photojournalistic storytelling and narrative building.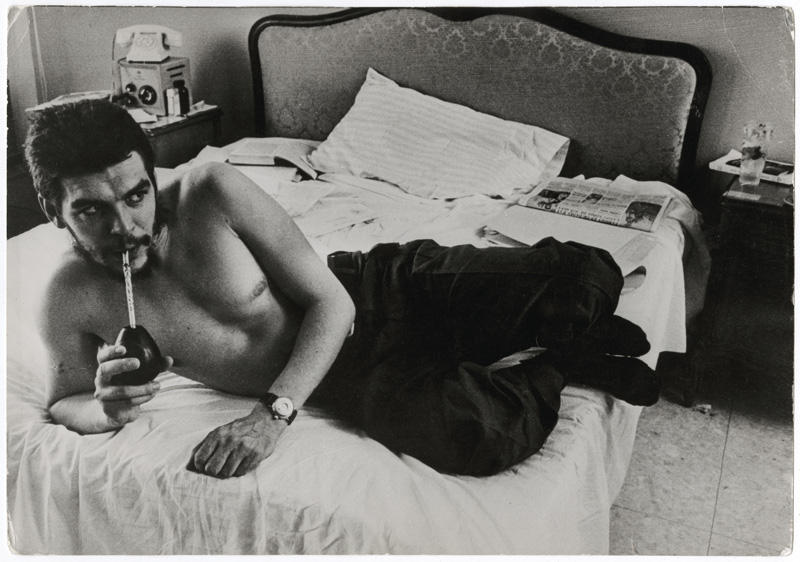 Collector's POV:
While none of the works on view in this museum exhibition was for sale, many of the images by Magnum photographers can be found from time to time in the secondary markets or are likely available as modern prints directly from Magnum. Of the native Cuban photographers, Alberto
Korda
has the most robust history at auction, with a handful of prints selling between $1000 and $17000 in recent years, his famous
Guerrillero
Heroico
at the top end of that range. (Andrew St. George,
Che Guevara relaxing in his room at La Cabana fortress and drinking mate,
1959, at right, via
ICP
.)
Rating:
** (two stars) VERY GOOD (rating system described
here
)
Transit Hub:
Through January 9th