JTF (just the facts): 60 black and white images, taken between 1953 and 1973, hung in groups as eight photo essays, in the main gallery. Topics/locations include : Guatelama (1953), Argentina (1955), Nicaragua (1956), Ecuador (1956), "Farewell to Eden" Peru/Brazil border region (1961), Robert Kennedy (1964), Attica (1972), and "Margins of Life" El Salvador/Honduras 1970-1973. 3 glass cases include copies of books, magazine spreads, and letters.
Comments/Context:
Concerned photojournalist and
ICP
founder Cornell
Capa
died in May of this year, and this exhibition delivers a sampling of his work from a number of his most important and memorable projects. Even in the most tense and confrontational of situations across the globe,
Capa
seems to have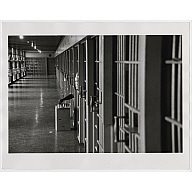 found pauses and moments of quiet expression. His pictures tell complex and
under reported
stories with a clear humanitarian impulse. While there are few iconic images among
Capa's
work and many pictures feel drawn straight from a newspaper, when examined with care and patience in the context of the group of images from a single story as a whole, there is a remarkable consistency of quality and vision. He took on some tough assignments and made them into elegant and powerful pictorial stories. (
Inmates playing chess from prison cells, Attica Correctional Facility, Attica, New York
, 1972 at right.)
Collector's POV: A handful of Capa's best known images (Bolshoi Ballet School and a few others) are routinely available at reasonable prices in the secondary market. This exhibit has some surprisingly beautiful images buried in it; it deserves slow contemplation, rather than a quick glance, even if photojournalism isn't your passion.
Rating:
* (one star) GOOD (rating system described
here
)
Through January 4th
1133 Avenue of the Americas
New York, NY 10036