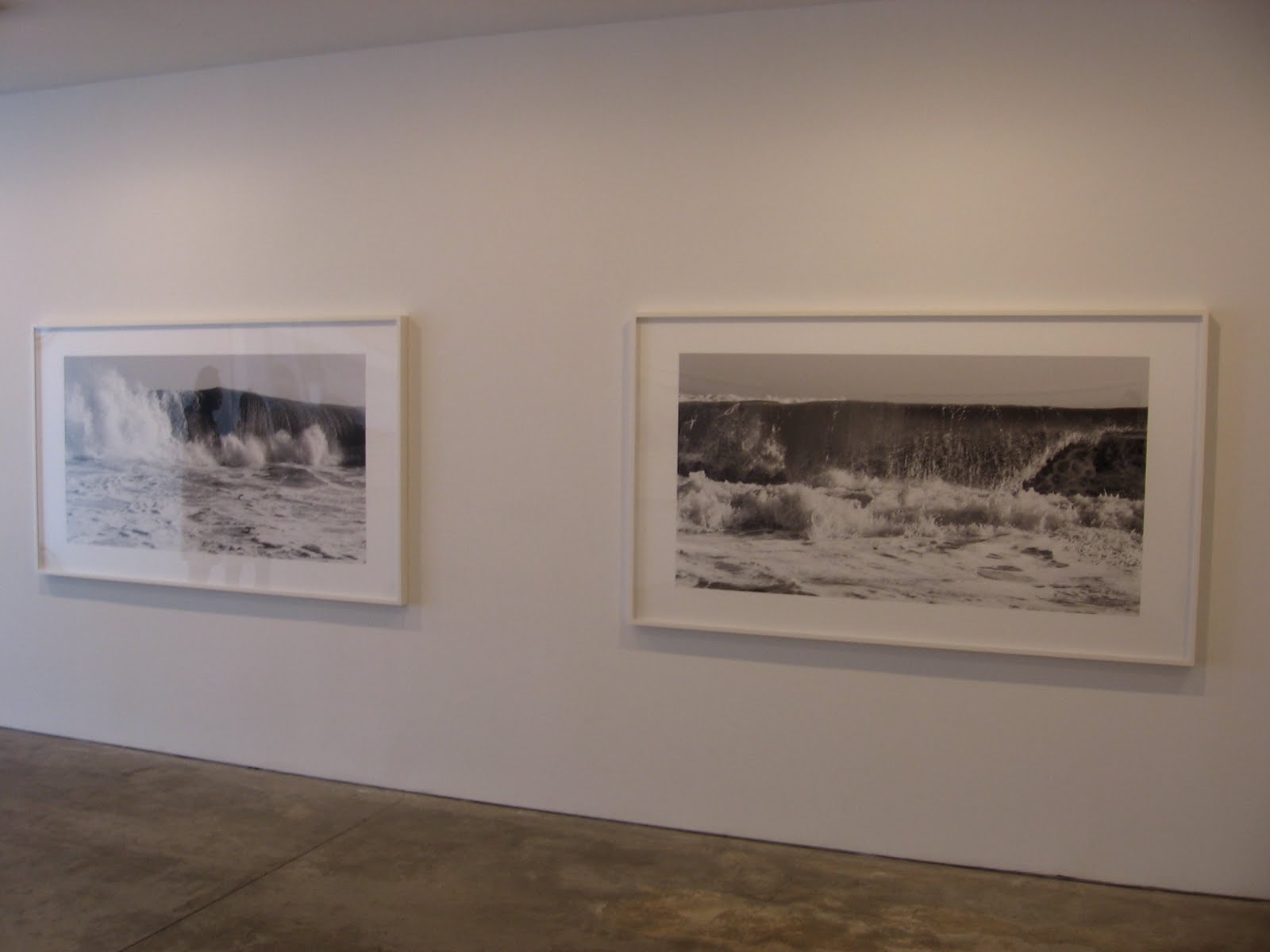 JTF (just the facts): A total of 18 black and white images, framed in white with no mat, and hung in the entry and 3 back rooms of the gallery. All of the prints are archival pigment prints, made in 2009, in editions of 5. The works are either 48×68 or 48×82, and all are titled "Hurricane" followed by a roman numeral. There are 4 images in the smaller size and 14 images in the larger size on display. (Installation shots at right.)
Comments/Context: Clifford Ross' images of hurricane force waves are unlike any other images of breaking surf that I have seen previously. From afar, they look a little mundane and routine; repeated black and white shots of waves cresting, smashing down into the sand, spraying water into the air and creating a frothy white soup of backwash. But up close, something altogether unexpected and magical occurs.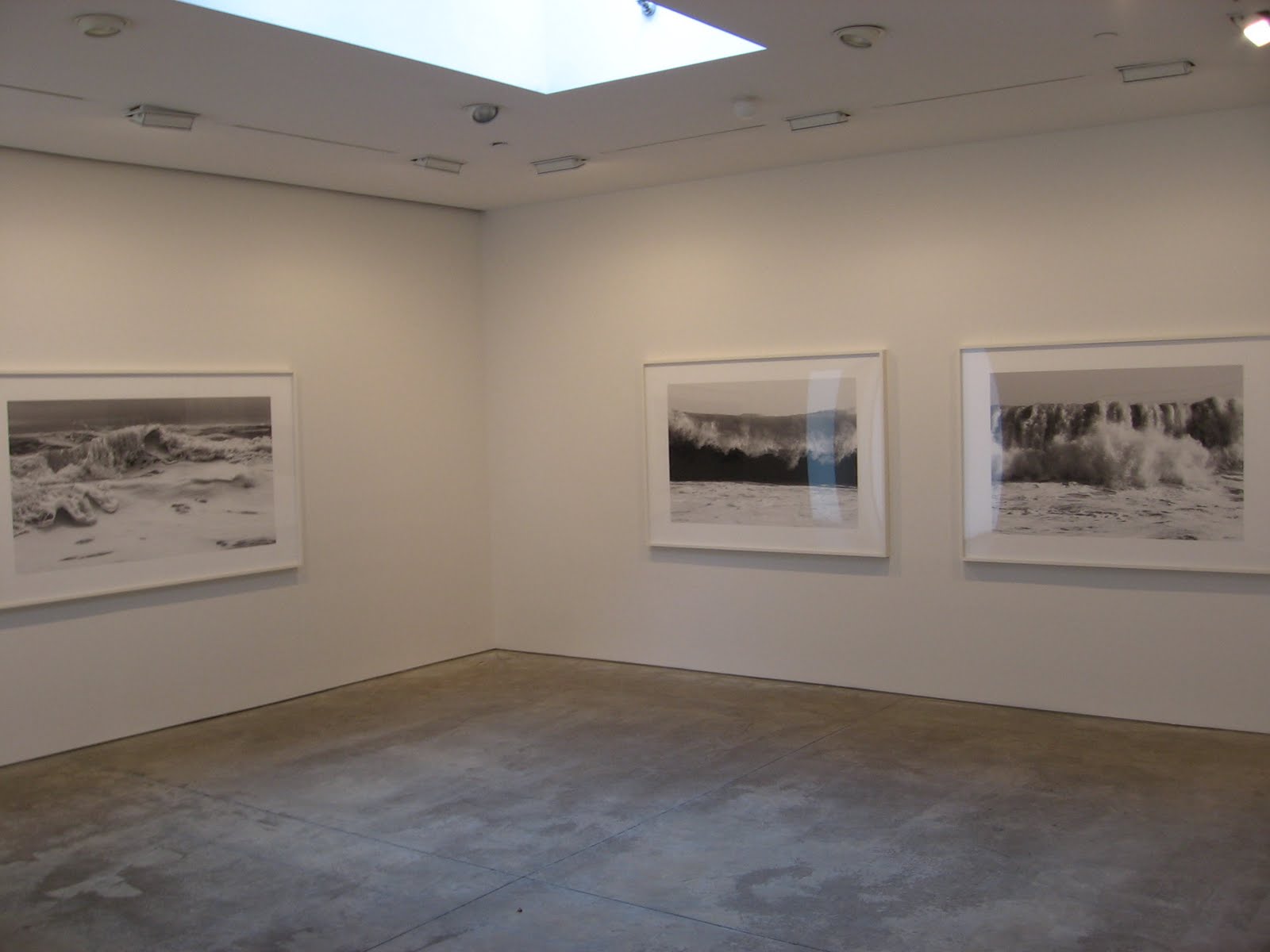 Within a few feet of the images, their staggering, extreme detail becomes apparent; every flying drop, every rolling curve, every ounce of spray is crisp and clear. The works feel like scientific studies of the physical properties of water, reminiscent of the stop motion photography of Harold
Edgerton
(
here
), but on a much grander scale. The crashing waves are revealed as intricate layers of volume, dark tubular forms and curtains of water, piled on top of each other and intermixed. The texture and color of the water is also suddenly of interest, sometimes smooth, sometimes rough and bubbled, the colors ranging from pure white to intense black. It's easy to stand in front of one of these images and get lost in the minutiae.
.
At the same time, there is a powerful sense of narrative drama in these pictures; the fury and danger of the ocean is on display. While these aren't the massive deep sea waves that engulf entire ships, there is still plenty of excitement and energy in these smaller cousins.
Compositionally
, the works merge the romance and awe of Winslow Homer (
here
) and
Hiroshige
(
here
) with the meditative simplicity of
Hiroshi
Sugimoto's
bisected seascapes. Circling the gallery, the works prove that there is infinite variety and interest in this altogether straightforward subject.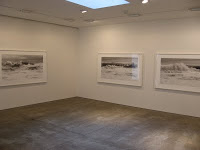 Collector's POV:
The works in the exhibit are priced at either $32000 or $35000 based on size. While Ross' work has not appeared much in the secondary markets, an earlier image from the same series (2002) sold at Christie's this past summer for £10000.
For once, I think the large size of these photographs makes them work better. I can clearly imagine one of these big wave studies successfully filling an entire huge wall. That said, I also think that these images would make a terrific book, as the subtle changes in patterns and textures across the series are a compelling theme and variation fugue.
Rating:
** (two stars) VERY GOOD (rating system described
here
)
.
Transit Hub:
Through December 19th
Sonnabend
Gallery (
artnet
page
here
)
536 West 22
nd
Street
New York, NY 10011