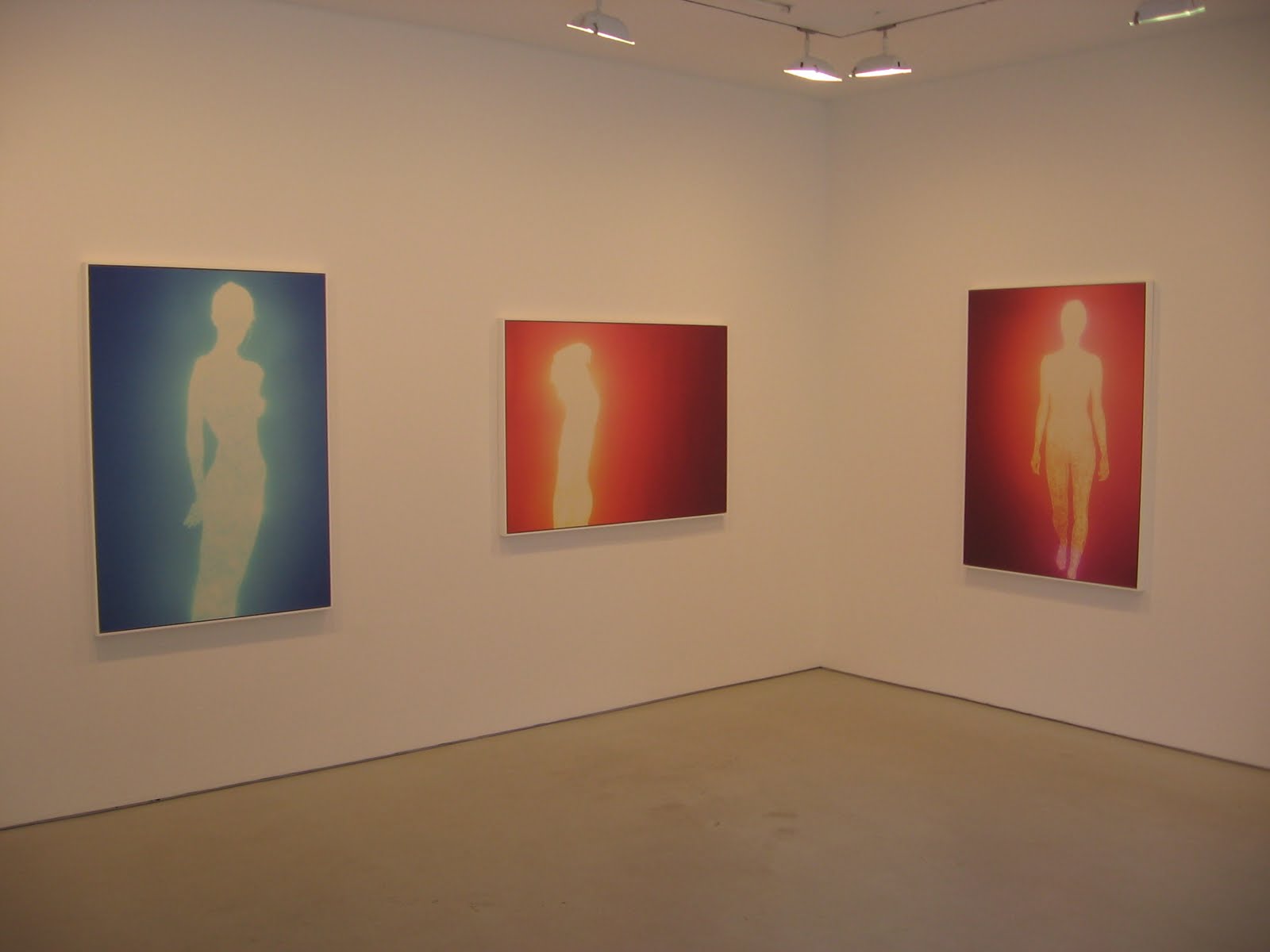 JTF (just the facts): A total of 7 large scale color photographs, framed in thin white and hung in the single room gallery space. All of the works are unique cibachrome prints from the Tetrarch series, each 60×40 (or reverse). The images were made between 2005 and 2009. (Installation shots at right.)
Comments/Context: Christopher Bucklow's radiant silhouettes of light have become a kind of signature style – even from across a large room, a Bucklow photogram sticks out and is instantly recognizable. I suppose that this kind of popularity is both a blessing and a curse: good, in that people find the work memorable and original, and bad, in that it's hard to get away from the aesthetic that has made his pictures so easily identifiable.
.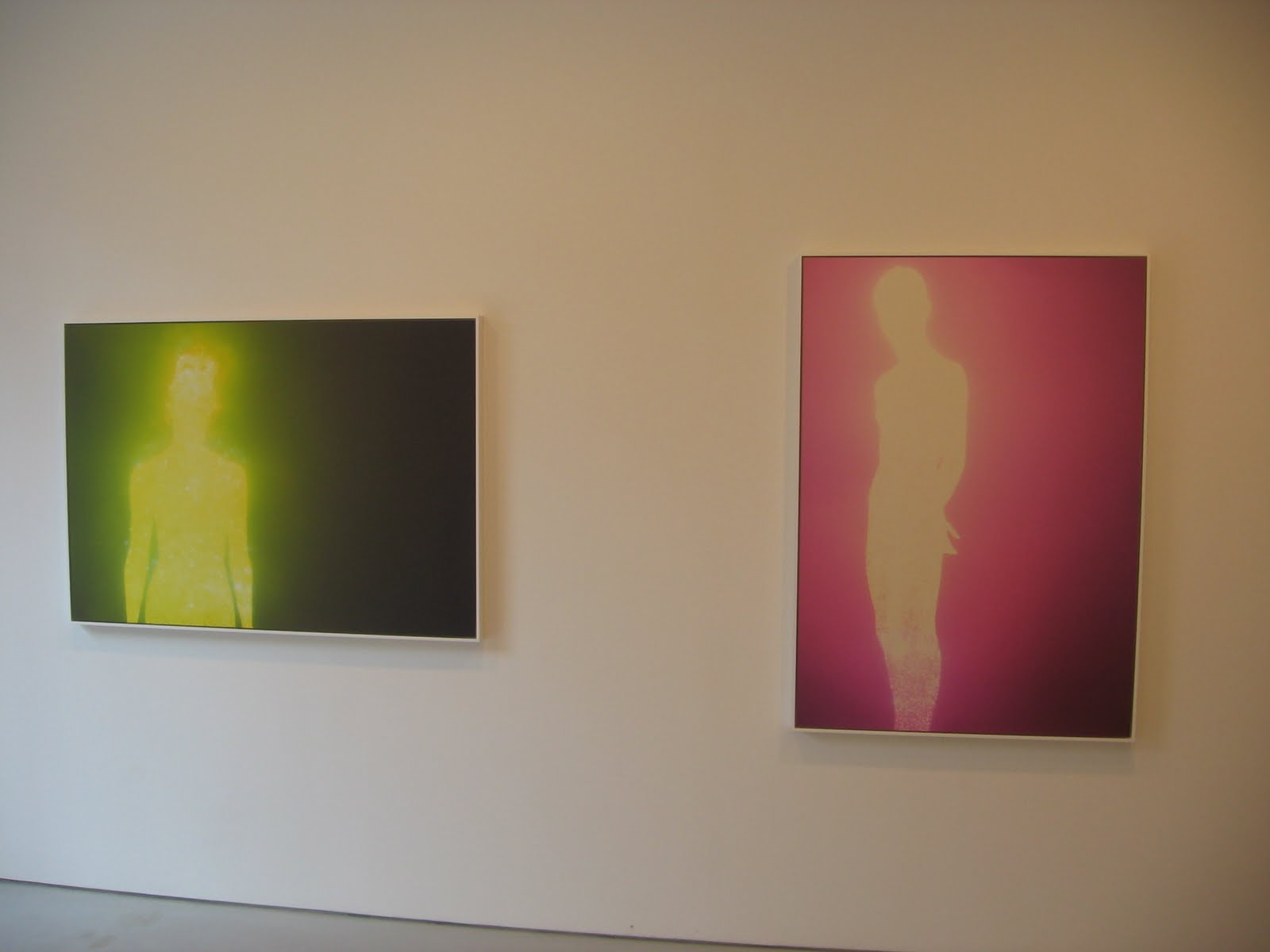 The images on view in this small show continue down the path we have come to expect, albeit on a slightly larger scale. Lithe young bodies made of brilliant light once again stand against rich colored backgrounds, like auras or aliens or futuristic ghosts. Much has been made of
Bucklow's
unusual
photogram
process (aluminum foil, holes punched for each day of the sitter's life, sunlight), but I think it is the resulting visual effect that matters: Pointillist dots of light that coalesce into recognizable forms, sometimes with uneven textural roughness, sometimes with overwhelming, overflowing brightness. The works seem to breathe or pulsate, adding a sense of luminous mystery and fuzzy dreaminess to the otherwise simple forms.
While I remain a fan of these pictures simply due to their wow factor, I don't think Bucklow has shown us anything particularly surprising in these most recent works; a bit bigger yes, perhaps in some distinctive colors, but not wildly different from his previous successful images. I'm most interested by the innovative aesthetic idea at the root of his artistic approach, and would very much like to see him expand and explore its edges in new and radical ways.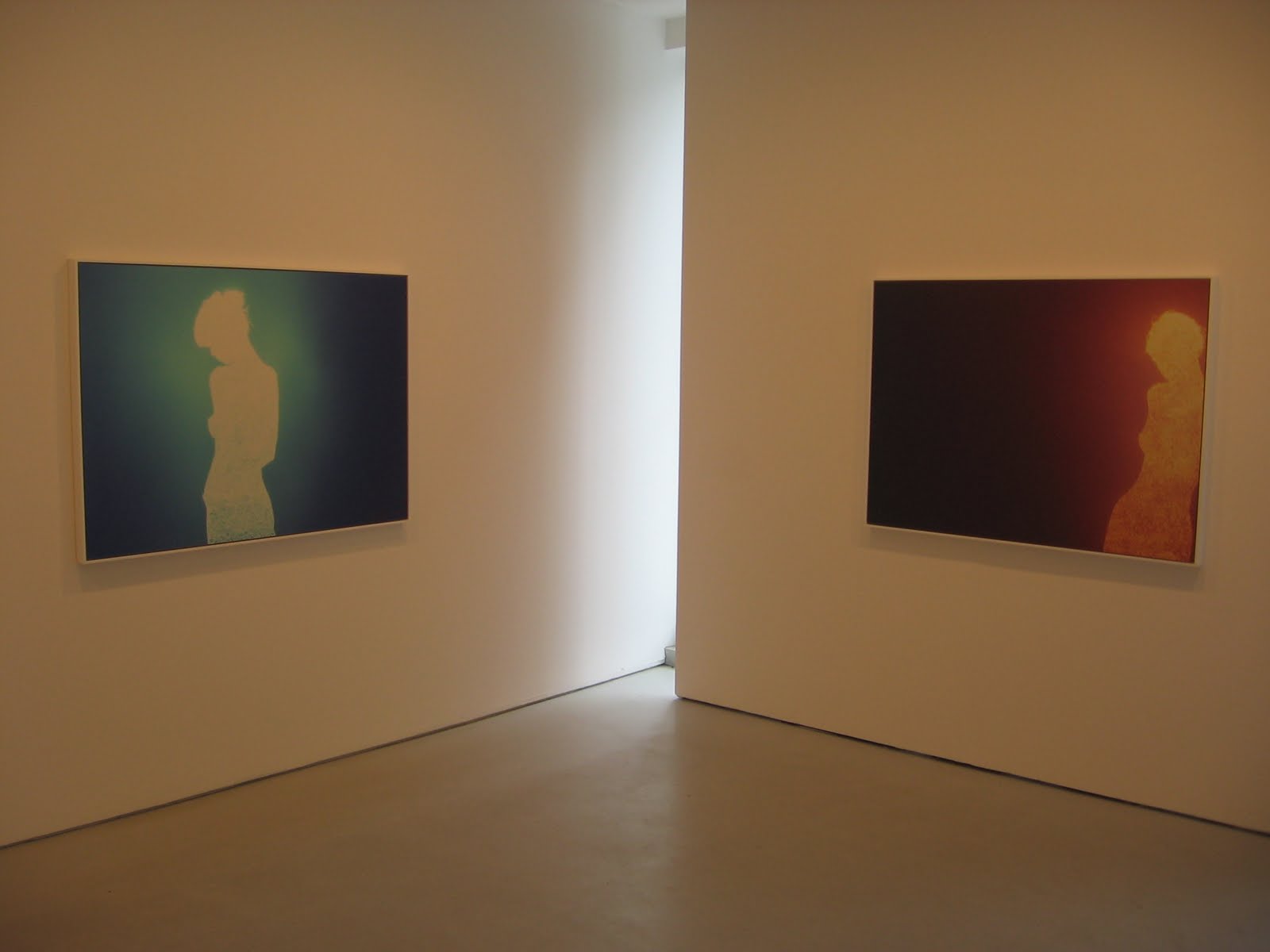 Collector's POV:
The works in this show are each priced at $15000.
Bucklow's
prints can be found in the secondary markets from time to time, perhaps a handful of lots in any given year; prices have generally ranged between $5000 and $14000.
Rating:
* (one star) GOOD (rating system described
here
)
Transit Hub:
Through October 23rd
534 West 24th Street
New York, NY 10011