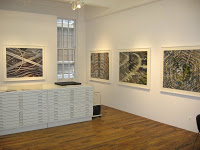 JTF (just the facts): A total of 10 large scale color Cibachrome images, framed in white and displayed throughout the small gallery. Prints come in two sizes (22×28 and 40×50), in editions of 7. Negatives are from 2004-2008. (Installation shot at right.)
Comments/Context: Over the history of the medium, aerial photography has evolved its own distinct subculture, buried inside the larger frameworks of various commercial and artistic endeavors. Starting with Nadar back in the 19th century, people have been fascinated with pictures from the air. We have used aerial pictures for cartography and topography, overhead surveillance, and a never ending array of glossy travel books named things like Above the Pyramids or Over Indianapolis. In the realm of aerial art, photographers like William Garnett and Ed Ruscha set out the playing field, to be followed by artists like Marilyn Bridges, Emmet Gowin, and more recently David Maisel and Gerco de Ruijter (among others).
Christoph Gielen has stepped into this tradition with the images in his first solo NY exhibition, Arcadia, now on view at Daniel Cooney. Gielen has focused his attention on the human built environment, from tangled freeways to dense suburban subdivisions and housing projects, in locations spanning Berlin, Shanghai, Kowloon and southern California. Most of the images have no horizon line, reducing the subject matter to geometric lines and patterns.
Gielen clearly shares a viewpoint with the New Topographic photographers of the 1970s (Robert Adams especially), who highlighted the downsides to suburban sprawl, both in terms of its damage to the environment and its life sapping monotony. While Gielen's images have a simple decorative beauty, the not-so-subtle message is that these things we have built are more than a little scary. The show's ironic title (Arcadia being the essence of a serene, classical place) is another reminder that while we may have designed these worlds with the best of intentions, they haven't turned out to be the paradise we envisioned.
The artist's website can be found here.
Collector's POV: The prints in this show are retailing for $1800 and $3800 based on size. While Gielen's images are well made and often striking, they haven't moved the ball forward much in terms of aerial photography. While we have seen much of this kind of thing before, there are a few images in the show that point to a continued evolution toward a more abstract approach, further drawing out new and subtle societal impacts resulting from the aging of these built environments. I was particularly interested to note the changing details of the faceless developments, as the trees grew bigger and broader and the inhabitants had time to begin to personalize their plots. Perhaps the chaos of humanity and nature will one day drown out the perfect geometries of the designers.
Rating: * (one star) GOOD (rating system described here)
Christoph Gielen, Arcadia
Through January 31st
Daniel Cooney Fine Art
511 West 25th Street
New York, NY 10001