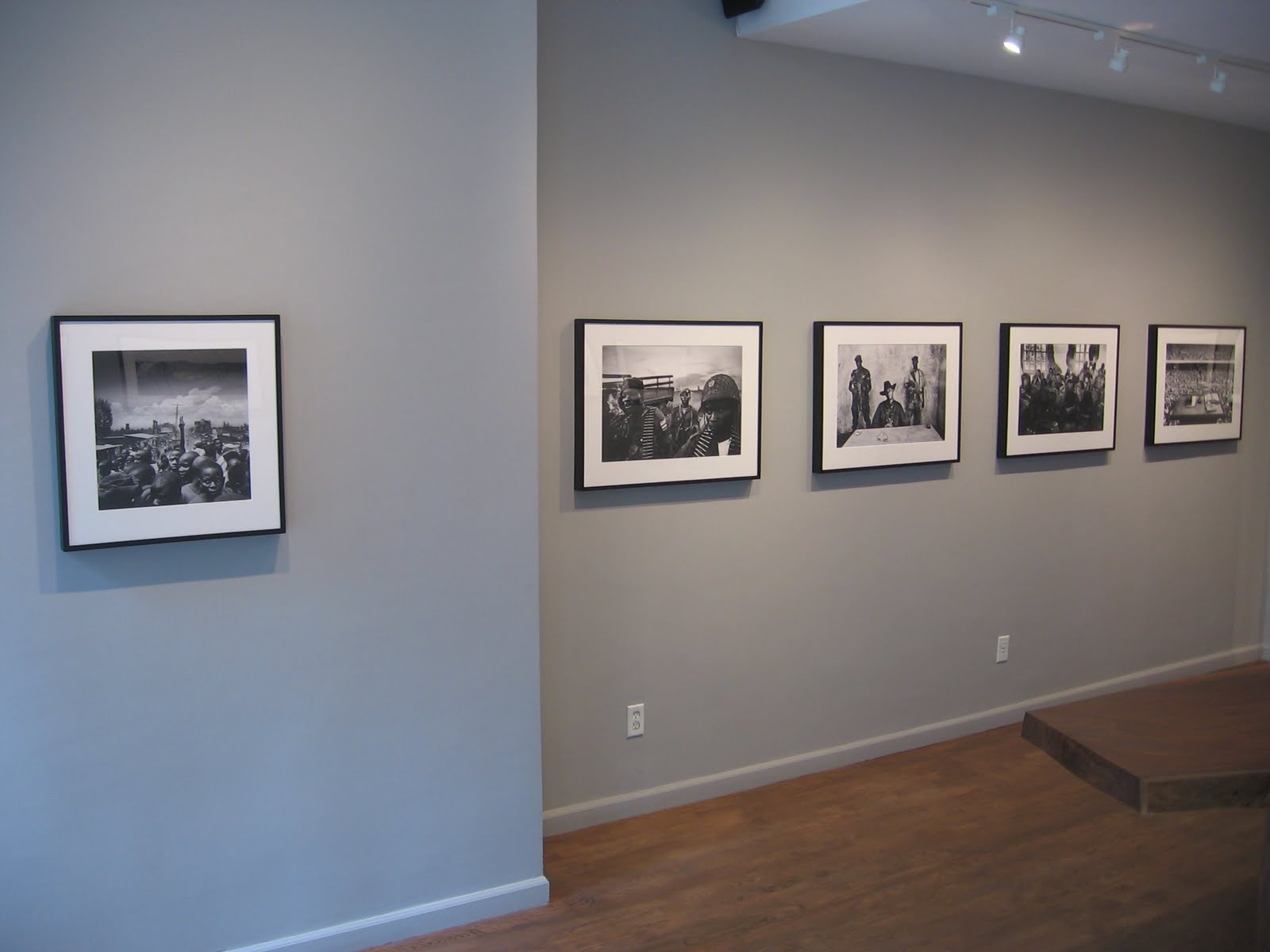 JTF (just the facts): A total of 13 black and white images, framed in black and matted, and hung in the single room gallery and office alcove. The prints are archival inkjet prints on Hahnemuhle paper, in three sizes: 16×16, 16×24 or reverse, and 14×32. There are 10 works in the 16×24 size, 1 in the 16×16 size, and 2 in the 14×32 size. All of the images were taken between 2007 and 2009. The works are all untitled and are not editioned. This is Gerbehaye's first solo show in the US. (Installation shots at right.)
.
Comments/Context: Cédric Gerbehaye's documentary photographs of the recent conflict in the Democratic Republic of Congo are dark and haunting. They chronicle the intertwined lives of the soldiers and the civilians, and the hardships being endured by those that have been displaced or injured by the civil war.
.
Many of the images tell the story of life in the tent camps, where a warren of shelters made of mud, sticks and sackcloth house families and young children. Others capture the soldiers, alternately outfitted with grenade launchers and spears, in berets and bandoliers; images of child soldiers jammed into the back of a truck or praying before a day of fighting capture the depressing reality of the on-the-ground combatants. Hospitals and churches complete the portrait of the victims; bright white light streams in through cross-shaped windows in a simple church, while men cover their eyes in despair. The most memorable image in the show is a picture of a young general, outfitted in a cowboy hat, and flanked by two heavily armed bodyguards; his sunglasses and cellphones sit on the simple table in front of him, his expression one of confident power.
While we have all seen pictures of civil wars and felt sympathy for the innocent bystanders who get caught up in the crossfire of the conflicts, these images are consistently well crafted and moving. They are dark and shadowy, with alternating moments of gritty realism and quiet lyricism.
.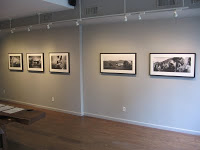 Collector's POV: All of the prints in the show are priced at $1650. Gerbehaye has no secondary market history. While photojournalism isn't an exact match for our particular collection, this is an impressive and penetrating group of humanist pictures that tells an important, and generally overlooked, story.
.
Rating: * (one star) GOOD (rating system described here)
.
Transit Hub:
Cédric Gerbehaye, Congo in Limbo
Through October 31st
.
Anastasia Photo
166 Orchard Street
New York, NY 10002