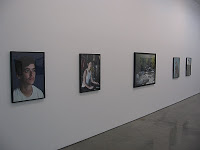 JTF (just the facts): A total of 45 black and white and color works, hung throughout the gallery in four connecting spaces. The 17 color images are all chromogenic prints, framed in black with no mats, in editions of 5+2AP, and ranging in size from roughly 20×27 to 38×50 (or reverse). These works were taken between 1998 and 2009. The 28 black and white images are all inkjet prints, framed in black and matted, in editions of 8+2AP, and roughly square in format (9×10). These smaller works were taken between 1987 and 2009. (Installation shots at right.)
Comments/Context:
Catherine
Opie's
mid-career retrospective at the Guggenheim was one of the best photography shows of 2008 (review
here
), so I was certainly looking forward to see her exhibit of new work, now on view at Gladstone. In many ways, this group of pictures has a "back to the future" feel, as
Opie
has returned to portraits/images of intimate friends and lovers in the lesbian community, after a stretch of time when she explored LA freeways, architecture,
icehouses
, surfers, and her local community.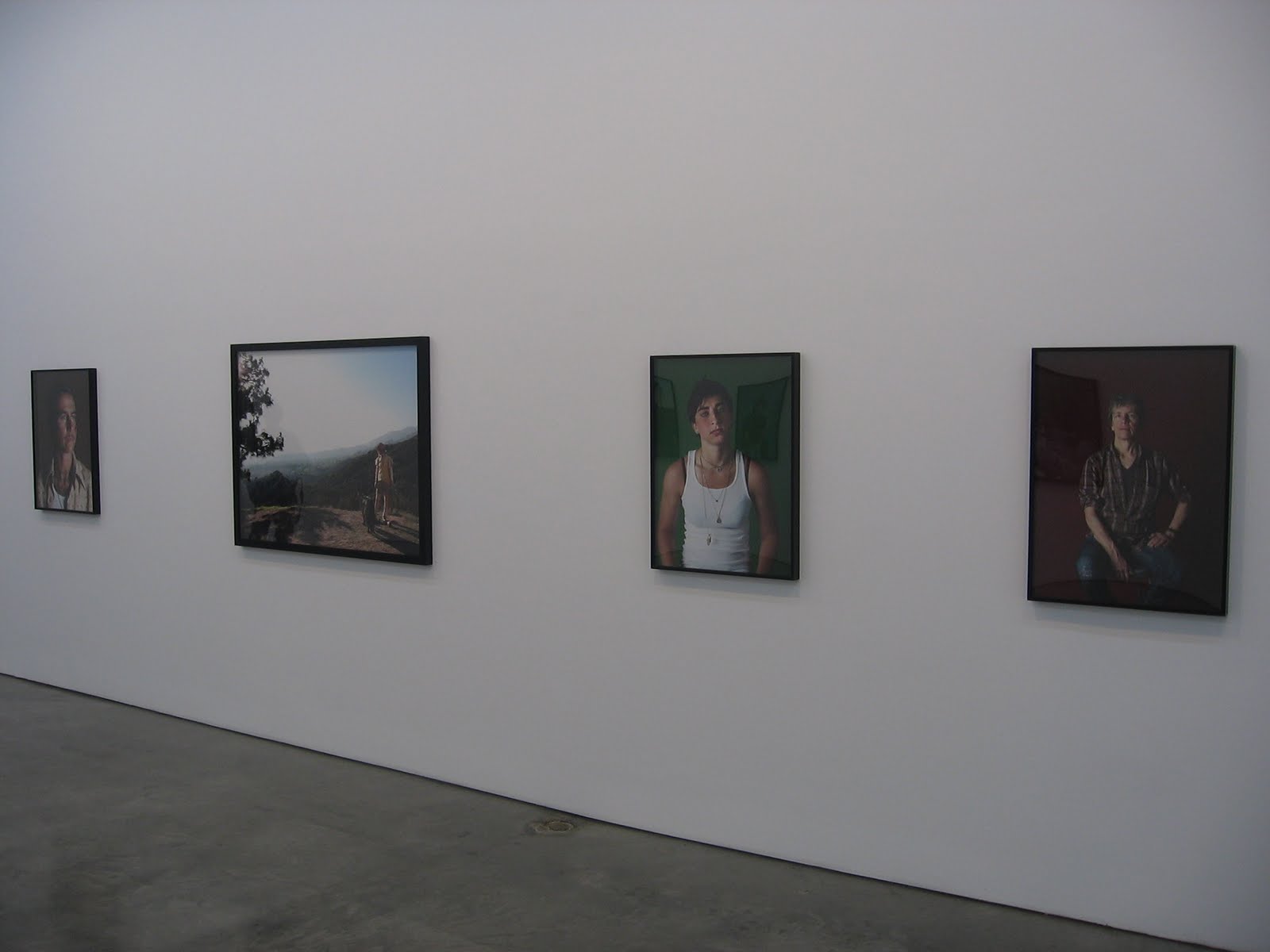 The larger color works on display fall into two distinct categories: formal head shot or 3/4 torso portraits against her signature saturated color backgrounds (pink, brown, red, green, and blue in this case) or more casual (though clearly posed) environmental portraits, using both interiors and outdoor landscapes as settings.
Opie's
gifts as a portraitist seem to come through best in the studio works, where the subjects are seen with more timeless depth and complexity – the personalities captured mix confidence with vulnerability, exposing well rounded humanity beneath the superficial cultural
signifiers
of elaborate tattoos or butch haircuts. I found the environmental portraits a bit more uneven; they are universally well crafted, but more one-dimensional and less memorable – I don't think they take us anywhere particularly new, although the confrontational swagger of Jenny
Shimizu
will certainly catch your eye.
The back room contains a series of 1990s black and white images that Opie has recently started to print for the first time. While the content of these pictures is more challenging and harsher (piercings and needles, SM leather, boots, crotch grabs), they have a lyric softness that somehow tones the toughness down just a bit. There are certainly echoes of Mapplethorpe in these images, particularly in their ability to discover classical beauty in marginalized subjects and in their intimate and personal looks at the details of the people the artist cares about. Compared to the color works in the front rooms, these pictures have a more vibrant edge to them (even though a few bear the hallmarks of a dated time gone by) – life is a little bit closer to the surface and more urgent. They'd make a great small book, collected together on their own.
Overall, I'd say this show is a kind of retrenching for Opie, not so much a bold exploration of the new frontiers of photography, but more a careful rediscovery of the people who have been important along the way.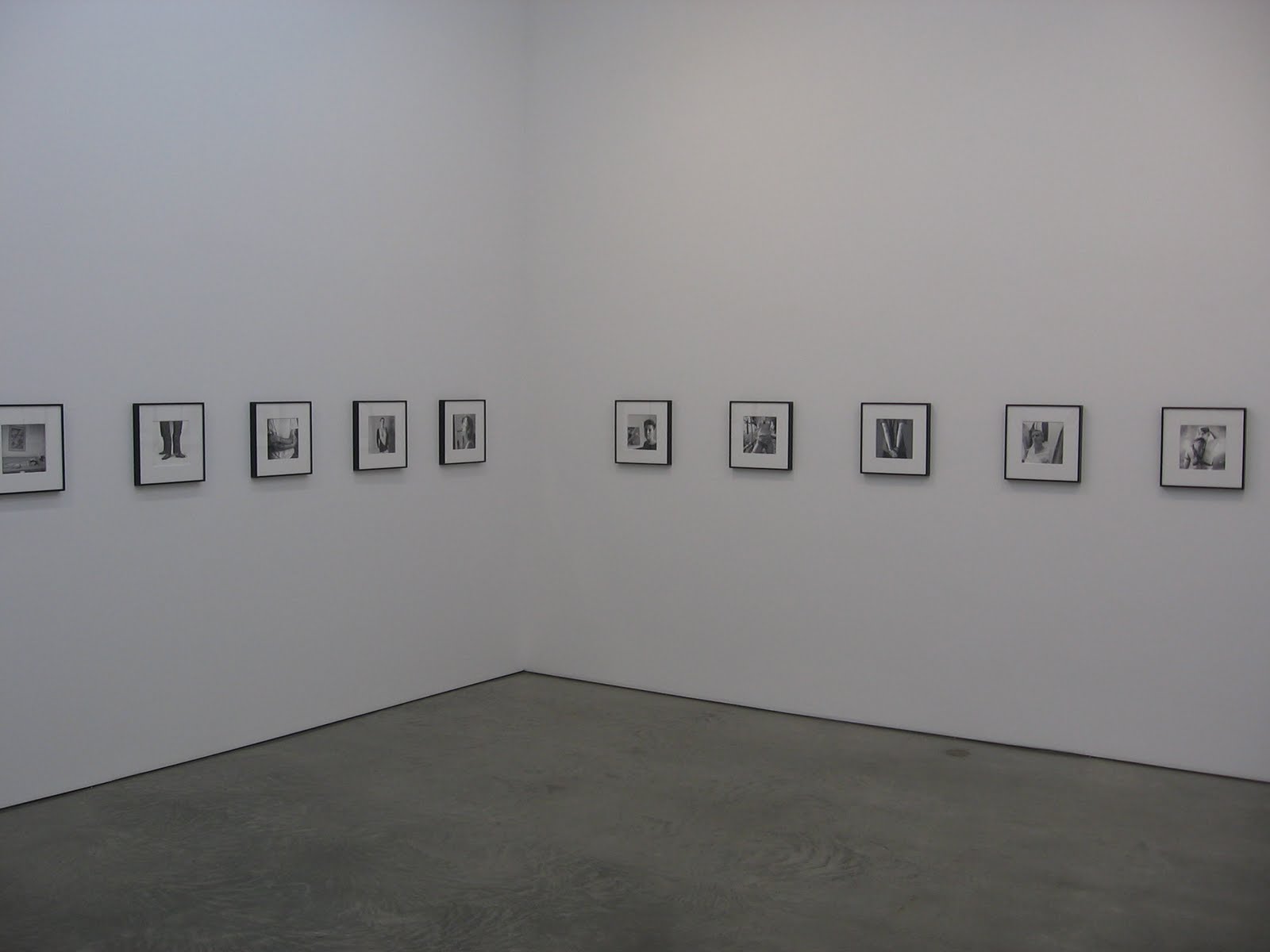 Collector's POV:
The color prints in this show range in price between $20000 and $35000, based on size; the smaller black and white prints are $10000. Despite
Opie's
recent recognition, very little of her work has made it to the secondary markets; there really is no consistent pricing pattern to be used as a benchmark. As such, gallery retail is likely the only real option for interested collectors in the short term.
Rating:
* (one star) GOOD (rating system described
here
)
Transit Hub:
Through April 24th
New York, NY 10011