JTF (just the facts): A total of 15 works, including photographs, collages, and installations, hung throughout the two level gallery space. The 5 photographs are all lightjet type c prints, either on metallic or gloss paper, some with additional pasted paper on top. All of the works were made in 2011; dimensions range from roughly 28×30 to 47×76, in editions of 5+2AP. The 8 drawings/collages are ink and gouache on paper with pasted paper, with dimensions from roughly 18×22 to 43×43; all of these works are unique and were made between 2010 and 2011. The entire floor of the main level space is covered with an installation of 1800 ink stills printed on metallic paper; this work is unique and was made in 2011. A second installation is located in the center of the lower level gallery, and includes digital video, audio, and a dyed sublimation print like a tablecloth. This work is unique and was made in 2011. (Installation shots at right.)
.
Comments/Context: I think I first encountered Carter Mull's work at the 2009 version of MoMA's annual New Photography exhibit, and this gallery show marks his first solo effort in New York. These new images continue his exploration of the nature of information creation and exchange, via a heady mix of collaged elements and found material, drawing from both old and new image making processes.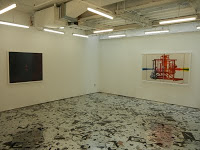 As you enter the gallery, it is hard not to be mesmerized by the shiny silver floor, covered edge to edge with loose sheets of black ink spots on reflective fragments. A closer look reveals these to be stills from an iPhone ad, each frame a single page (some of the phone, others with the Apple logo, others just splashes of ink), the whole group of 1800 then mixed and distributed across the room. It consciously breaks down a linear narrative into something chaotic and unmanaged, where the message is garbled, but still somewhat identifiable.
Mull's photographs often start with an antique reference to printing technology (many are woodcuts from Diderot's 18th century Encyclopedie depicting letters, presses and the like) or a more modern day newspaper spread from the New York Times. These images are then infused with a spectrum of colors, from saturated rainbows to futuristic neon jets, making them jump off the wall with vibrant energy. Collage elements of letters, fonts, and any number of other appropriations are then mixed in via Photoshop or darkroom manipulations, turning positive to negative and layering in additional visual motifs. The overall effect is like looking at old technology through the prism of the new, where the outmoded and handcrafted is both nostalgic and still somehow relevant.
This was a show where I found the underlying ideas perhaps slightly more compelling than the specific manifestations on the walls. I think Mull has found an intriguing line of thinking to explore, especially in this age where our modes of communication and information sharing are being transformed, where analog and digital are overlapping and competing, where the mashup of old and new technologies is creating something wholly original. I very much had a "push harder, go further" kind of reaction; I liked what I saw and where it seems to be headed, and I'm looking forward to see where he can take these themes if they get ever riskier and more rough.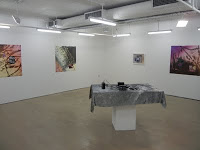 Collector's POV: The photographs in this show range in price from $5000 to $9500, based on size. Hull's work has not yet reached the secondary markets, so gallery retail is likely the only option for interested collectors at this point.
My favorite work in the show was Someday, Everyday, 2011; it's on the left of the top installation shot. This image combines a NY Times spread with headlines from the recent Egyptian uprisings and ads from Ralph Lauren and Calvin Klein with feathers, patterned origami paper, and a mottled background. Using negative values and swirling psychedelic color, the composition becomes an all-over explosion, where news and commerce both become startling and surreal, as if shouted back through time.
Rating: * (one star) GOOD (rating system described here)
Transit Hub:
Review: New York Times (here)
Carter Mull, The Day's Specific Dreams
Through June 11th
Taxter & Spengemann
459 West 18th Street
New York, NY 10011