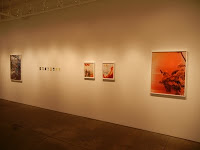 JTF (just the facts): A total of 18 color photographs and 1 array of book covers, generally framed in white with no mats, and hung in the main gallery space. The majority of the photographs come from the series Wildlife Analysis, made between 2008 and 2011. The 10 images from this series are chromogenic prints, in editions of 1, 2 or 5; sizes are either roughly 20×16 or roughly 40×30. The other 8 photographs are Polaroids, from 2008-present, each roughly 4×3 and affixed directly to the wall (without frames) as a set. The final work on view is a unique array of found book covers mounted to aluminum, from 2010, sized 41×29 overall. (Installation shots at right.)
.
Comments/Context: I've written previously on the growing trend in emerging contemporary photography toward multiplicity, where layering, combination, and allusion move beyond simple documentation into previously unexplored areas of conceptual mashup. Bryan Graf's images are a prime example of this kind of thinking, taking the black and white landscape genre and smashing it together with process-driven darkroom manipulations in vivid color.
Graf's images begin with intimate and delicate nature scenes: butterflies perched on leafy branches, a timid deer nestled in the long grass, and various other snippets of forest undergrowth and classic New England scrub vegetation. These fleeting moments are then washed over with painterly swaths of color, added later in the darkroom: saturated orange, faded pink, acidic yellow, and dark murky brown swirl and slip across the surface, creating ambient tints and shadows. The effect is intensely personal and dreamlike, like a swiftly disappearing glimpse of someone else's squint-eyed reality. Graf's Polaroids explore similar territory, where foliage shadows and clouds of color encourage quiet contemplation.
I think the challenge here lies in the attempt to break down the boundaries of the small scale landscape genre with such effusive, expressionistic gestures; the best pictures in this show find the right balance of simplicity and effortless grace, while a few others seem burdened by an overly mannered self-consciousness. Some of this is surely a result of chance in the darkroom, where a fortuitous combination of lurid colors can make or break the emotional tenor of the end product. All in, I think Graf's work is yet another example of the shifting edges of contemporary photography, where complex and original visual vocabularies are now regularly being invented from heretofore separate modes of seeing.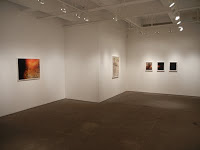 Collector's POV: The works in this show are priced as follows. The smaller 20×16 photographs are $2400 each, while the larger 40×30 images range between $4500 and $5500. The Polaroids are available as a set of 8 for $5000 or as a subset of 4 for $2800. The book cover array is priced at $5500. Graf's work has not yet entered the secondary markets, so gallery retail is likely the only option for interested collectors at this point.
.
Rating: * (one star) GOOD (rating system described here)
.
Transit Hub:
Bryan Graf, Field Recordings
Through July 15th
.
Yancey Richardson Gallery
535 West 22nd Street
New York, NY 10011