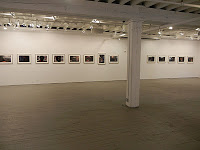 JTF (just the facts): A total of 47 color photographs, framed in brown wood and matted, and hung in a single line around the large gallery space. The show is extremely light on detailed information, with no wall labels or other identifiers apart from a mention that the prints came from the collection of Susan Steinhauser and David Greenberg. A bit of detective work upon coming back from the gallery led me to the conclusion that these prints are not vintage, but from a portfolio published in 2006 by Howard Greenberg Gallery (here) and Rose Gallery (here). This portfolio contains 47 dye transfer prints, each 15×23 or reverse, in an edition of 6. The exhibit also includes a single glass case, with copies of Subway from 1986, 2003 and 2011; the show coincides with the reissue of the monograph from Aperture (here). (Installation shots at right.)
Comments/Context: Even though Bruce Davidson's Subway has already cemented its revered place in the march of photographic history, I tried to force myself to see this "victory lap" show with fresh eyes, and to consider carefully how this body of work has aged over the thirty years since its making. Is it merely a masterful visual document of a certain place and time, namely New York City in the more violent and dodgy early 1980s? Or does it transcend its period and continue to deliver messages that are more broad and universal?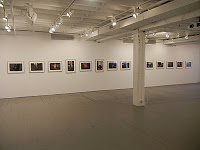 Circling the gallery, I saw these photographs in a much more technical light than I ever had before, particularly in Davidson's observation of color and in his framing and composition. While the overall palette is often dark and shadowy (with moments of intense flash-lit brightness), bold, saturated color jumps out from these pictures: an orange door echoed by orange pants, the red outfit of a gun-to-the-head robber, a stripe of yellow light across a platform, drips of black graffiti near a red hat, a pink headscarf. Davidson then pairs these interior blocks of color and texture with a spectrum of light (and season) coming through the subway car windows: soft snowy whiteness, springtime flowers, crackled broken glass, honeyed evening light on a platform, the Twin Towers at sunset, the Wonder Wheel lit up in blue twilight. While there are of course plenty of personal stories here, I was most struck by the juxtapositions and angles that Davidson used to create the compositional interactions between the passengers, the subway car, and their larger surroundings: some make an up-close declaration, while others play layers of space against each other, creating unexpected combinations and ironies.
While it is impossible to avoid a sense of datedness in pictures from so many years ago, this doesn't come across as a nostalgic patina; in fact, the images remain brilliantly vibrant and energetic, colors bursting from the darkness. I certainly came away from this show with a better sense of how this work fits into the narrative of late 1970s color photography, in addition to its well deserved place in the history of New York photography. So while we have all seen this work before, it was surprisingly refreshing and thought provoking to see it unearthed once again.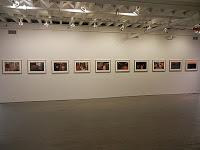 Collector's POV: Since this is a not-for-sale show, there are, of course, no prices. As a proxy for the secondary market for these images, a complete copy of this Subway portfolio sold at the Berman sale at Christie's a year or two ago, fetching $146500.
Rating: ** (two stars) VERY GOOD (rating system described here)
Transit Hub:
Bruce Davidson: Subway
Through October 29th
Aperture Gallery
547 West 27th Street
New York, NY 10001