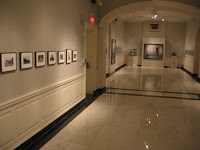 JTF (just the facts): A total of 50 black and white gelatin silver prints, of varying sizes, mostly small 5×7 or reverse, with a handful of larger (20×24 or mural sized) prints as well, in a single hallway gallery. A large grid of images (77 total prints) and two glass cases containing artist books are also on display. All of the works are from 1982-1984. (Installation shot at right; image of grid below right.)
Comments/Context: With the growth and prosperity across the nation in recent years, it is often easy to forget what many urban areas went through in the late 1970s and early 1980s. Ray Mortenson's photographs take us back to a time in the South Bronx when the streets and neighborhoods resembled an abandoned war zone, with tumble down houses, destruction, and utter collapse the prevailing landscape.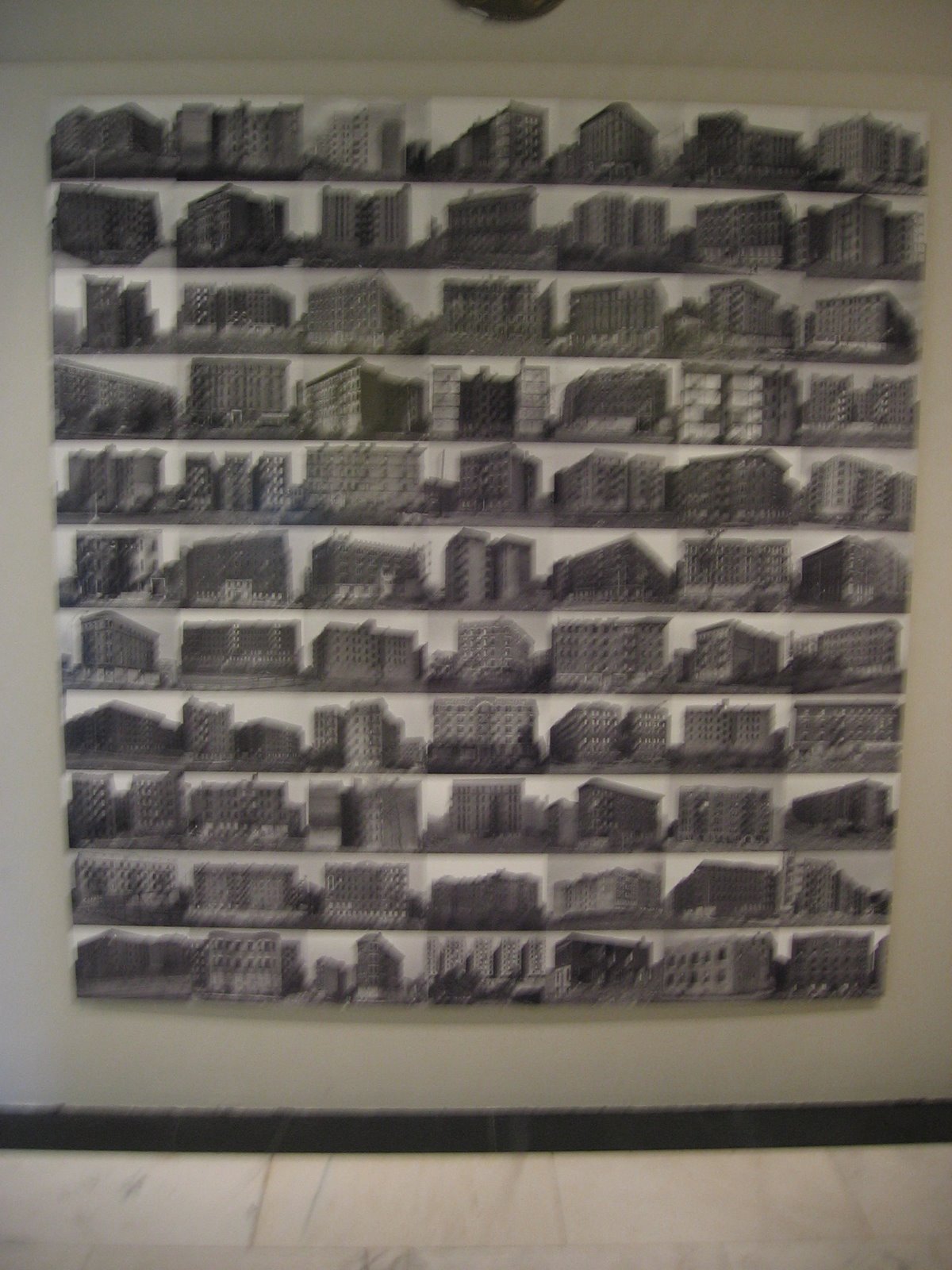 Mortenson
made an in depth study of this environment, in an almost anthropological way, taking pictures of both interiors and exteriors, and placing buildings in the context of their surroundings and separating them apart. The images are entirely empty; not a single person is to be found anywhere. What remains are the architectural remnants of broken walls and windows,
graffiti
, and rotting furniture. It is a bleak world of peeling paint, massive holes, chaos and neglect. There are echoes of Gordon
Matta
-Clark's work here, minus the conceptual overlay: walls and buildings are slashed and torn, with peep hole views through the decay.
Given the depressing subject matter, it is perhaps surprising to find that these works are consistently engaging and beautiful. Mortenson has used strong contrasts of black/white, light/shadow, and line/texture to bring vitality to these abandoned rooms and buildings. Each view has been carefully composed and crafted, and the small images draw the viewer into an intimate dialogue. The work is thought provoking, in the sense that Mortenson has taken spaces that were defined by negligence and dereliction, and paid respectful attention to them. In doing so, he has exposed some glimpses of simple beauty hidden underneath.
Collector's POV:
Prior to this show, we knew nothing about the work of Ray
Mortenson
. Given this body of work, we have come away impressed; one of these images would easily fit into our collection. Ray
Mortenson
is represented by Janet Borden (site
here
).
Rating:
** (two stars) VERY GOOD (rating system described
here
)
Through March 3rd
1220 Fifth Avenue
New York, NY 10029