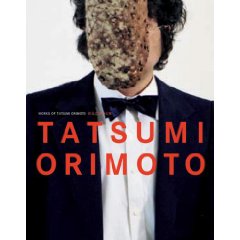 JTF (just the facts): Published in 2007 by Seigensha Art Publishing. 88 pages, with 105 color and black and white images. Includes essays by Akira Tatehata and Johannes Lothar Schroder, a detailed chronology, and various texts by the artist. (Cover shot at right.)
Comments/Context: I first came across Tatsumi Orimoto's work on a side wall of the DNA Galerie booth at Pulse earlier this spring, and I was so struck by the two images that I saw there that I went back to look for a volume on his work, eventually buying this one from a book dealer in Japan via the Internet.
Orimoto's art blends performance, found object sculpture, and photography together into a singular view of the world around him. While he might easily be bundled under the larger umbrella of Conceptual Art, his work is the polar opposite of the brainy, overly clever school of cool detachment that tends to dominate this genre. His images are filled with playfulness and humor, warmth and humanity.
While this book chronicles all of the artist's various projects going back to the 1970s and provides a complete picture of his output, the two bodies of work which stand out are the Art Mama and Bread Man series. In Art Mama,
Orimoto
uses his aging mother (suffering from
Azheimer's
and bouts of depression) as a primary subject for a variety of unexpected scenes. He has photographed her with huge cardboard shoes that make her several inches taller, with a rubber tire tube hanging around her neck, and standing in an oil drum. (
Small Mama + Big Shoes,
1997, at right.) In other shots, the artist holds heavy bundles of newspapers or cloth above her head. The contrast between the tiny woman with the furrowed brow and the ridiculousness of the particular situations is powerful. Surprisingly, a potentially exploitative set-up is actually seen to be participatory; mother and son are making the pictures together, with a loving sense of trust and partnership.
Orimoto
has also made a series of sculptures that capture the life of his mother in other ways: a set of post office boxes filled with videos, photos and other ephemera, a time card box, an accounting ledger, and a medicine bottle filled with all of her discarded medicine packaging, all built with a sense of respect and honor.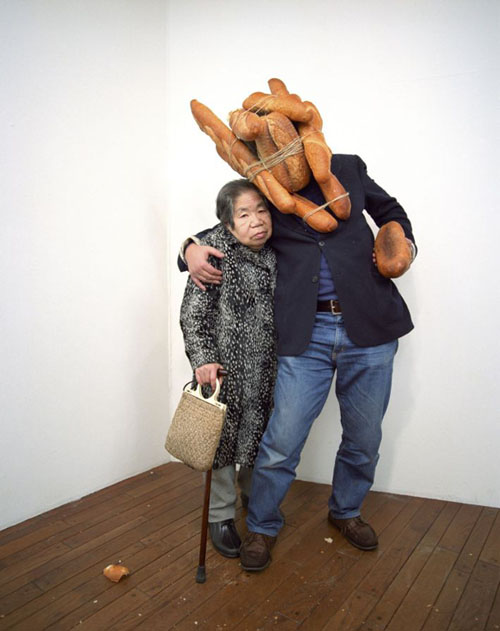 The Bread Man series is altogether more provocative and deviant. In these performances,
Orimoto
ties a bunch of baguettes or bread loaves to his head, completely covering his face, and then walks around in a variety of public spaces. Of course, people don't know quite how to react to the Bread Man, so there is a mixture of unsettled staring, puzzled questions, and general hilarity. (
Performance: Bread Man Son + Alzheimer Mama, Gallery Gen, Tokyo
, 1996, at right.) But these games don't have a highbrow "art" feel to them; they are inclusive, and welcoming, and communicative; they knock people out of their everyday routines and get them thinking and interacting.
What I like best about Orimoto's approach is that he has found a way to merge a humanist attitude with compelling conceptual ideas, without over intellectualizing them in the process. These are thought provoking works that aren't afraid to consider the simple absurdities in the world around us.
Collector's POV:
Tatsumi
Orimoto
is represented in Berlin by DNA
Galerie
(
here
). This was the only gallery representation I could find, so if there is a New York relationship, please put it in the comments.
Orimoto's
work is generally unavailable at auction; the few lots that have sold in recent years have ranged between $3000 and $8000. Unfortunately, these works don't fit into our current collecting framework at all; that said, if we were to start over and build a new collection focused entirely on contemporary photography, I would certainly add one of the Art Mama series.
Transit Hub: