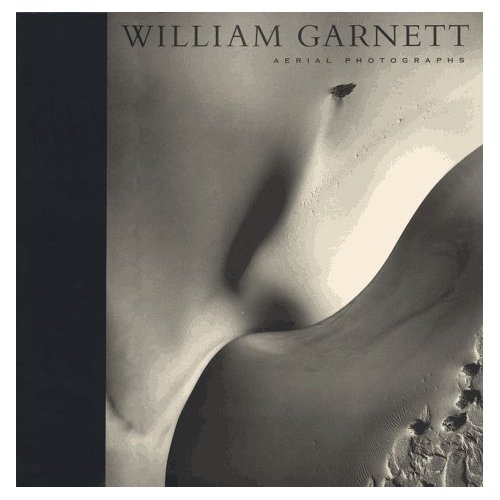 JTF (just the facts): Published in 1994 by the University of California Press. 159 pages, with 73 black and white images. Includes an introduction by Martha Sandweiss, a list of exhibitions and a bibliography. The images were made between the early 1950s and the mid 1980s. (Cover shot at right, via Amazon.)
Comments/Context: We had been searching for an inexpensive copy of this book for our library for quite a few years when recently I finally managed to unearth one on the Internet for an affordable sum. As I hold it in my hands now, it was certainly worth the wait.
While aerial photography began back with balloon flights and early airplane experiments decades earlier, William Garnett was the first flying photographer to move the images beyond their geographical/topographical/military beginnings and into the realm of art. In this volume, Garnett's subjects are primarily the hills and valleys of the Western United States: sand dunes, water eroded canyons, the twists and turns of rivers fingering out into deltas, salt flats, frothy ocean surf, and the farmland patterns made by plows, tractors and irrigation.
In spirit, these images have much in common with the Ansel Adams school of photography: meticulous attention to craft, resulting in crisp prints with broad tonal ranges, and an overall perspective that well made images of the glories of the West could be important in the larger movement toward environmental preservation/conservation. In actual look however, with the horizon lines cropped out, many of Garnett's images bear resemblance to the work of Minor White: amorphous, organic designs that aren't exactly identifiable as anything specific (given uncertainties of scale), but are somehow evocative of the artist's point of view. Light and shadow are the primary tools used to highlight the patterns and textures found in the landscape, where rivers become sinuous painterly curves and parched sand dunes and mesas become undulating sculptural forms. Only the intrusions of man bring hard edges and straight lines to these pictures: the broad stripes of strip cut grain and hay, the narrow lines of irrigation furrows, the back and forth swirls of tractor patterns, the flat edges of a sewage pond, or the perfect horizontal line of a railroad train.
Overall, this is a much deeper body of work than I had expected or known; this volume includes page after page of superlative imagery, deftly exploring astonishing facets of the abstract landscape from a bird's eye perspective. It is a book that successfully challenges the traditional boundaries of classic landscape photography, and is one that rewards close and repeated looking.
.
Collector's POV: It's not at all clear which galleries might officially represent the estate of William Garnett, but both Scott Nichols Gallery in San Francisco (here) and Joseph Bellows Gallery in La Jolla (here) hold some inventory of his work. Garnett's images have not come up at auction much in the past few years; those prints that have sold have ranged in price between $3000 and $8000. We continue to be on the lookout for a terrific Garnett print for our collection. In our particular case, one of his patterned images of suburban buildings (not included in this book, as the images here are all landscapes of one kind or another) would be the best match.
Transit Hub: