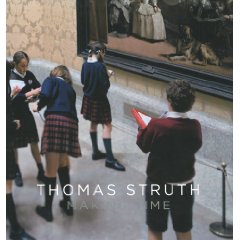 JTF (just the facts): Published in 2007 by the Museo Nacional del Prado and Turner. 116 pages, with 51 color images. Includes an essay by Estrella De Diego. (Cover shot at right.)
Comments/Context: German photographer Thomas Struth has been making in situ images of museums across the globe for many years now, but his recent project at the Prado (chronicled in this book) has taken this long term assignment in an altogether more complex direction.
The more conventional images in this volume capture people looking at the various treasures in the Prado, including Velazquez' Las Meninas (1656). We see them gazing thoughtfully, listening to audio guides, and talking animatedly with friends, the rules and etiquette of the space creating pockets and clusters of movement and inertia. The museum is variously shown as a site for obligatory education (the ubiquitous school groups), social activity (the chattering of visitors with each other), and mindless tourism (the hordes of glassy eyed visitors wandering aimlessly, looking without seeing).
The book is sequenced in such a way that short narratives begin with a traditional image of an important painting, are followed by a Struth image of visitors interacting with this painting or its neighbors in the gallery, finally ending with an installation shot of the original painting and the Struth photograph hung together in the gallery, creating a mind bending reflective hall of mirrors effect. In other installations, Struth's museum images from other cities are intermingled with the Prado's collection, again inverting our expectations of what should be going on.
These layers of interaction fundamentally disrupt the normal viewing of these masterworks of painting, creating a dizzying hierarchy of spectators and time: viewers looking at pictures of viewers looking at paintings, opening up a heady dialog about both the nature of "participation" in art and about the function of museums. In the back of the book, there are several gatefold pages, where 4 images of the crowds are published together, a incisive theme and variation exercise using different groups of upward looking visitors as subjects.
While we have other books that include a variety of Struth's museum pictures, the unexpected and thought-provoking installation shots of the photographs hung on the walls of the Prado amidst the other masterworks are what makes this additional volume worth having in your library.
Collector's POV: Thomas Struth is represented by Marian Goodman Gallery in New York (here). Struth's works are generally available at auction, both in smaller sizes and larger editions, typically priced between $2000 and $30000, and in monumental sizes that start at $100000 and move upward to over $1 million. For our particular collection, we continue to look for just the right image from his series of black and white straight down the road cityscapes from the 1970s, which would fit well with other city scenes we already own.
Transit Hub: